Las Vegas Motor Speedway hoping to capitalize on NASCAR's Eldora dirt race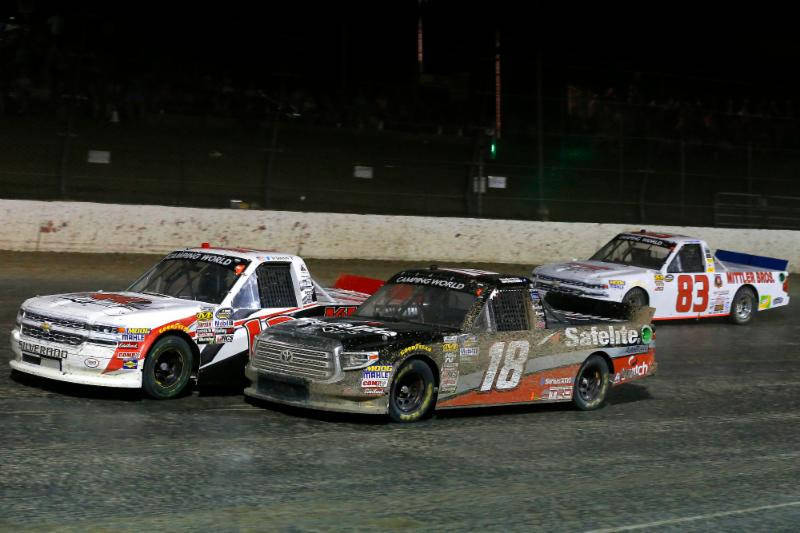 If you are wondering why Las Vegas Motor Speedway has invited the K&N Pro Series West to race on its dirt track during South Point 400 weekend in September, you weren't watching Wednesday night's Truck Series stop at Eldora Speedway in Ohio.
Chase Briscoe edged teammate Grant Effinger in a photo finish after their trucks banged into each other en route to the checkered flag.
Watching the trucks go slip-sliding away around dirt track corners once a season has proven to be a major hit.
The inaugural Las Vegas K&N race on dirt will be Thursday before the trucks and Xfinity and Cup Series cars invade the superspeedway Sept. 14 to 16 for the first NASCAR playoff race of 2018.
There's a chance a guest driver or two may join K&N regulars such as 17-year-old female racer and budding star Hailee Deegan.
"We're working on it, but part of it is getting cars to match up with drivers and a manufacturer," LVMS spokesman Jeff Motley said.
It most likely won't be a Cup Series driver involved in the playoff chase. But if the stars line up, one of the nonplayoff drivers or perhaps one from the Xfinity Series could be coaxed onto the dirt oval.
You can probably rule out Noah Gragson, however.
After struggling from 27th on the starting grid to a decent sixth at the finish at the Tony Stewart-owned Eldora oval, the Las Vegas youngster indicated he was happy to be leaving Ohio.
"We were last there at one point," said the Kyle Busch Motorsports driver who is running second to Johnny Sauter in points. "I am thankful to be out here in the Truck Series, but I am not too mad we don't have to come back for the remainder of the season."
Instant classic.

Teammates battle it out in photo finish at #EldoraDirtDerby: https://t.co/2k3vguAfF4 pic.twitter.com/qjCCm6Jj2h

— NASCAR (@NASCAR) July 19, 2018
Raganomics
It's rare when a NASCAR driver directly responds to something written in the newspaper or online or in a restroom stall near pit road, for that matter.
But after reading in this space about action sports star Travis Pastrana losing a bunch of his own money after a brief foray into NASCAR several years ago, current Cup Series driver David Ragan fired off a tweet.
"We can talk about track, formats, downforce, cars and star power all we want," wrote the driver of the No. 38 Ford for Front Row Motorsports. "But until the cost of being competitive in NASCAR's top 3 series is less we will never attract outside stars like Travis. His quote is spot on."
We can talk about tracks, formats, downforce, cars, and star power all we want. But until the cost of being competitive in NASCAR top 3 series is less. We will never attract and retain outside stars like Travis. His quote is spot on.

— David Ragan (@DavidRagan) July 12, 2018
Busch vs. Stenhouse
Have Kyle Busch and Ricky Stenhouse buried the NASCAR hatchet after the latter took out several fast cars, including one driven by the former, during the recent Cup Sereies race at Daytona?
The answer is yes. In each other's back.
Kyle at Kentucky: "You wipe out half the field, and I'm pretty sure there would be a pretty busy Monday for him. But there wasn't. So apparently he just doesn't care. I can't worry about people that far back in the field."
Ricky at Kentucky: "I was like, 'Hey, you're right, you do run a lot further up front, but pick and choose your battles wisely because you will have to deal with me sometime whether you are lapping me or we get our cars better and we are up there racing with you.' I normally do reach out to people when I make mistakes, and I clearly made a mistake. But with him running his mouth, I just felt like I didn't really need to call him."
Ricky Stenhouse Jr. didn't like that Kyle Busch was "running his mouth" after their run-in last week at Daytona. pic.twitter.com/VAxVcSuKp6

— FOX: NASCAR (@NASCARONFOX) July 14, 2018
Contact Ron Kantowski at rkantowski@reviewjournal.com or 702-383-0352. Follow @ronkantowski on Twitter.
Pro schedule
NASCAR Monster Energy Cup
What: Foxwoods 301.
When: Friday, qualifying, 1:45 p.m. (NBCSN). Sunday, race, 11 a.m. (NBCSN).
Where: New Hampshire Motor Speedway, Loudon, N.H.
Defending champion: Denny Hamlin.
NASCAR Xfinity
What: Lakes Region 200.
When: Saturday, qualifying, 8:05 a.m. (CNBC); race, 1 p.m. (NBCSN).
Where: New Hampshire Motor Speedway, Loudon, N.H.
Defending champion: Kyle Busch.
Formula One
What: German Grand Prix.
When: Saturday, qualifying, 6 a.m. (ESPNEWS). Sunday, race, 6 a.m. (ESPN2).
Where: Hockenheim Ring, Hockenheim, Germany.
Defending champion: Sebastian Vettel.
NHRA Mello Yello Drag Racing
What: Mile High Nationals.
When: Sunday, finals, noon (KVVU-5).
Where: Bandimere Speedway, Morrison, Colo.
Defending champions: Antron Brown (Top Fuel), Robert Hight (Funny Car), Drew Skillman (Pro Stock), Eddie Krawiec (Pro Stock Motorcycle).