Bryce Harper gives command to start engines at Pennzoil 400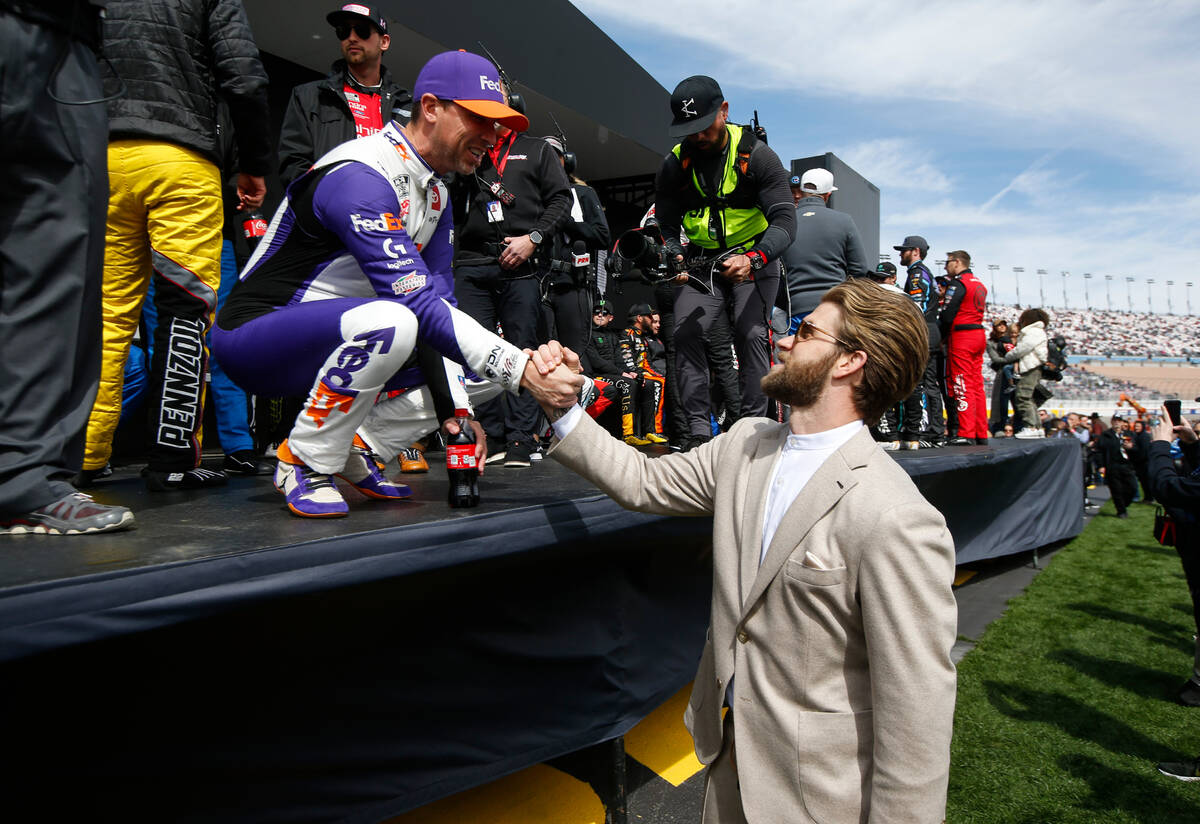 Before giving the command to start engines Sunday at the Pennzoil 400 at Las Vegas Motor Speedway, Bryce Harper said, no, part of his duties as grand marshal of the NASCAR race did not include finding additional ways to speed up baseball.
The two-time National League MVP from Las Vegas is still recuperating from offseason elbow surgery and has missed the start of the Philadelphia Phillies' spring training.
He said it was his first trip to his hometown track but that he has been to multiple Daytona 500s – venerable Indianapolis Motor Speedway is still on his bucket list – and that he might even consider following Michael Jordan's lead and investing in a race team when his playing days are over.
"I don't know who that would be or what that would be like," the former Las Vegas High and College of Southern Nevada star said in the LVMS media center. "I have a long way to go with my baseball career, but definitely something to think about once I'm done."
Harper, 30, said he and his dad, Ron, have taken breaks from spring training in Florida to check out Daytona and came away impressed.
"Jimmie Johnson has always been my favorite guy," he said of the (mostly) retired seven-time Cup Series champion and four-time Pennzoil 400 winner. "I think he's one of the greatest of all time, an absolute legend."
Harper said his toddler son, Krew, also has a favorite driver.
"My son loves racing, just Lightning McQueen right now," he said in reference to the character from the animated Pixar franchise 'Cars.' "But he loves everything about it, so it's fun to bring him out here and do this."
Wallace: First in class
He wasn't in the class of the Hendrick Motorsports juggernaut of William Byron, Kyle Larson and Alex Bowman, which swept the first three places.
But Bubba Wallace was delighted to push his Toyota across the finish line fourth after Aric Almiora's late spin sent the race into overtime and shuffled the running order.
"That was probably as good as we were going to get, but a good solid day," Wallace said after posting his highest finish since winning last year's playoff race at Kansas for car owners Michael Jordan and NASCAR star Denny Hamlin.
It also was a mostly uneventful day for Wallace, who was running up front in the 2022 playoff race at LVMS before tangling with Larson and engaging him in a one-sided shoving match after the two climbed from their cars.
'Bad day got worse'
Joey Logano started on the pole position in his bid to equal Jimmie Johnson with four career victories at LVMS, but led only nine laps before fading from contention.
His day ended early in the third race stage. Running high in a three-wide scrum with former Team Penske teammate Brad Keselowski and Kyle Busch, Logano collided with Keselowski, sending his familiar bright yellow No. 22 Ford spinning and bouncing through the frontstretch grass.
"Just got squeezed up in the wall … bad day got worse," said Logano, a two-time and reigning Cup Series champion who was saddled with his first DNF in 20 Las Vegas starts.