New team but same result for Kyle Busch: Another Cup victory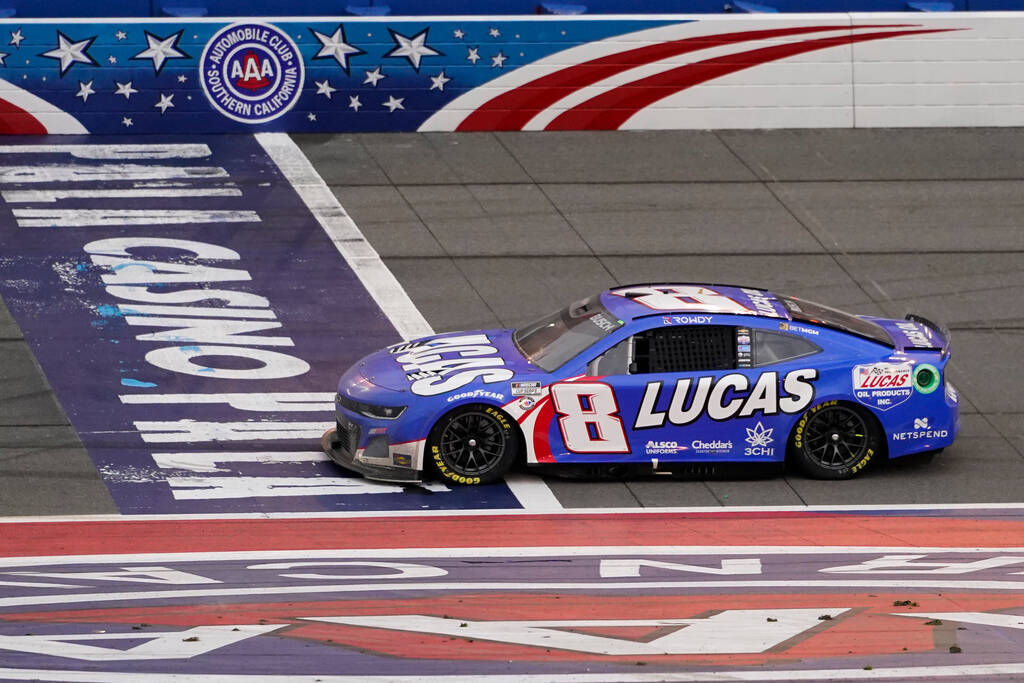 A day after driving into victory lane with a new racing team, Kyle Busch was feeling vindicated and invigorated.
People who had questioned his move to Richard Childress Racing were now saying lots of nice things after the two-time NASCAR champion from Las Vegas steered his No. 8 Chevrolet into victory lane at frigid Auto Club Speedway in California.
It happened Sunday, in just his second race with RCR and only a week after a late pileup knocked him out of contention at the Daytona 500 he seemed destined to win.
Everybody seemed overjoyed that the often polarizing veteran was back on top. Fans cheered enthusiastically when he performed his traditional victory bow. Broadcasters sang praises. Even fierce rivals applauded his sudden return to super relevancy.
"Couldn't be more happy for @KyleBusch," wrote 2021 Cup Series champion Kyle Larson in a Twitter post. "The guy is one of the best race car drivers of all time and will always be. I'm glad it only took him two races to remind the world."
Because Busch was speaking on Monday, and he and Larson weren't scheduled to go wheel-to-wheel again until Sunday's Pennzoil 400 at Las Vegas Motor Speedway, he seemed genuinely moved. He will be shooting for an elusive second victory on his hometown oval after winning here in 2009.
"We've had a lot of great battles, a lot of hard battles. We've run into each other a few times," Busch said of Larson after making it 19 consecutive seasons in which he has won at least one Cup Series race, erasing a record formerly held by NASCAR legend Richard Petty. "But we've always respected each other and know that we can get out (of our cars) and shake hands about it."
Still in his racing prime, Busch, 37, ranks ninth in all-time Cup victories with 61 and is the winningest driver in NASCAR history with 225 combined wins in the Cup, Xfinity and Truck Series. (He'll run in all three divisions this weekend at LVMS).
But there were those who believed the victory burnouts would become less frequent after his longtime sponsor, Mars Incorporated, pulled out of NASCAR after the 2022 season. The candy giant's decision forced Busch to end his wildly successful 15-year run with powerhouse Joe Gibbs Racing and seek employment elsewhere.
One of the first to congratulate him at Fontana was older brother Kurt Busch, who was dressed in street clothes instead of a firesuit. The 2004 Cup Series champion had been enjoying a driving renaissance before sustaining a serious concussion in a crash at Pocono, Pennsylvania, last season that hastened his retirement as a full-time competitor.
Kyle's victory in California ran the brothers' Cup Series total to 95, moving them ahead of Bobby and Donnie Allison into first place on NASCAR's all-time list. Kurt won 34 Cup races over 23 seasons and his younger brother said he's going to miss their sibling rivalry.
"When I saw some of my paint scheme renderings for the new year they didn't have my first name on them anymore, just my last name, and that made it a little weird," the former Ky. Busch said about Ku. Busch, which is how they have been identified in TV graphics since Kyle made his Cup debut at LVMS in 2004.
"It was fun to have him there and coming to see us in victory lane — he was kind of emotional afterward. He's getting soft in his old age."
NASCAR schedule
at Las Vegas Motor Speedway
SATURDAY
– RACE: Alsco Uniforms 300, Xfinity Series, 1:30 p.m. (TV: FS1)
– PRACTICE: Cup Series, 10:35 a.m.
– QUALIFYING: Cup Series, 11:20 a.m.
– BULLRING: Bash at the Bullring (Legend, Bandolero division races featuring Brexton Busch), 4:30 p.m.
SUNDAY
– RACE: Pennzoil 400 presented by Jiffy Lube, Cup Series, 12:30 p.m. (TV: Fox)
TICKETS, INFORMATION: LVMS.com