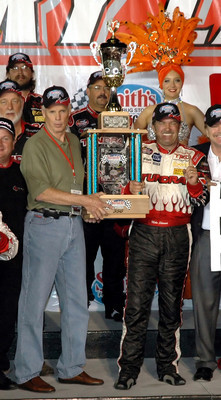 Mike Skinner has been the most dominant driver this year in the NASCAR Craftsman Truck Series.
Even points leader Ron Hornaday acknowledges that.
Skinner, 50, has won four races, started on the pole nine times and finished eighth or better in 15 of 18 races this season.
But a flat tire will slow anyone, no matter how fast he is, and Skinner will trail Hornaday by 29 points when the Smith's Las Vegas 350 starts at 6 tonight at Las Vegas Motor Speedway.
The culprit: a blown right front tire on Skinner's No. 5 Toyota Tundra 56 laps into the Sept. 1 race at Gateway International Raceway near St. Louis.
The blowout sent the truck into a guardwall, and by the time his Bill Davis Racing crew made enough repairs to get Skinner back on the track, he had lost 65 laps. He finished a season-worst 28th.
"If it wasn't for that blown tire, I wouldn't be ahead of him," said Hornaday, 49, who also has four victories this year in the No. 33 Chevrolet Silverado of Kevin Harvick Inc. Racing.
Skinner rebounded to finish third in the last week's race, but Hornaday won to pad his lead by a few points with seven races left.
Skinner doesn't want to replay the past or look very far ahead and, for that matter, prefers not to talk about the chances of winning his first truck championship since the series' inaugural season in 1995.
He has been focused this week on returning to the 1.5-mile tri-oval at Las Vegas, where he won a year ago by starting on the pole for the third straight time and leading 114 of 146 laps.
"I came out early for the race last year and walked around the track," he said. "I felt good before that race, but everyone's been on it now with the changes, and that's allowed the other teams to catch up."
Last year's race was the first on the Las Vegas circuit after nearly all of it was rebuilt and the banking was nearly doubled in the corners.
Toyotas remain the favorites in the series. Todd Bodine won at Las Vegas in 2005, when Toyota won 12 of 25 races. Since joining NASCAR in 2004, its trucks have won 34 of 93 races.
But Toyota has struggled in its first season in Nextel Cup. Dave Blaney, whose No. 22 Camry is owned by Davis, is the highest Toyota driver in the standings at 33rd, and Brian Vickers is the only one with a top-five finish.
"You have to remember one thing: The No. 22 Bill Davis car is the only (Toyota with an) established team from last year," Skinner said. "Everybody else started from scratch.
"We're pretty much right on track and where we expected (the Cup program) to be."
Toyota can only hope its stocks cars reach a status comparable to what its trucks have accomplished in four years. Nine of the 36 trucks slated to start tonight and three of the top six in points will be Toyotas.
Auto Racing in Las VegasMore Information