Stardust Raceway's colorful past recalled in new book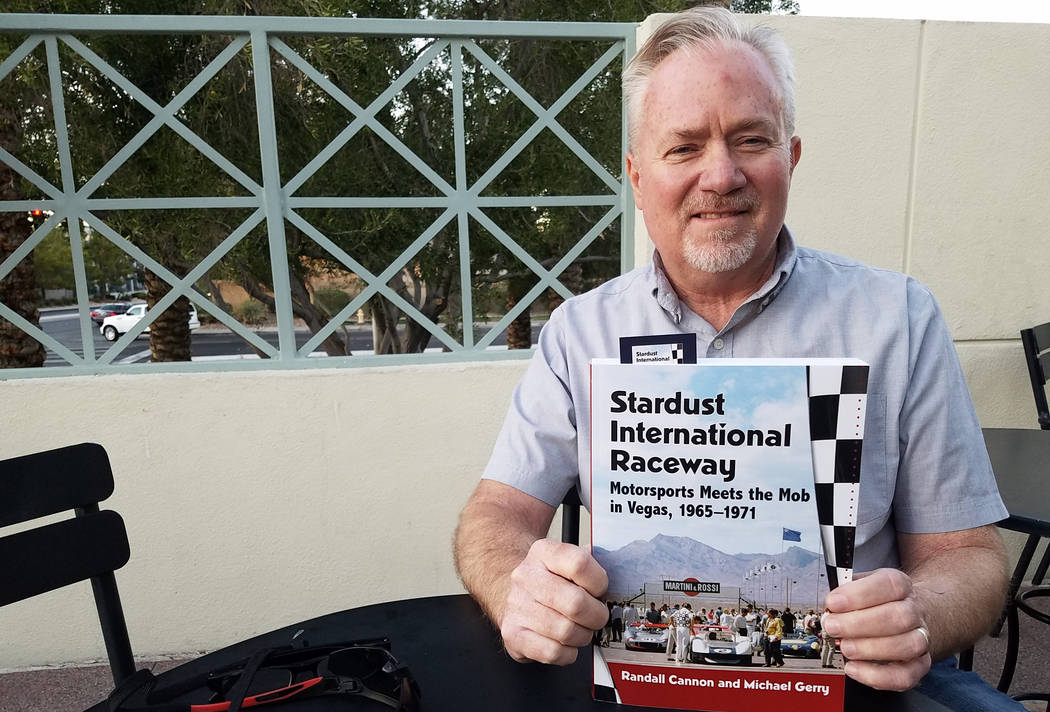 How's this for a cast of characters:
Mario Andretti, Parnelli Jones, Bobby Unser, Dan Gurney, Mark Donohue, Bruce McLaren, Roger Penske, Jackie Stewart and "Big Daddy" Dan Garlits.
Moe Dalitz, Meyer Lansky, Sam Giancana, John F. Kennedy, Robert F. Kennedy, J. Edgar Hoover and the FBI.
And TV's Dan Blocker, who played Hoss Cartwright on "Bonanza."
All are persons of interest in "Stardust International Raceway: Motorsports Meets the Mob in Vegas, 1965-71." The recently released book (McFarlandPub.com) about Las Vegas' first major league auto racing facility was written by Randall Cannon, a freelance author from Henderson, and Michael Gerry, a drag racing mechanic from North Las Vegas.
The part after the colon wasn't in the original title.
"I grew up here in the valley and got to attend some of the prominent races, and it created indelible lifelong memories for me," Cannon said of the flat and dusty 3-mile, 10-turn circuit that hosted international sports car races and an IndyCar event before it was black-flagged by real-estate developers. Spanish Trail eventually rose from the straightaways and chicanes upon which world-class drivers and their cars once roared.
"Returning to the valley I really got intrigued by the track, what happened to the track," Cannon said of his research. "It was pretty early when it turned into what was pretty much a classic Las Vegas story. It wasn't just the racing. It was the influences of racketeering, of gamblers and, to some extent, of organized crime in that time period during 'The Golden Age of Las Vegas' — the way it used to be."
In the manner of the boulders that littered the racetrack's run-off areas and tore up suspensions, Cannon leaves no stone unturned about the raceway that "stood at the confluence of wiretaps, casino skimming, Howard Hughes and the beginnings of Watergate …"
Spoiler alert: The feds and Hoss Cartwright's car were both big winners.
Green, white, checkered
— If one were to form an opinion on the health of drag racing and stock car racing based on the percentage of seats occupied for marquee events at Las Vegas Motor Speedway, one would conclude the NHRA has a bright future. And that NASCAR had better bring an umbrella and galoshes because a storm is brewing. The stands were packed (again) for all three days of the two-wide Toyota Nationals, as was lane 4 of four-wide dragstrip.
— It was used for general admission viewing given the race cars weren't using it, which spectators seemed to enjoy. At least the ones who brought earplugs.
Thanks to all the fans who attended the @nhra Toyota Nationals this weekend! See you in April for some four-wide action! #VegasNats pic.twitter.com/gNArphplQW

— Las Vegas Motor Speedway (@LVMotorSpeedway) October 29, 2018
— Justin Lamb of Henderson, a multiple-time Lucas Drag Racing Series national champion, won the Super Stock final at the NHRA Toyota Nationals at LVMS on Sunday. Lamb's winning run was was 8.766 seconds at 150.58 mph. He will attempt to defend his Super Stock national championship next weekend in Pomona, California.
Contact Ron Kantowski at rkantowski@reviewjournal.com or 702-383-0352. Follow @ronkantowski on Twitter.