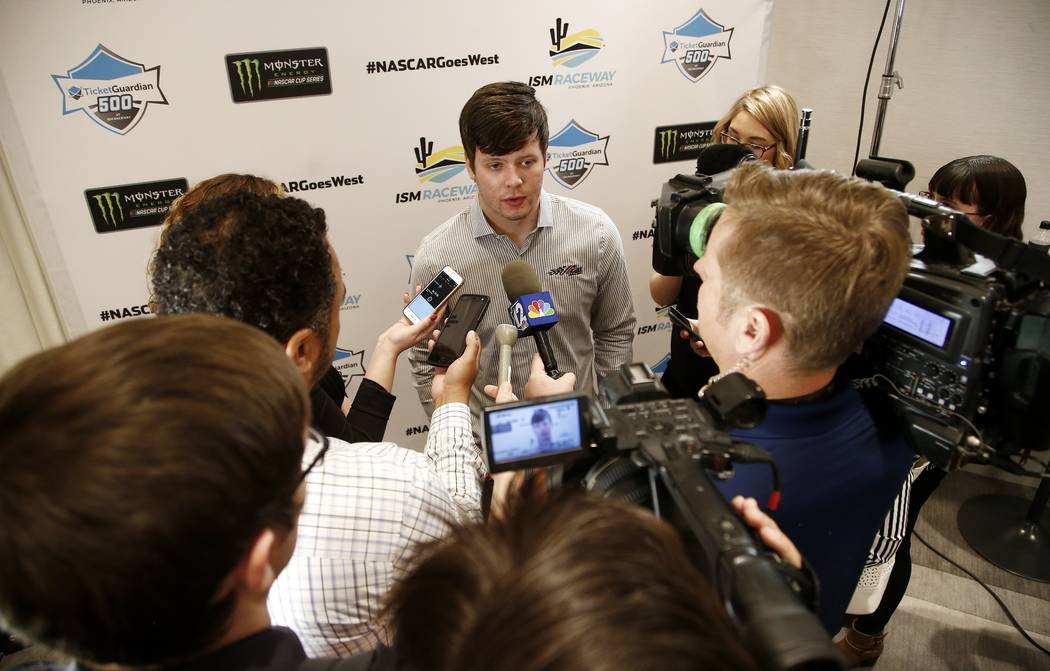 A two-day NASCAR test session at Las Vegas Motor Speedway concluded Thursday without native son Kyle Busch getting anybody riled up.
It should be noted the 2015 Cup Series champion wasn't among the 15 drivers putting down practice laps.
With Busch running in a sportsman race in California this weekend, new Joe Gibbs Racing teammate Erik Jones put the 2018 Toyota Camry through preseason paces in preparation for the March 4 Pennzoil 400 at the 1.5-mile oval.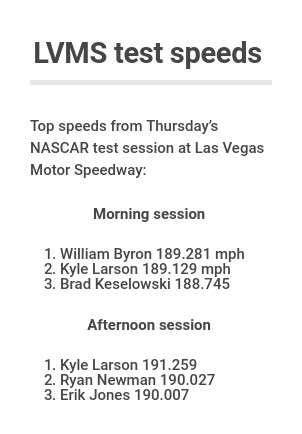 Busch caused a stir during last week's media tour when he blasted NASCAR for marketing a crop of young and mostly unproven drivers, support that Busch implied he did not receive when he was their age. NASCAR basically agreed, albeit with less obstinance.
The furor seems to have subsided for now.
As the cars continued to zip around LVMS sans snappy paint jobs, the most recent posts on Busch's Twitter account were of him and son Brexton checking out the Rose Bowl during a sightseeing run and a retweet from wife Samantha. That one said the couple's foundation had distributed $325,000 to young parents to help defray in vitro fertilization costs through their Bundle of Joy program.
Not even Brad Keselowki's fans could find fault with that.
"Really, he's a pretty fun guy but a lot of times he doesn't show (that side of) his personality in the public (eye)," said Jones, who was rookie of the year in the Truck Series when he drove for Busch. "I actually came out with him a few months ago for the Floyd Mayweather-Conor McGregor fight, and we had a great time."
When fellow young lion William Byron, who also drove for Busch in the trucks, was asked about his former boss' bluntness, Byron smiled as Byron always does.
"He's a great teacher of young guys and he's a character," said the youngster who was at or near the top of the speed charts for most of the test. "He doesn't have much of a filter, and it's funny listening to him talk. He doesn't hold anything back."
Cruising around out here in CA with my man @brextonbusch. Doing some sightseeing before we head to @KernRaceway for the #WinterShowdown pic.twitter.com/dHWKwZitQk

— Kyle Busch (@KyleBusch) February 1, 2018
Green, white, checkered
— Byron received the first stop-and-go penalty of 2018 when he was chased from Aria for being too young. He's 20 but looks 12, with abundant peach fuzz in lieu of stubble.
"I got kicked out the last two nights. I was just trying to walk through the lobby and they were like, you can't be here," said the rookie driver of the No. 24 Hendrick Motorsports Chevrolet.
Byron won't turn 21 until Nov. 29 during what usually is Champion's Week in Las Vegas, at which time it can be assumed Aria will be more than happy to separate him from some of his on-track earnings.
That dude I got stuck behind on the way there was slowww🚌 https://t.co/kYMVoy0IIT

— William Byron (@WilliamByron) February 1, 2018
— Opening day of the first tripleheader race weekend at Las Vegas Motor Speedway will have a Stratosphere feel to it. The longtime sponsor of Cup Series qualifying day at LVMS also will serve as title sponsor of the Truck Series race that will follow pole runs on March 2, it was announced Thursday.
.@LVStratosphere named title sponsor of the March 2 @NASCAR_Trucks race at Las Vegas Motor Speedway! Get your tickets today for the #Stratosphere200!

Story:https://t.co/WDUsqOAnuZ
Tickets: https://t.co/doOsLFTn85 pic.twitter.com/bg4smKPEKy

— Las Vegas Motor Speedway (@LVMotorSpeedway) February 1, 2018
— Mint 400 off-road racers will join Republic Services for the second Desert Cleanup near Jean on March 3. Last year the racers and volunteers hauled off more than 14 tons of waste from the desert on and near the off-road course, refuse which may or may not have included used up parts from Robby Gordon's Trophy Truck.
Contact Ron Kantowski at rkantowski@reviewjournal.com or 702-383-0352. Follow @ronkantowski on Twitter.