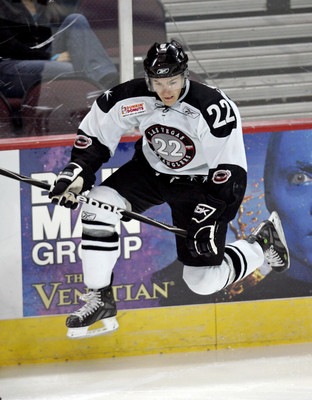 Skiing in the Alps and traveling to Paris and Switzerland was an experience "second to none" for Wranglers center Chris Neiszner, who, after playing two years in Las Vegas, spent last season playing in France's top professional league for Morzine-Avoriaz.
The pay was better across the pond, too, but the style of play wasn't for Neiszner, a team player who longed to return to Las Vegas.
"The (focus in Europe) is a lot more on individual skill as opposed to the team game. There's a little more run and gun and do your own thing, whereas in North America we have systems in place," Neiszner said. "It's a team game, and that's the way it should be."
A 24-year-old from Saskatchewan, Canada, Neiszner has started strong in his second stint in Las Vegas. He has notched a hat trick and has 12 points in 15 games to tie for fourth on the team.
"We'd like to be winning a few more games, but it's just fun coming to the rink here," he said. "It fits my style more to have 20 guys going out every night with the same mindset, where if you play your system and outwork the other team, you'll give yourselves a chance to win every night. That's what makes it fun."
Already a solid all-around player, Neiszner emerged from France with improved skills on offense.
"The big reason I'm a better player is I learned a lot mentally," said Neiszner, who scored 23 points in 26 games for Morzine-Avoriaz. "I'm a lot more comfortable where I am now. I'm happy to be in Las Vegas, and I'll do anything I can to help the team win.
"I think I've improved a little bit offensively from being in France, and I don't think I've lost any defensive capabilities I have. I'll look to improve my game here day by day, and hopefully I can make it to the next level."
While Wranglers coach Glen Gulutzan agrees Neiszner is an improved offensive player — as well as a team leader and consummate professional — he values his consistency more than anything in what has been an inconsistent season for Las Vegas.
"Early on he's had some offensive success, but what we can count on him for is the same game every night," Gulutzan said after Monday's morning skate. "That's why he's good for our younger guys. His game doesn't fluctuate every day. It's the same every day.
"He kills penalties, plays in front of the net on the power play and on 5-on-5 he's defensively responsible. We know every night we can rely on him in tough situations. He's just a well-rounded player, and that's how he has to be to get to the next level."
Neiszner, who split his first two pro seasons between Las Vegas and Omaha of the American Hockey League while under contract to the Calgary Flames, signed a deal in France because his agent "thought it was an opportunity that might open some doors."
Neiszner, who never had been to Europe, enjoyed much of his time overseas, where he had his own apartment, but also said "it's lonely" and "it's not always worth the money."
"For sure, it wasn't for me," he said. "But I don't regret anything. If anything, I'm a better player now, and that's all you can ask for."
Reunited in Las Vegas with several former teammates, including current roommate and linemate Justin Taylor, Neiszner is confident the Wranglers will make another run at the ECHL title this season.
"We have a quality, quality team again," he said. "We've had a slow start, but we're definitely going to be, by the end of the year, right up there again."
• NOTES — Goalie Kevin Lalande notched his first shutout of the season Monday and seventh in 50 career games, including last season's playoffs, for the Wranglers, who recorded their second shutout in four games. … With its win over Pacific Division-leading Fresno (12-6-1), Las Vegas improved to 6-2-0 at home and 8-7-2 overall as it climbed above .500 for the first time this season. … The Wranglers went 2-for-4 on the power play after entering with a league-low 9 percent success rate (9-for-100).
Contact reporter Todd Dewey at tdewey@reviewjournal.com or 702-383-0354.
LAS VEGAS — 4
FRESNO — 0
KEY: Tyler Mosienko, Jason Taylor, Mike Hamilton and J.D. Watt each had a goal and an assist, and Kevin Lalande made 30 saves for the Wranglers.
NEXT: Falcons at Wranglers, 7:30 p.m. today, Orleans Arena