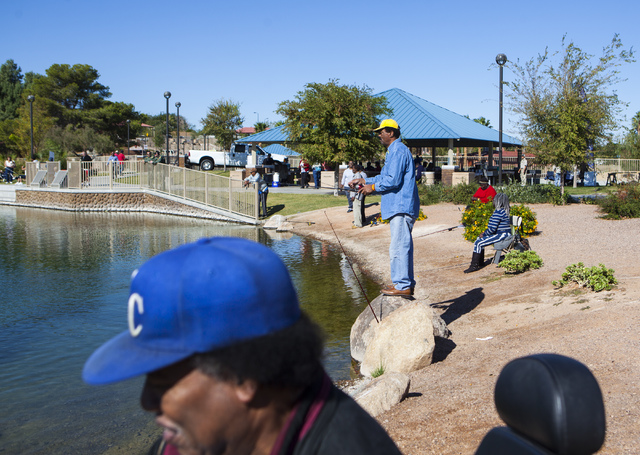 LAKE MEAD — The new moon will be up this weekend. Fishing will be best at sunrise and sunset, though stripers will hit anchovies at night. Water levels are variable and can make shore fishing unpredictable, especially at night.
LAKE MOHAVE — Anglers are catching striped bass with anchovies from the shoreline in the Katherine Landing area. Boat fishers are finding good action in the deep water near Davis Dam. Willow Beach is scheduled for a trout plant Feb. 3. Trout anglers should find success with spinners, small spoons, night crawlers and prepared baits.
LAUGHLIN — Regular trout plants will continue as scheduled at Davis Camp but temporarily will be halted near Big Bend to protect native fish-spawning efforts. Work the river from Davis Camp through Casino Row for trout and striped bass. Swimbaits in trout patters will fool stripers. Catfish have been found in the marsh areas around Big Bend in the Colorado State Recreation Area.
LAS VEGAS URBAN PONDS — The ponds at Floyd Lamb Park, Sunset Park and Veterans Memorial Park in Boulder City were stocked with rainbow trout Jan. 17. As road and other conditions permit, the Nevada Department of Wildlife will plant trout on a weekly basis until water temperatures are too warm to support the cold-water fish. Small spinners, spoons and natural baits, such as worms, will catch the fish. The NDOW asks that anglers dispose of unwanted fishing line and tackle in readily available trash receptacles.
KIRCH WILDLIFE MANAGEMENT AREA — Warming temperatures had opened a lot of water, but recent winter storms created more thin ice. That has made for few anglers around the Management area. The NDOW reminds anglers to use extreme caution when venturing onto the ice. When in doubt, don't.
EAGLE VALLEY RESERVOIR — Ice conditions remain excellent this week. Winter storms brought snowy conditions, but State Parks personnel have been keeping up with snow removal needs. The campground is open, with all facilities available. Anglers who ventured out during recent storms caught rainbows and browns through the ice using night crawlers and PowerBait in orange, green and rainbow colorations. Call the park at 775-962-5102 for current ice conditions.
ECHO CANYON RESERVOIR — Though winter storms dropped a lot of snow and thickened up the ice, there are some areas of thin ice around the edges. Fishing activity has been minimal in recent days. Call the park at 775-962-5103 for current ice conditions.