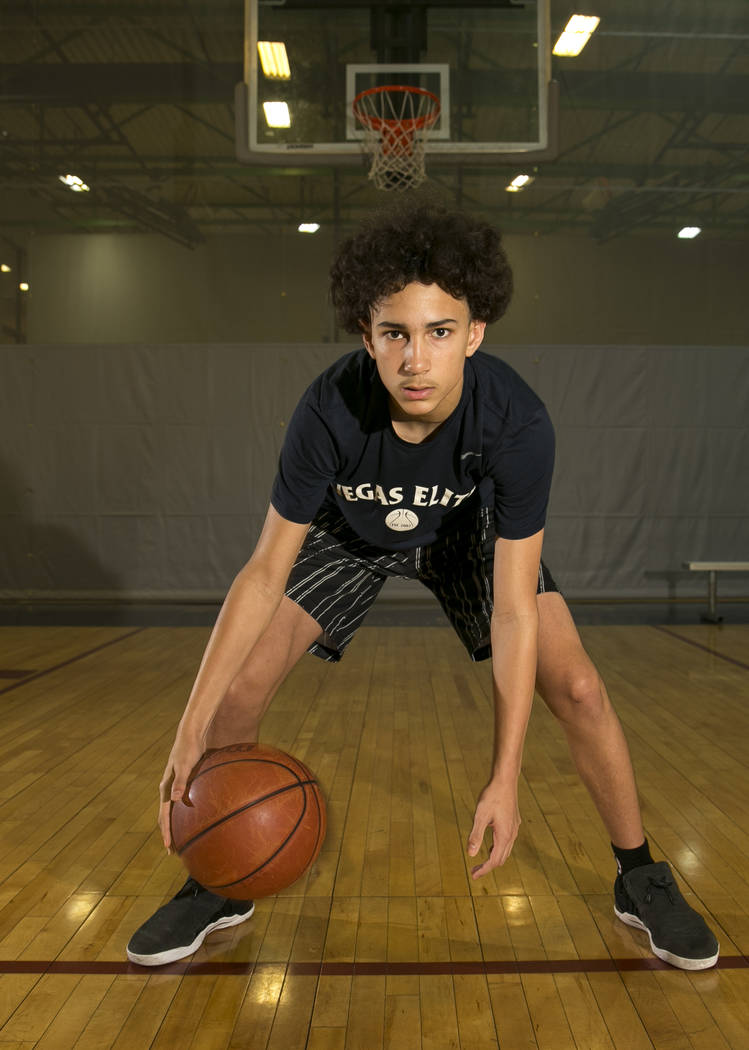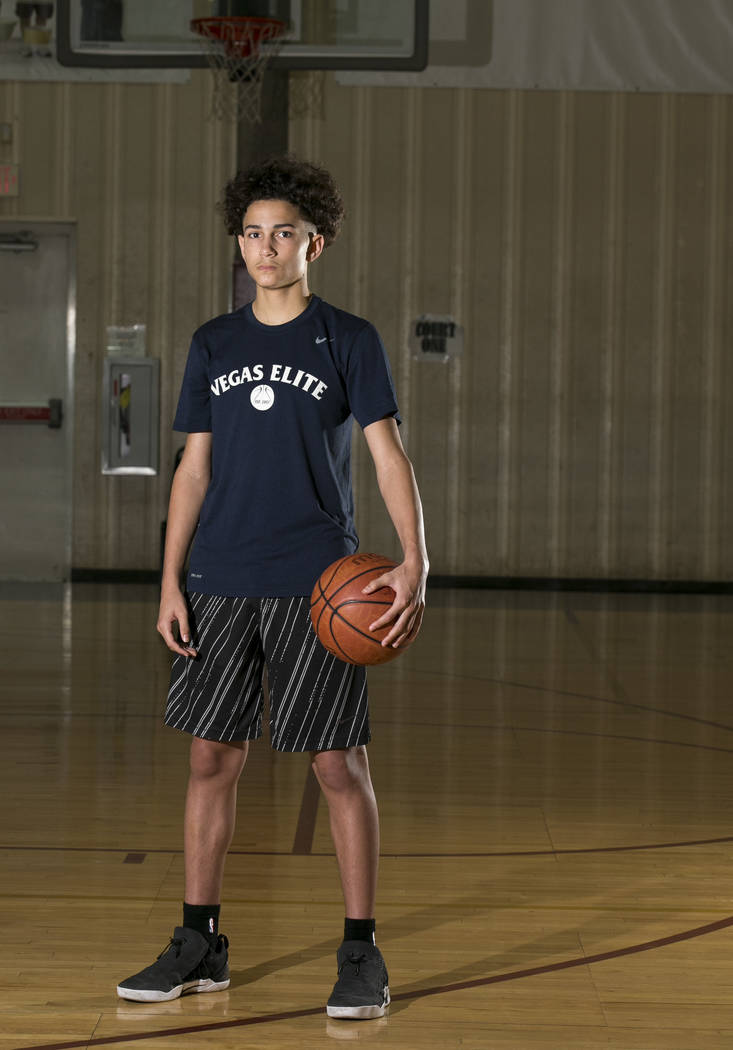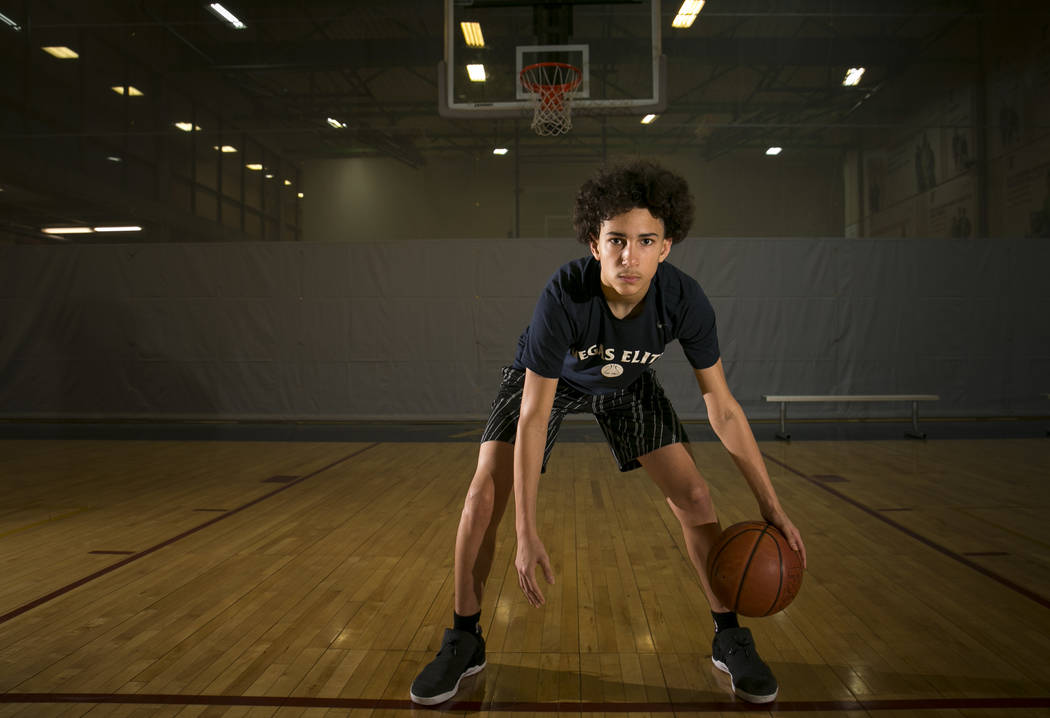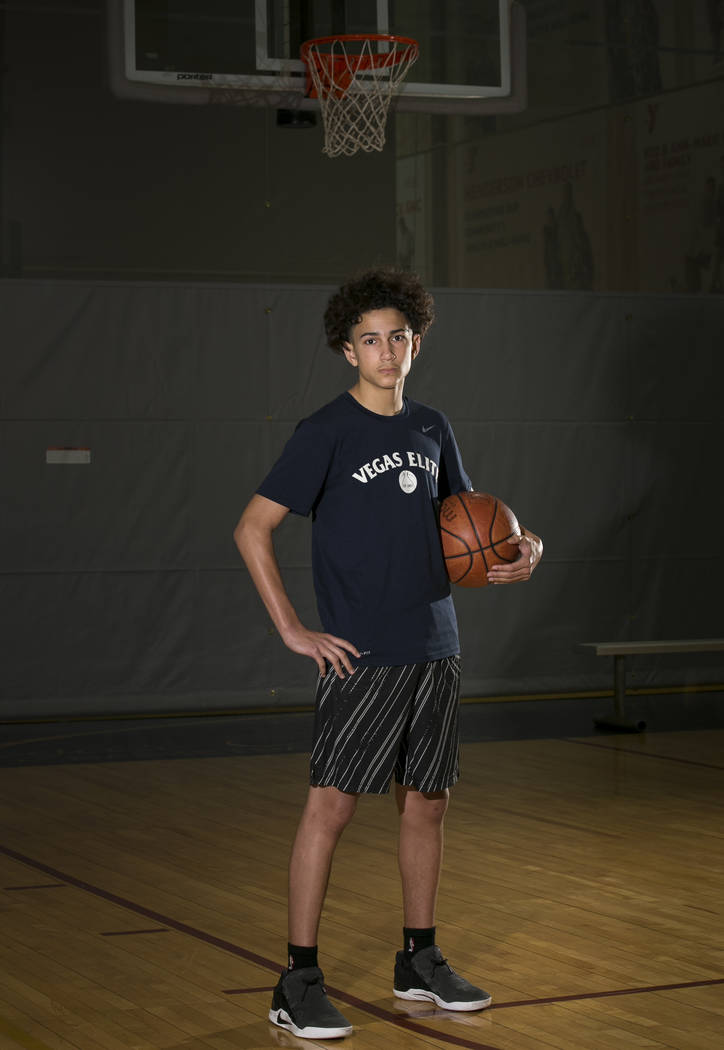 Richard Isaacs Jr.'s black, curly hair bounces as he leads a 3-on-2 fast break during a scrimmage at the Bill and Lillie Heinrich YMCA on Monday night.
Isaacs knows he can finish the play himself — he says he can score "with the best of them" — but instead delivers a pinpoint, off-handed pass to a teammate streaking down the right side of the court.
The eighth-grader insists he's "got to work on being a true point guard."
UNLV already thinks he is one.
Isaacs procured a scholarship offer — his first — after wowing Rebels assistant coach Andre LeFleur, who was on hand to watch his son at the invitation-only EBC Las Vegas Camp at the Tarkanian Basketball Academy last weekend.
The 14-year-old has supreme confidence in his abilities and says he wants to be the best player in his class, but was still shocked by UNLV's proposal.
"I didn't expect it at all," said Isaacs, a slender, 6-foot floor general with extraordinary court vision and dynamic quickness. "I was just grateful for that moment."
Isaacs averaged about 25 points playing for Becker Middle School last season and had a few 30-point games with Vegas Elite's 14U team during this past AAU season.
Vegas Elite co-director Rich Thornton has worked with Isaacs for the past year and said he "knew he was special right away.
"He's very, very gifted," Thornton said. "He pushes the ball. Always pushes the tempo … High basketball IQ. Good decision-maker."
Isaacs learned the game from his father, Richard Isaacs Sr., a former basketball coach who once ran one of the most successful AAU programs in Los Angeles.
The elder Isaacs would bring his son to his AAU practices and said the sport became part of the boy's daily regimen.
Isaacs Jr. developed a love for basketball and started spending several hours a day at Jim Gilliam Park in Los Angeles, where he developed his ball-handling and jump shot.
"I probably pushed him a little bit more than mom and him wanted at an early age," Isaacs Sr. said. "I've kind of learned to back off a little bit. I'm trying to separate the coach from the dad."
Junior, who goes by "Pop Pop" or "Pop," said he was grateful for his father's influence and is thankful for what at times can be tough love.
"He's been a big help. Without him, I would be nowhere today," he said. "He made me tougher. He made me who I am today. I love him for that."
Isaacs does not know what high school he will attend, and will play for Vegas Elite and the Los Angeles Blue Chip Academy this winter instead of playing for a middle school.
He reclassified to the class of 2022 and is doing a home-school program this year with the Leadership Academy of Nevada so he can spend more time in the gym and work toward his next scholarship offer.
"I'm here today. I love the sport," Isaacs said. "I hope to make it one day."
Ellis to commit
Sierra Vista senior wing Maka Ellis will announce his college commitment Wednesday, according to a tweet from his father.
Ellis averaged 25 points for the Mountain Lions last season and had a strong summer with Vegas Elite's 17U team alongside UNLV commit and Clark guard Trey Woodbury and Bishop Gorman three-star forward Jamal Bey.
The 6-foot-5-inch Ellis has offers from multiple Ivy League schools, including Columbia, Cornell and Pennsylvania. UNR, Santa Clara, Lehigh and Bucknell also have offered.
Gorman boys in rankings
Bishop Gorman's soccer team (10-0-1) checked in at No. 16 in this week's USA Today/United Soccer Coaches Super 25 Fall Boys national poll.
Contact Sam Gordon at sgordon@reviewjournal.com. Follow @BySamGordon on Twitter.