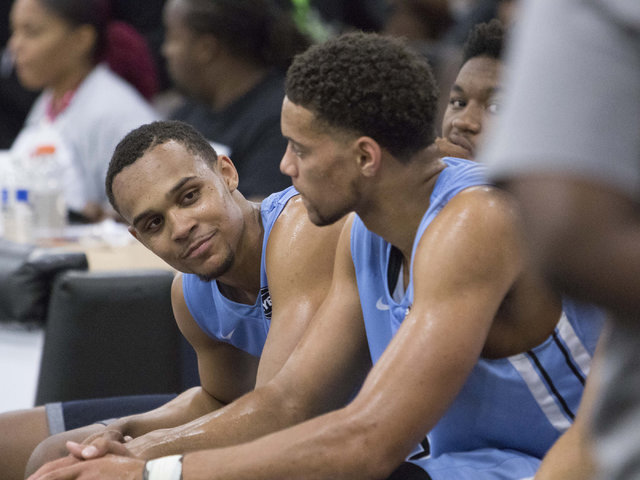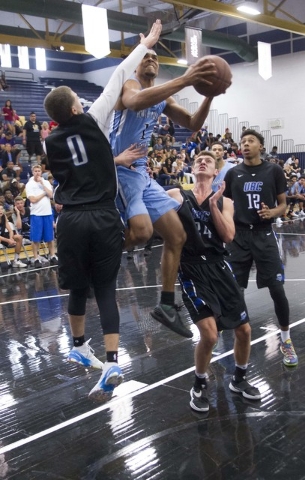 On his Twitter account, Gary Trent Jr. has three pictures pinned to his profile, all capturing a one-on-one matchup against four-time NBA Most Valuable Player LeBron James and the caption, "Turn your idols into your rivals."
The 6-foot-5-inch shooting guard, who ESPN ranks as the No. 9 recruit in the nation in the class of 2017, is hoping his new school provides him a jumpstart to an imminent meeting with "The King."
Trent announced he was transferring from Apple Valley High (Minnesota) to Findlay Prep on July 15, and is getting an early taste of Las Vegas this week playing for the Howard Pulley (Minnesota) AAU team.
"The main reason for me going to Findlay was just helping me for my future," Trent said. "It was the best move for me and my family. They've had several players in the past make it to the level I want to go to, whether it's college or the NBA. And it can help me, so I just want to go there, play, learn and get the season started."
Trent averaged 25.9 points per game for Apple Valley last season, and is coming off a gold medal in Spain with the USA men's basketball Under-17 team that also featured locals Troy Brown (Centennial) and Markus Howard (Findlay Prep).
"They answered questions that I had about Vegas," Trent said. "Nothing really too big. But those guys are great players and know the city. They've said positive things about it. … I asked (Howard) how his experience was, how the coaching staff was. He had nothing but positive things to say about it. He said it helped him and helped his future."
Trent, whose father played nine years in the NBA, is being recruited by several schools, including Arizona, Duke, Kansas, Kentucky, Michigan State and Ohio State.
"His ability to score is as good as anybody in the country," Findlay Prep coach Andy Johnson said. "One of the things that's really underrated with him, and he doesn't get enough credit for, is the way he makes his teammates better.
"The biggest thing, is he's a winner. He's won a state championship. He's won gold with Team USA. His team advanced at the Peach Jam. We're just excited to have that winning mentality that he brings."
Trent joins three other players who announced this summer they would be joining Findlay Prep in the fall: Reggie Chaney (Texas), Chris Giles (Texas) and Justin Roberts (Indiana).
* NO SHOWS — California Supreme Elite was projected to have one of the top AAU teams in Las Vegas this week, as the squad features two big men ranked in the top six of the ESPN 100 in DeAndre Ayton (No. 1) and Brandon McCoy (No. 6).
That all changed when the duo opted for rest and recovery.
McCoy, a 6-11 center, is overcoming a thigh injury, and the 7-foot Ayton just wanted some rest, according to Cal Supreme coach Gary Franklin.
"Just sitting out and resting," Franklin said about Ayton. "Of course, I wished he was here. But we talked about it and he just decided not to (come). I think he may finish up later on at some of these camps."
Franklin also said Ayton, who cut his recruiting list to Arizona, Kansas and Kentucky on July 14, isn't a fan of the celebrity status that comes with being the nation's No. 1 player.
"He doesn't like it," Franklin said. "He would rather be off to himself in the room playing video games. … Honestly, there's a lot of pressure on the kids these days."
* DUVAL DECIDING — Trevon Duval, the nation's top point guard according to ESPN.com, might be getting close to narrowing his list.
His dad, Trevor, told InsideMDSports.com that Duval is expected to visit Arizona, California, Kansas, Oregon and UCLA next month. But Duval, who has been playing in the Fab 48 at Bishop Gorman High, denied he had cut his list of schools.
"I'm not taking any visits right now," Duval said.
UNLV has been listed among the schools the 6-3 Duval is considering, but he said he hasn't heard from the Rebels in a while. That could be because of the coaching change at UNLV and the focus shifting to other recruits.
"I had an interest in them, but it was really on them," Duval said. "I'm really interested in any school."