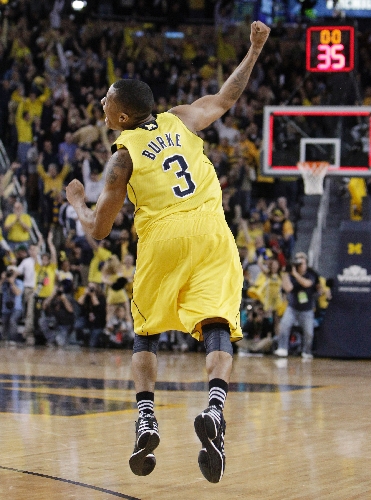 ANN ARBOR, Mich. — Trey Burke grabbed the rebound and immediately took off toward the other basket. Down by one point with less than a minute to play, the Michigan freshman let his instincts take over.
"After my third dribble, I felt somebody hit the ball out of my hand, but he kind of popped it up and I caught it," Burke said. "Then I saw Stu out of the corner of my eye."
Stu Douglass made a layup off Burke's pass with 36.5 seconds remaining, and the 20th-ranked Wolverines held on through a wild final sequence to beat No. 9 Michigan State 60-59 on Tuesday night.
It was Michigan's third straight victory in the series after the Spartans had won 18 of 21.
"If you look in the last 10 or 12 years, it hasn't been much of a rivalry. They've been beating us," Wolverines coach John Beilein said. "Michigan State is so good, and I admire what they do so much — the whole university, everybody. It's a great place. You've got to beat places that you admire — you've got to do that to win a Big Ten championship."
It was the first meeting between the in-state rivals with both teams ranked since 1998.
On Michigan State's last possession, Keith Appling drove to the basket but had his shot blocked by Jordan Morgan. Brandon Wood of the Spartans came up with the ball, and Draymond Green was able to get another shot off from near the free-throw line, but it missed.
"I thought it had a chance to go in," Green said. "I got it up on the rim. I just couldn't get the bounce."
AROUND THE NATION
KENTUCKY CRUISES — At Lexington, Ky., freshman Anthony Davis scored a career-high 27 points and blocked seven shots in No. 2 Kentucky's 86-63 victory over Arkansas.
The Wildcats (18-1, 4-0 Southeastern Conference) won their 10th straight overall and extended the nation's longest home winning streak to 46, including 45 straight at Rupp Arena.
The Wildcats jumped on the Razorbacks (13-5, 2-2) by taking a 10-2 lead and extending it to as many as 20 before halftime.
MOUNTAIN WEST
RAMS ROLL — At Fort Collins, Colo., Dorian Green scored 20 points to help Colorado State to its eighth straight win, 66-55 over Boise State (10-7, 0-2 MWC). Kaipo Sabas had 13 points and Greg Smith 10 for the Rams (13-4, 2-0 Mountain West).
REGIONAL
WOLF PACK STAY HOT — At Reno, Malik Story scored 20 points, and UNR defeated Nebraska-Omaha (7-13) 81-69 for the Wolf Pack's 12th consecutive victory. Olek Czyz had 16 points and 10 rebounds, and Dario Hunt had 14 points and 11 rebounds for the Wolf Pack (15-3).