One brother trades racing for TV booth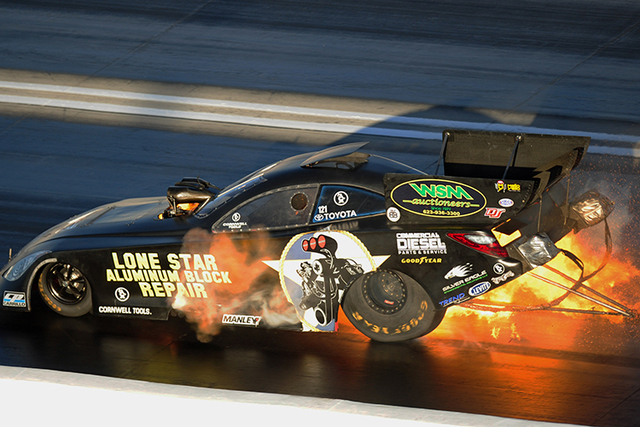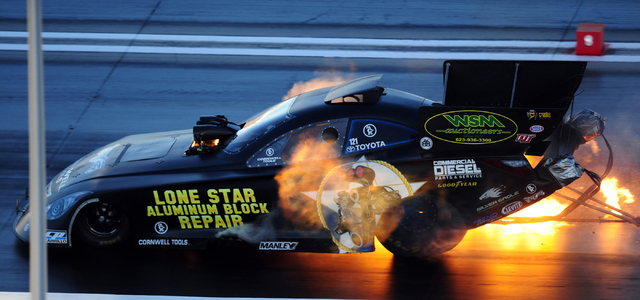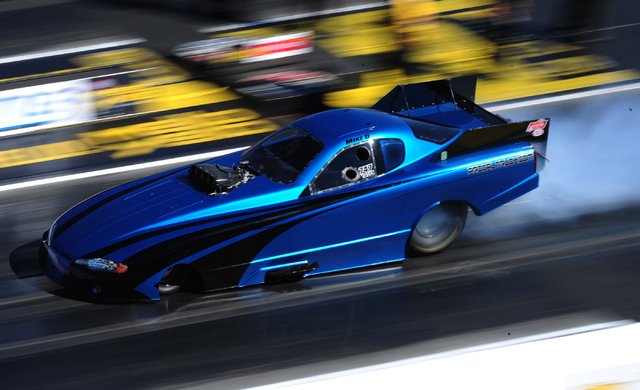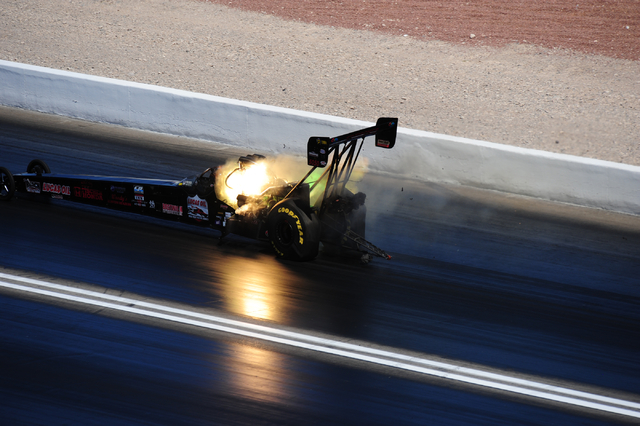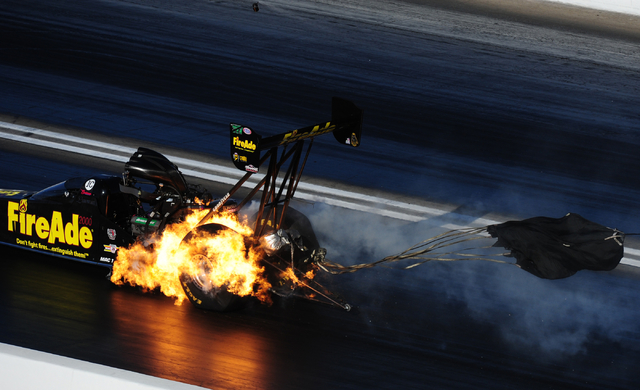 Every now and then Cruz Pedregon finds himself glancing out of his trailer thinking he'll see his younger brother, Tony, parked next door.
Cruz won't find Tony in the pit area these days, but he's still in the vicinity.
Tony Pedregon now sets up shop in the media center as the Fox Sports analyst for National Hot Rod Association coverage.
The Pedregon brothers had competed against each other in the Funny Car event for close to 20 years. Tony, 51, decided it was time to move on after the 2015 season.
Tony Pedregon, with no prior TV experience, joined the Fox team this season and is calling his fourth ever NHRA Mello Yello drag racing series this weekend at The Strip at Las Vegas Motor Speedway.
"I think after the first weekend I was ready to get back into the car," Pedregon said, "but I feel more comfortable now. I made a career out of this for close to 20 years, so it was hard at first. This is a new challenge, and I understand the importance of this sport and it needs some appeal. I can provide that."
David Rieff teamed up with Pedregon in the booth doing the play-by-play coverage. Fox Sports took over this year as the NHRA's TV provider after ESPN televised the racing events for 14 years.
Cruz Pedregon, 52, could relate with his younger brother. He was on the ESPN team as the color analyst during its inaugural season with NHRA in 2001.
"I gave him a little advice," said Cruz, who has competed in Funny Car for 25 years. "Tony has his own way of doing things. I do know he's been working, putting in the time, studying film. He's a great analyst. He has the right idea and knows how represent the sport."
Cruz's TV gig only lasted one year. He returned to the track and captured a second NHRA Mello Yello Drag Racing Funny Car championship in 2008.
Cruz had a good outing Saturday on the Las Vegas track, posting a 3.982-seconds run during his second race. It was the first time he broke the four-second barrier this season.
Tony Pedregon, who's also a two-time Funny Car champion, doesn't see himself returning to competition.
"There are parts of it that I miss," Pedregon said. "I miss the adrenaline rush and the competition because that's what really drives us to get here. This is not the safest occupation. I've had a couple of fires and explosions. I just didn't see myself doing this as an old man. This new challenge still keeps me in the sport and I'm enjoying it."
Pedregon said he's had hiccups during his first four TV coverages, but has received positive feedback with ratings improving every week. In the summer, four NHRA events will be televised on FOX, the first time the sport will be on network television.
The Pedregon brothers are the only Latinos to ever capture Funny Car championships. They were raised in Southern California and were introduced to the sport at a young age by their father, Frank, a drag racing legend.
Tony Pedregon has fond memories of competing in Las Vegas. He clinched his first title in 2003 at the Las Vegas Motor Speedway.
Cruz Pedregon has had highs and lows in Sin City. The older Pedregon sustained severe burns and a concussion in 2005 and even contemplated retirement after the accident. Cruz returned to Las Vegas in 2006 and won the event to break a five-year winless drought.
"We enjoy coming to Las Vegas," Tony Pedregon said. "The fans are great and love the sport."
SATURDAY'S QUALIFYING
Jason Line (6.687, 206.70 mph), Steve Torrence (3.728, 326.48 mph) and Jack Beckman (3.916, 322.88 mph) are the top qualifiers in Pro Stock, Top Fuel and Funny Car, respectively, going into today's elimination finals.