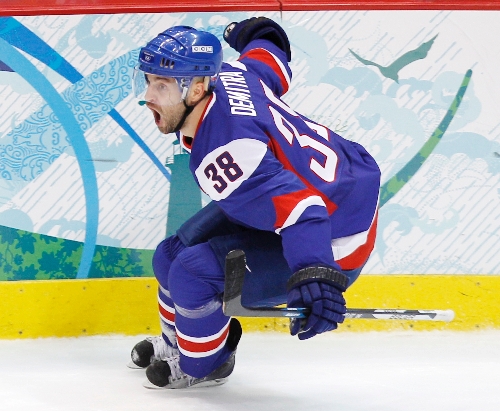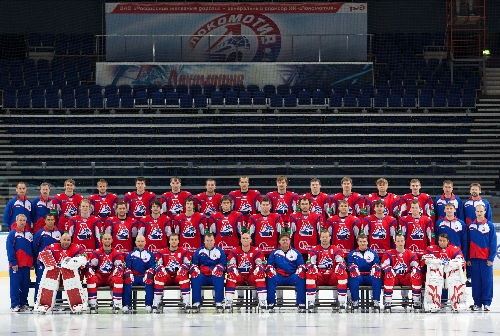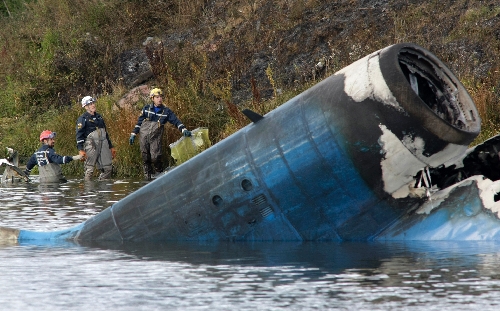 Bob Strumm doesn't remember the year or even what game it was — it must have been Game 4 or 6 of the 2003 Stanley Cup Finals, he said — but he remembers the hug from Ruslan Salei for its intensity. And for the way it smelled.
"He scored a goal in overtime (for Anaheim) against New Jersey, and when they brought him out of the dressing room, he gave me the biggest, sweatiest, stinkiest hug you've ever seen," the former Las Vegas Thunder general manager said.
In 1995, Strumm had nicknamed Salei "Rusty" after signing the smooth-skating defenseman from Belarus for the defunct International Hockey League team.
"The TV people said, 'Who the hell is this little guy (Salei is hugging)?' We were just so close. Rusty was my boy," Strumm said Wednesday.
Salei, 36, and another former Thunder player, Pavol Demitra, also 36, were among 43 people killed when a plane carrying the Russian team Lokomotiv Yaroslavl crashed shortly after takeoff along the Volga River near Yaroslavl, Russia, about 150 miles northeast of Moscow.
The victims included 35 players, coaches and team officials, and seven crew.
There were two survivors. Russian player Alexander Galimov and an unidentified crew member were hospitalized in "very grave" condition, said Alexander Degyatryov, chief doctor at Yaroslavl's Solovyov Hospital.
The weather was sunny and clear at the time of the crash. Russian media said the plane struggled to gain altitude, then crashed into a signal tower, shattering into pieces.
The team was flying to Minsk, the capital of Belarus, for its opening game of the Kontinental Hockey League season. Among those killed was coach Brad McCrimmon, who played 18 seasons in the NHL and was an assistant coach with the Detroit Red Wings last season.
Also among those killed were Czech players Josef Vasicek, Karel Rachunek and Jan Marek, Swedish goalie Stefan Liv and Latvian defenseman Karlis Skrastins, the Russian Emergency Situations Ministry said.
Strumm, who spent 12 seasons as director of pro scouting for the NHL's Columbus Blue Jackets after the Thunder folded in 1999, was left shaken by one of the worst disasters in sports aviation history.
"There are no words to describe a tragedy like this," Strumm said from his Las Vegas home. "It's just one of those things where you don't know what to say, really. Immediately, you think about Rusty, his wife and two kids in Anaheim and … well, it makes no sense. I'm just devastated."
Strumm signed Salei without having seen him play, and the defenseman had seven goals and 23 assists in 76 games for the Thunder in 1995-96.
Strumm added Demitra to the roster the next season, after the native Slovakian could not come to contract terms with the NHL's Ottawa Senators. Demitra had eight goals and 13 assists in 22 games with Las Vegas.
"I remained close to Pav all these years, too," Strumm said. "When I'd see those guys at a game, they'd come right over."
Salei played 917 NHL regular-season games with Anaheim, Florida, Colorado and Detroit. Demitra posted 304 goals and 464 assists in 847 games for Ottawa, St. Louis, Los Angeles, Minnesota and Vancouver. Demitra won the NHL's Lady Byng Trophy for sportsmanship after the 1999-2000 season with the St. Louis Blues.
Salei and Demitra were the second and third former Thunder players from Europe to have died tragically. During the 2004 NHL lockout, Sergei Zholtok collapsed and died in the dressing room of heart failure while playing for a professional team in his hometown of Riga, Latvia.
Zholtok and Salei were teammates on the Thunder in 1995-96, when Zholtok had 51 goals and 50 assists on his way to a 10-year career in the NHL.
"To this day, I've got an article about Serge on my fridge," Strumm said. "I won't ever forget these guys."
The Associated Press contributed to this report. Las Vegas Review-Journal columnist Ron Kantowski can be reached at rkantowski@reviewjournal.com or 702-383-0352. Follow him on Twitter: @ronkantowski.