Penn. court reinstates Jerry Sandusky's $4,900 monthly pension
November 13, 2015 - 12:30 pm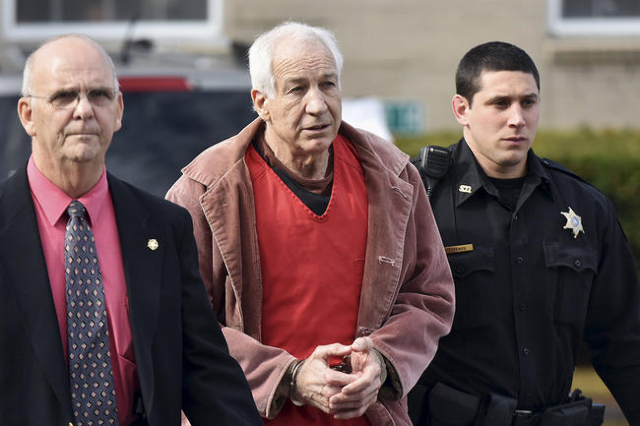 NEW YORK — A Pennsylvania court on Friday reinstated Jerry Sandusky's pension, ruling that a state board had improperly stripped payments to the former Penn State assistant football coach after his 2012 conviction for sexually abusing boys.
The State Employees Retirement System (SERS) wrongly denied Sandusky and his wife his $4,900-a-month pension in October 2012, the court ruled, saying he was entitled to the money in part because he had already retired as assistant to legendary head coach Joe Paterno at the time of the crimes.
A panel of judges on the Pennsylvania Commonwealth Court retroactively reinstated the pension with interest to the date the SERS board canceled payments.
A representative of SERS was not immediately available for comment. It was not immediately known whether the board could challenge the court's decision.
In a case that rocked the world of big-time college sports, Sandusky was found guilty in 2012 of abusing 10 boys over 15 years. Prosecutors said the former coach, who retired in 1999, had used his connection to the school's prestigious football program to operate a youth charity that gave him access to his victims. The former coach, now 71, was sentenced to 30 to 60 years in prison.
Sandusky won a partial victory on Thursday in his bid for a retrial when a state judge ordered the attorney general to turn over any documents that might suggest his alleged victims had a financial incentive to shade their testimony in his trial.
But in the same ruling, the judge denied permission to Sandusky's lawyer to compel testimony from a list of potential witnesses he hoped could prove that his client was denied a fair trial.
Like Sports News on Facebook: