Davis wants to stay in Oakland for 2019, but Raiders have options
November 12, 2018 - 12:56 pm
Updated November 12, 2018 - 5:34 pm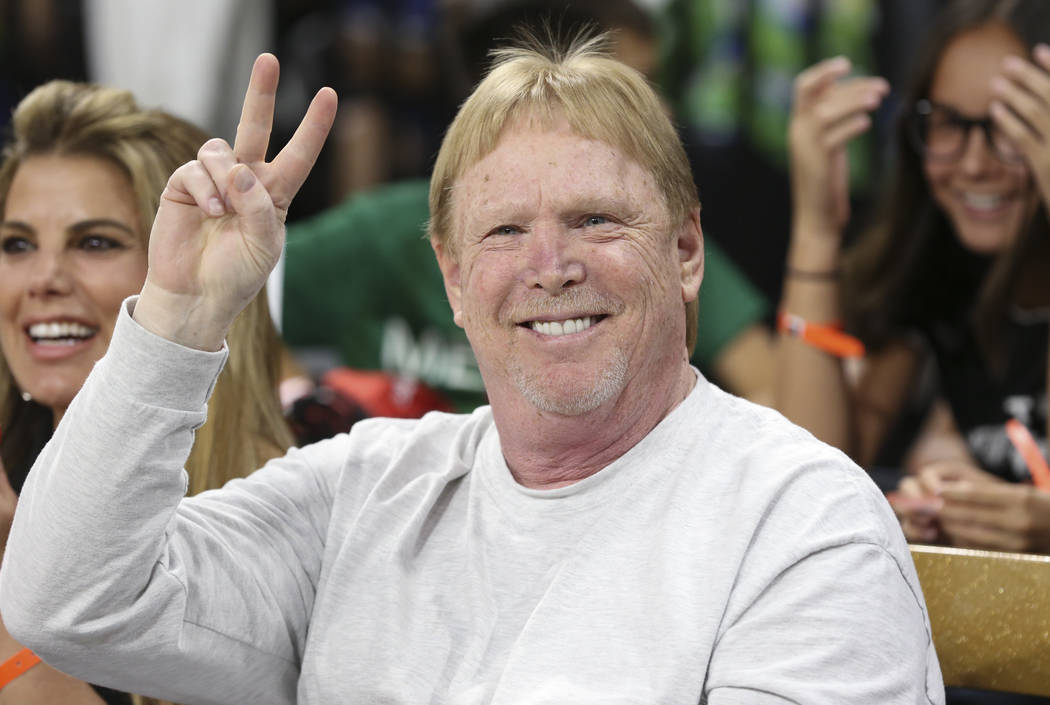 Raiders owner Mark Davis said he wants to stay in Oakland for 2019, but the team does have other options should a one-year stadium lease deal not come together.
Davis discussed the issue of where the Raiders will play next season, the trading of Khalil Mack to the Chicago Bears and his belief in coach Jon Gruden despite a 1-8 record during an extensive interview with ESPN.com after the Raiders' 20-6 loss to the Chargers on Sunday.
Gruden responded to Davis' supportive comments after Monday's practice.
"I talk to Mark after every game," Gruden said. "These are unpleasant conversations. It's tough, man. We want to win. We want to win. We also want to do right by this organization, and some of these decisions have been really tough. But I want to deliver for him and his family, certainly, and this organization.
"And right now it's tough. It's great to have him support me, and I appreciate it. But I feel the same way he does. I just want to win."
Davis understood rebuilding the Raiders would take time, which is why he handed Gruden a 10-year, $100 million contract in January.
It's been a forgetful first season in Gruden's second stint with the Raiders, but he's armed with five first-round picks in the next two NFL drafts because of the Mack move and the trade of wide receiver Amari Cooper to the Dallas Cowboys.
The Raiders were one of two teams in the league with only one win this season entering Monday. They'll be rooting for the 1-7 Giants and cheering against the 4-5 Cowboys and 6-3 Bears for the rest of the year to strengthen those picks.
Here are the biggest takeaways from Davis' interview:
Finding a home for 2019
The Raiders are expected to relocate from Oakland to Las Vegas in 2020 to play home games at a domed stadium off the Strip. But they currently don't have a lease for home games in 2019.
Davis wants to stay in Oakland next season. But added that the team has other options if they're unable to agree on a lease with city officials.
"I personally want to play in Oakland," Davis said. "I absolutely want to play in Oakland. We have a completed lease sitting with the city council, that all they have to do is agree to it and we're here next year."
A potential lawsuit from the city could force the Raiders to play elsewhere.
"Emotionally, I would say, why would I give them $3 (million), $4 (million), $5 million in rent that they're going to turn around and use to sue me?" Davis said. "But, at the same time, if they'll have us, I can't turn on the fans. I can't do it. And this is terrible negotiating I'm doing now. I'm going to get killed. But that's just the way I am. But, if in fact it does get ugly, and can't be bridged, we do have options."
Trading Mack
Davis said he wanted to keep Mack until the end of his rookie deal that expired after the 2018 season. He also added that Gruden wanted Mack to stay, but the two sides couldn't agree on the financial terms after multiple counter offers.
"Jon wanted him. Everybody thinks that Jon's the one who wanted to get rid of him," Davis said. "Jon wanted him badly. Why wouldn't you want this guy? (General manager) Reggie (McKenzie) wanted him badly. And I wanted him badly, too.
"But, if in fact we were going to give the type of money that we were going to give to him, and we had Derek (Carr) on that type of a (contract), how were we going to go ahead and build this football team, with all the holes that we had?"
Davis said the last time the organization spoke with Mack's representatives was after the NFL Scouting Combine in March. That's when it became clear Mack didn't plan to report anytime soon.
"He was going to do the Le'Veon Bell (holdout)," Davis said, referring to the Pittsburgh Steelers running back. "At that point, I said, 'F it. The guy hasn't talked to anybody. We've got to do something.'"
Believing in Gruden
It's widely believed Gruden has final say on personnel moves.
Gruden has taken the bulk of the blame for the Raiders' nightmare season.
"To blame Jon, for Khalil Mack not being here, is absolutely not the truth," Davis said. "It was a decision that was made and it wasn't made easily … I don't have any bad feelings toward (Mack). I wish he would have talked to Jon and Reggie and wanted to at least honor the fifth year of his contract.
"I understood it was going to be a lot of work, but Jon has a 10-year contract. I know how hard Jon Gruden works. I know how much he wants to win. And how much days like today are killing him.
"Having Jon Gruden here was the endgame for me. Jon's going to be the stability here. Jon's going nowhere. That's just the way it is."
More Raiders: Follow all of our Raiders coverage online at reviewjournal.com/Raiders and @NFLinVegas on Twitter.
Contact Gilbert Manzano at gmanzano@reviewjournal.com. Follow @GManzano24 on Twitter.