Derek Carr looks to push Raiders in London without pressing
Updated October 13, 2018 - 2:06 pm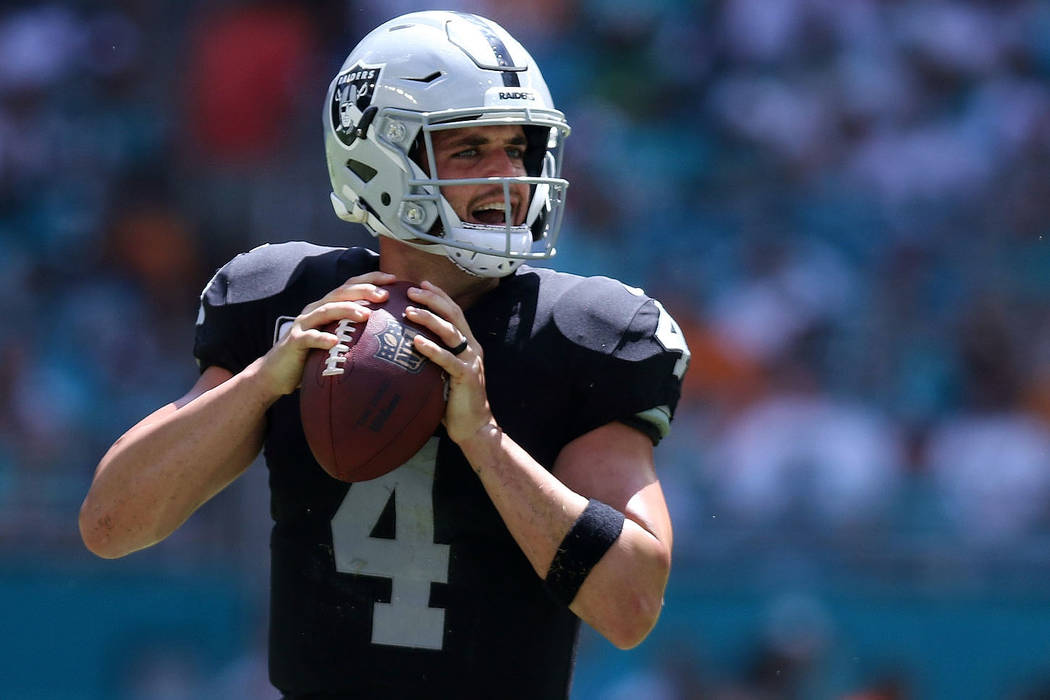 LONDON — Derek Carr has pressed at times this season.
All things considered, something might be wrong if he didn't.
The Raiders quarterback opened his NFL career with a double-digit losing streak. Since then, he's matured at his position, tasted a 12-win season only for the playoffs to be ripped away by injury, and worked in vain to recapture the chance.
He is early into a campaign that increasingly reeks of a rebuild. If a certain trade nine days before the opener didn't emit the stench, four losses in five weeks have.
Behind an injury-battered line, opposite a defense with one takeaway in those four defeats, needing to drive more than 70 yards on 84.4 percent of all possessions, Carr should be excused for occasionally trying to do too much when working with his fourth offensive coordinator in five years.
Still, there's no need to adopt a bad habit.
Carr first played at Wembley Stadium in the fourth week of the 10-game skid that started his 2014 rookie season. He will return to the site Sunday to face the Seattle Seahawks. He is now more advanced but still learning. Carr will look to balance both aggressiveness and composure, an act he's perfected when at his best.
He neither can afford to be careless nor overly careful.
With a first-and-goal interception last Sunday when trailing the Los Angeles Chargers 20-3, he drifted into the former.
"There's a fine line, right?" Carr said. "A lot of the games we've won in my career, I just think back, there's been a lot of tight-window, a lot of risky throws. Sometimes, you have to make them. Sometimes you have to do certain things. Now, is it first-and-goal at the goal line? No. I don't need to do it then. But there are times in games, in the second half, where you do have to do those things.
"I think my problem is I want to win every play for my team. 'No, this is the play.' 'No, this is the one that's going to turn it around for us.' I think that's where I got into trouble. Just really studying those, looking back at them honestly, just saying, 'Did I really need to do that in that situation?' Just being conscious during the game. 'What's the score? What's the situation?' There's always a next play unless there's not. That's something I definitely will get corrected."
It is human nature for Carr to push the envelope, to be aggressive with his decision-making and ball placement.
In some sense, the situation has demanded that.
Field position has been an issue for nearly the entire season. In the Raiders' lone win against the Cleveland Browns during Week 4, they started beyond their own 30-yard line on six of 18 drives, including in opponent territory on three occasions. In the four losses, they assumed possession behind their own 30 on 37 of 40 series — 92.5 percent — and never past their own 41. Excluding Week 4, no NFL quarterback has been tasked with driving his offense farther than Carr.
Amid a lack of complementary football, the offensive line behind which Carr operates is limping into next week's bye.
Against the Chargers, the Raiders started two rookie tackles — Kolton Miller and Brandon Parker — in the same game for the first time since at least the 1970 NFL-AFL merger, according to Elias Stats Bureau. That arrangement is expected to remain for at least the next several weeks.
Given the landscape at 1-4, it might be difficult Sunday for Carr not to press further.
"We know, as a team, we're in a spot where we need to win," said Carr, whose eight interceptions are most in the league. "We need to win this game. Our sole focus on the plane ride over, our sole focus all week is whatever it takes. Let's just win this game. Just like it is every week, but I think that heightened sense of urgency has been good for our young guys and good for our team."
And yet, sound judgment must be retained.
This is Carr's challenge.
More Raiders: Follow all of our Raiders coverage online at reviewjournal.com/Raiders and @NFLinVegas on Twitter.
Contact reporter Michael Gehlken at mgehlken@reviewjournal.com. Follow @GehlkenNFL on Twitter.
Vegas Nation podcast now available on Apple Podcasts
The Review-Journal's Vegas Nation podcast, hosted by Michael Gehlken and Gilbert Manzano, is now available on your favorite streaming services. Listen weekly to Raiders beat writers break down the Silver and Black on Apple Podcasts, Stitcher and Google Podcasts. You can also listen to the podcasts on the Vegas Nation app, available in iTunes and Google Play stores.