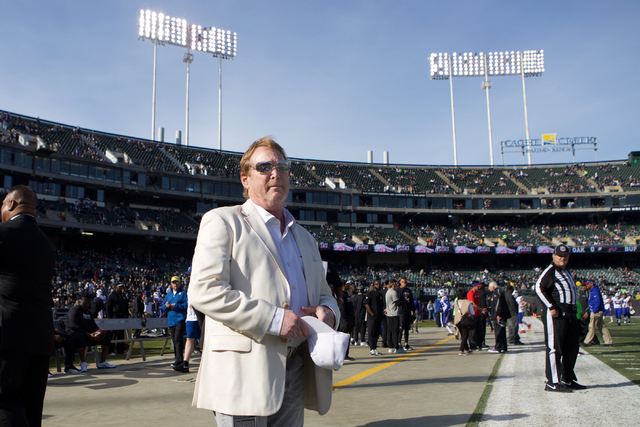 IRVING, Texas — The potential relocation of the Raiders and Chargers will be the focus of an NFL owners meeting at the Four Seasons Resort on Wednesday, a day after Oakland-area officials moved ahead with an 11th-hour plan to keep the Raiders from leaving for Las Vegas.
NFL Commissioner Roger Goodell wants new stadiums for the San Diego Chargers and Oakland Raiders in their current cities. But the Raiders want to build a domed stadium in Southern Nevada, and the Chargers seem to be inching closer to a move to Los Angeles.
The timing of this week's meeting created a sense of urgency in Oakland, where officials voted Tuesday on a development and negotiating deal for a $1.3 billion, 55,000-seat stadium that is essentially a last-ditch effort to keep the Raiders. The Alameda County Board of Supervisors voted 3-1-1 to move forward with the plan, and the Oakland City Council approved it by a 7-0-1 vote.
The proposal in Oakland calls for contributions of $200 million each from the city and the NFL, $300 million from the Raiders and $600 million in private money from a team of investors fronted by former NFL star Ronnie Lott.
The East Bay Times reported representatives from Lott's group, the NFL and the Raiders met informally Monday. Raiders owner Mark Davis did not attend the meeting, and he told the Review-Journal he was not seriously considering Oakland's stadium push.
NFL Executive Vice President Eric Grubman told USA Today on Tuesday the league has concerns about the viability of Oakland's plan, saying, "I don't think there's been any progress that suggests a breakthrough anytime soon."
Davis presented Las Vegas' stadium financing proposal and stated his intention to file for relocation at the NFL's fall meeting Oct. 19 in Houston. Davis can officially file for relocation Jan. 2, the day after the regular season ends.
The Nevada Legislature and Gov. Brian Sandoval in October approved a financing plan for a 65,000-seat, $1.9 billion domed stadium in Las Vegas. The deal calls for $750 million in public funding from a Clark County hotel room tax increase, plus contributions of $650 million from the family of Las Vegas Sands Corp. Chairman and CEO Sheldon Adelson and $500 million from the Raiders.
The Raiders need the support of 24 of 32 owners to move to Las Vegas, but Davis and other league sources have said it's unclear whether owners will vote next month or in March at the NFL Annual Meeting in Phoenix.
Raiders President Marc Badain said team executives do not plan to make an extensive presentation about Las Vegas at Wednesday's meeting because they've already done so.
"The committee meetings are when you usually give more substantive presentations, and we did that (two weeks ago) in New York," Badain said.
"It's just an update," Davis said of this week's meeting.
Meanwhile, according to numerous reports, the Chargers plan to exercise their option to join the Rams in Los Angeles next season. The Chargers face a Jan. 15 deadline on their Los Angeles option, which would become the Raiders' option after that date.
Last month, San Diego County voters rejected a plan to fund a $1.8 billion stadium and convention center with a hotel room tax increase.
No resolutions for the Chargers or Raiders will be reached this week, but stadium proposals and relocation options for each team will be discussed.
The Review-Journal is owned by the family of Las Vegas Sands Corp. Chairman and CEO Sheldon Adelson.
Contact reporter Matt Youmans at myoumans@reviewjournal.com or 702-387-2907. Follow @mattyoumans247 on Twitter.
RELATED
Alameda County approves negotiations on $1.3B Raiders stadium
Oakland unveils $1.3B stadium plan to keep Raiders from moving to Las Vegas
Raiders owner Mark Davis not listening to stadium talks in Oakland