Gabe Jackson learned of new Raiders contract while in Las Vegas
Updated July 3, 2017 - 1:07 pm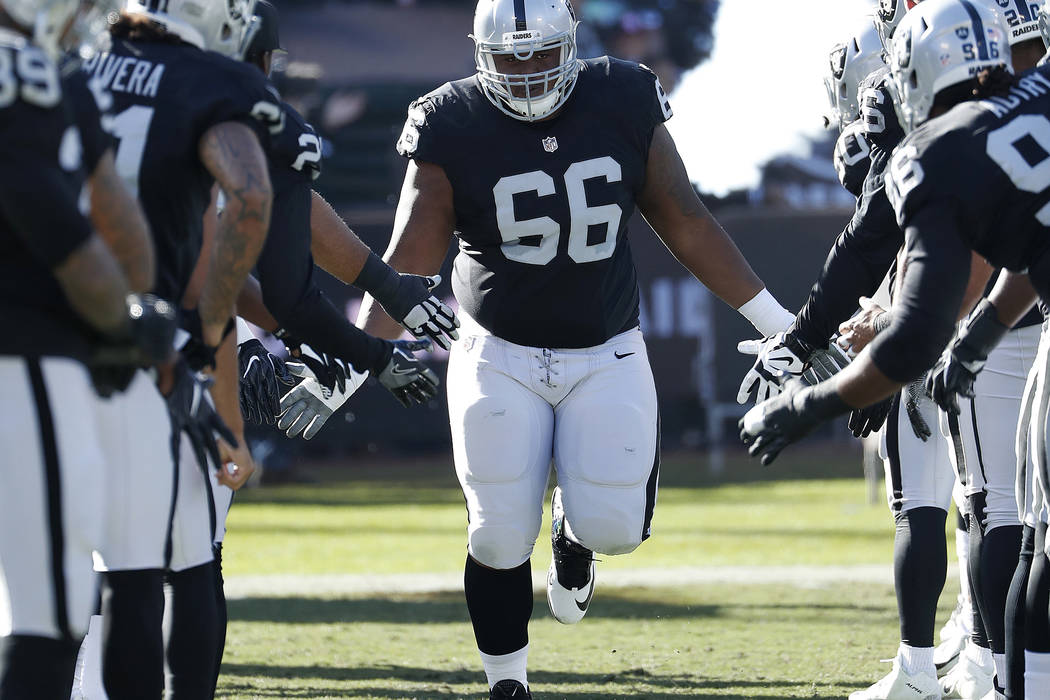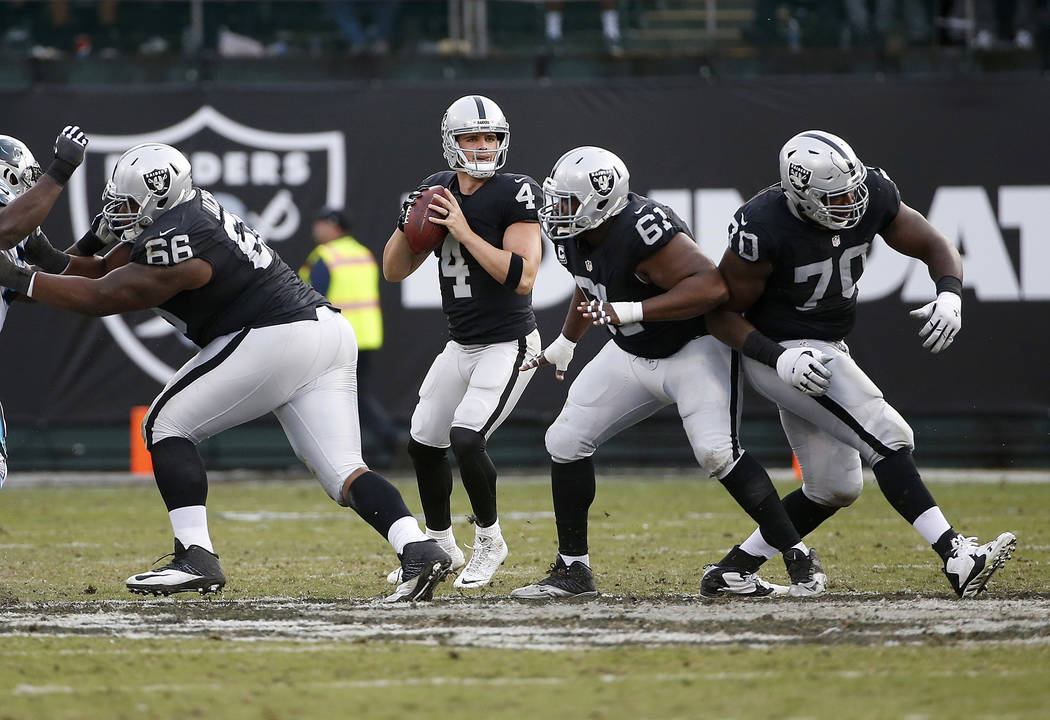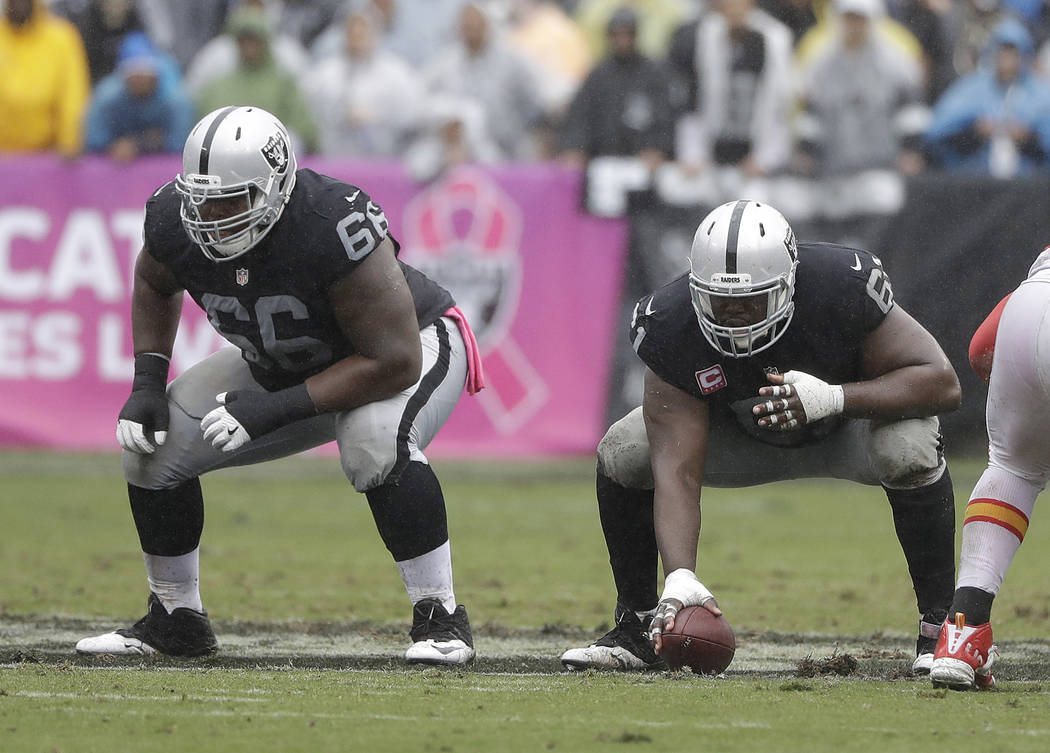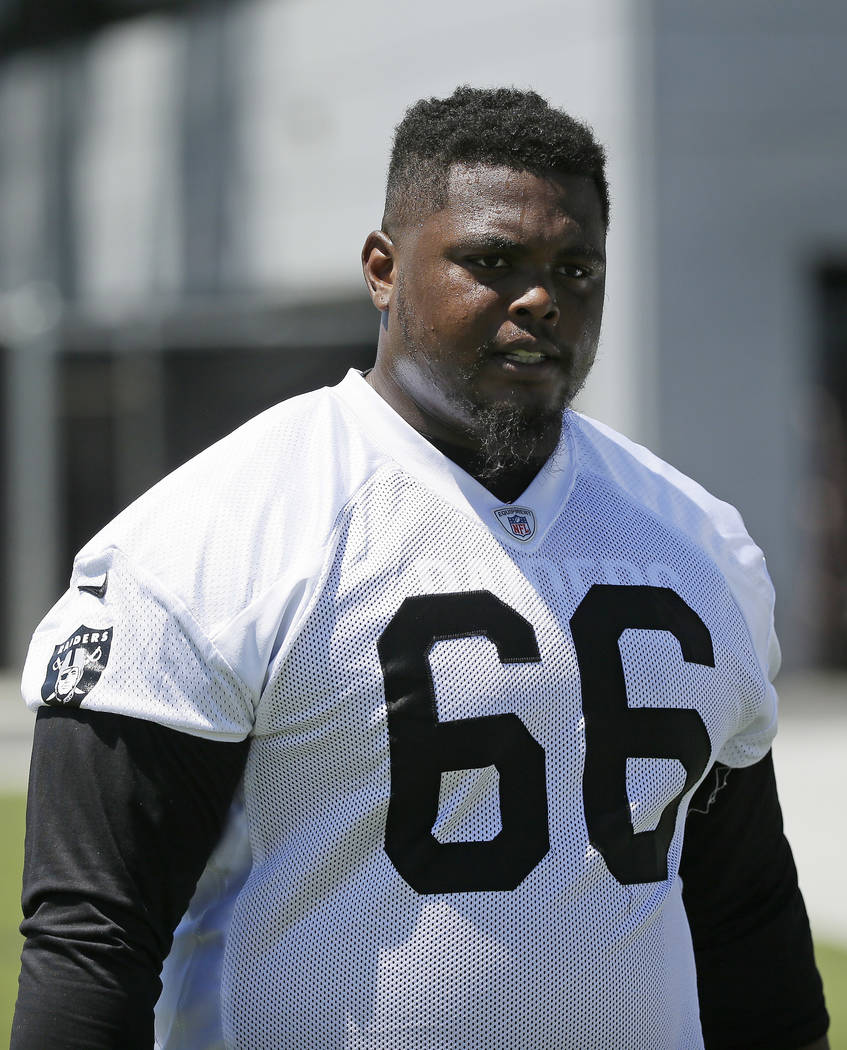 OAKLAND, Calif. — The irony wasn't lost on Gabe Jackson.
Neither was the 106-degree heat.
Last week, the Raiders right guard took a phone call from his agent while in Las Vegas for a teammate's bachelor party. He stepped outside to ensure he could hear the details about the deal, a five-year, $56 million pact that will keep him under contract through the 2022 season.
"As I was learning about it, walking outside, it was like crazy hot," Jackson said. "I was like, 'Man, it's smoking out here.'"
Welcome to Las Vegas.
News of Jackson's contract surfaced last Thursday. On Friday, the deal was signed, all but ensuring he will be a Raider come the franchise's 2020 scheduled relocation to Southern Nevada. He addressed the contract Monday for the first time publicly, emphasizing his appreciation for both his organization and quarterback.
The Raiders reached a five-year, $125 million extension with Derek Carr a week earlier.
Carr and his agent Tim Younger both said that it was structured, in part, to allow the Raiders an opportunity to retain a young core that includes Jackson, defensive end Khalil Mack and wide receiver Amari Cooper, all of whom were due for large-money extensions on the horizon. Jackson, a 2014 third-round pick, was the most pressing of the three; like Carr, he was entering the final year of his rookie contract.
On June 23, Carr said that during negotiations he often asked Younger if certain contract parameters would help his teammates.
Those press-conference comments reached Jackson.
"To be honest with you, I started smiling when I first heard it because he always said that to me before, that he wanted to make sure everyone else is good," Jackson said in a conference call. "When he said that, it just speaks to his character and who he is as a person. He's one of the most unselfish people I know."
With the money, Jackson said he plans to find land in Mississippi and eventually start building a home.
Meanwhile, a message seems to have been transferred from the Raiders' front office to the locker room. Players who produce and don't create off-the-field trouble will be rewarded in time. Carr and Jackson signed their respective contracts on consecutive Fridays.
"Definitely," Jackson said. "I always said, 'If you live clean and live good outside of football and if you come in and take care of business and work your butt off, they may not say it all the time but people appreciate it.' They may not tell you every day or every week, 'Hey, you're doing a good job,' this or that. But people pay attention to how you work on the field and off it also."
The Raiders did.
And now for Jackson, more Las Vegas heat waves should be ahead.
More Raiders: Follow all of our Oakland Raiders-to-Las Vegas coverage online at reviewjournal.com/Raiders and @NFLinVegas on Twitter.
Contact reporter Michael Gehlken at mgehlken@reviewjournal.com. Follow @GehlkenNFL on Twitter.