Is Sam Boyd Stadium a viable temporary home for Raiders?
March 27, 2017 - 11:42 am
Updated March 27, 2017 - 10:11 pm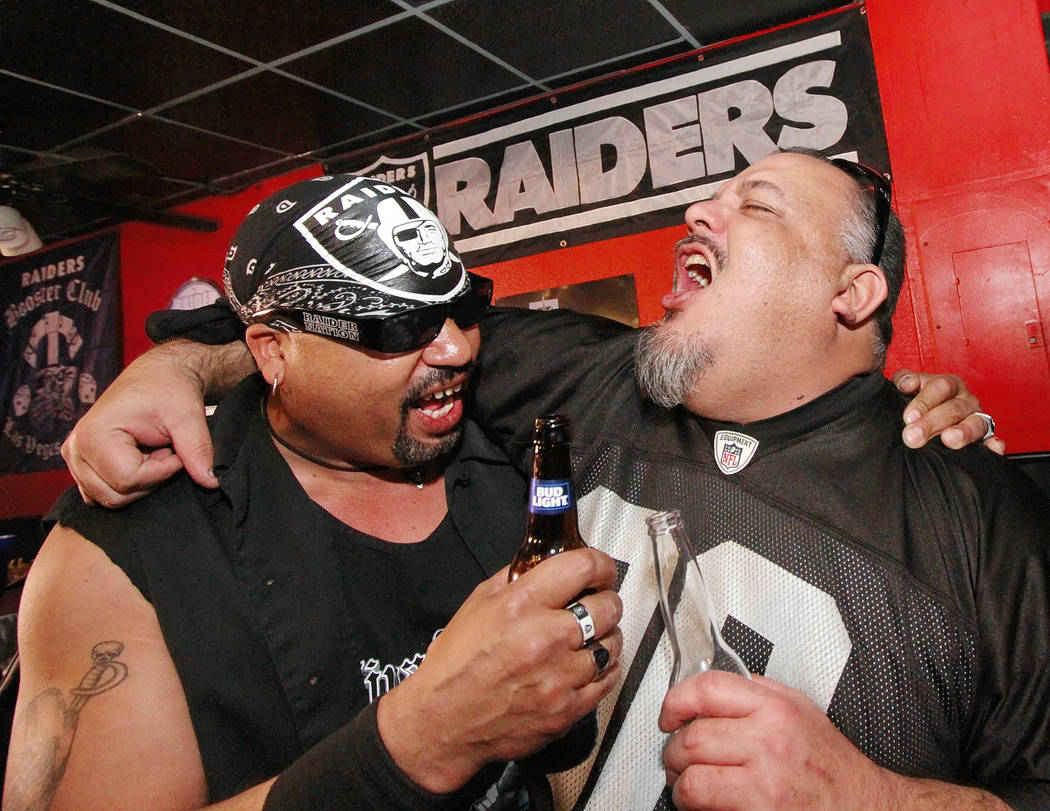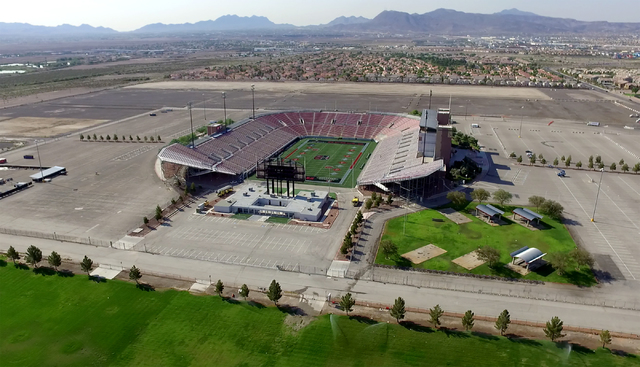 The Raiders were approved by the NFL to leave Oakland for Las Vegas, but the team won't pack its bags anytime soon.
Raiders officials have said they plan on staying in Northern California until the new 65,000-seat, $1.9 billion domed stadium is complete. And during a news conference Monday after owners voted 31-1 in favor of the Raiders moving to Las Vegas, NFL commissioner Roger Goodell said the plan was for the team to play in Oakland until the stadium is built.
Mark Davis, the owner of the Raiders, told the Review-Journal the team probably wouldn't play regular season games at Sam Boyd Stadium but is open to having preseason games at the home of UNLV starting in 2018.
Mark Davis told me that the Raiders probably would play preseason game in 2018 at Sam Boyd Stadium but no regular-season games. #rjnow

— Jonny Saraceno (@jonnysaraceno) March 27, 2017
The Raiders' new state-of-the-art facility isn't expected to open until the 2020 season, which could create an interesting dilemma for the Silver and Black if the breakup with Oakland becomes messy over the next three years. The question would then become, "Can Sam Boyd Stadium provide a temporary home?"
UNLV athletic director Tina Kunzer-Murphy said in January that the university would be "ready and prepared" for the possibility of hosting the Raiders at Sam Boyd Stadium.
But Clark County commissioner Steve Sisolak doesn't see it as a realistic option, calling the 46-year-old home of the Rebels "not suitable for NFL games."
The Raiders told the Review-Journal this month that the team was evaluating Sam Boyd Stadium for proper field conditions and locker room facilities. Raiders owner Mark Davis was given a tour of the stadium by UNLV officials last year.
It's safe to say the Raiders are at least considering Sam Boyd Stadium as a temporary solution, but what would it take to get the 35,000-seat venue ready for an NFL season?
"I think that would be a question directly for the Raiders," Kunzer-Murphy said last week.
"Obviously, there are a lot of things that would have to be done, but Sam Boyd Stadium is sitting out there with an awful lot of room around the parameters, and obviously quite a few upgrades would need to be done before, but, yes, it's a possibility if that's something that the Raiders would want to do."
Raiders president Marc Badain declined to comment for this story.
UNLV football coach Tony Sanchez offered one suggestion if the Raiders were seriously considering playing at Sam Boyd Stadium.
"It's a brand-new field; the field is fine," Sanchez said of the turf that was added in 2015 at a cost of about $800,000. "They may want to relook at locker rooms. They're a little tight; they're a little old.
"They haven't done anything to them in years. Other than that, there's not a whole lot you got to do. It would be a temporary deal."
Another issue could be how many seats can be added to get the attendance near the 60,000 average NFL teams usually draw on Sundays. The Las Vegas Bowl hosted 42,000 fans at Sam Boyd Stadium for the Utah-Brigham Young matchup in 2015.
"With some money infused into that stadium, I don't know how actually large it could go, but back in the day, we added an additional 7,000 seats in the stadium when BYU came into town," Kunzer-Murphy said.
"The Chargers recently moved into a smaller stadium, so that can be worked out."
The Chargers left San Diego for Los Angeles in January and will play at the 30,000-seat StubHub Center for the next two seasons.
The Minnesota Vikings played at the TCF Bank Stadium in 2014 and 2015 and spent $7 million in upgrades toward the home of the University of Minnesota.
The Vikings moved into their $1.2 billion home, U.S. Bank Stadium, last year.
The biggest concern for the NFL could be if Sam Boyd Stadium is suitable for TV purposes.
"It's gotta be right for the NFL also," Kunzer-Murphy said. "There's still a lot to be worked out, but I know the Sam Boyd staff would do a tremendous job."
Follow all of our Oakland Raiders to Las Vegas coverage online at reviewjournal.com/NFLinVegas and @NFLinVegas on Twitter.
Contact Gilbert Manzano at gmanzano@reviewjournal.com or 702-383-0492. Follow @gmanzano24 on Twitter.
RECENT NFL TEAMS TO PLAY IN TEMPORARY HOMES
— Los Angeles Chargers, StubHub Center, 2017-2018
— Los Angeles Rams, Los Angeles Memorial Coliseum, 2016-2018
— Minnesota Vikings, TCF Bank Stadium, 2014-2015