Mahomes throws for 4 TDs as Chiefs roll, 45-10
October 21, 2018 - 9:02 pm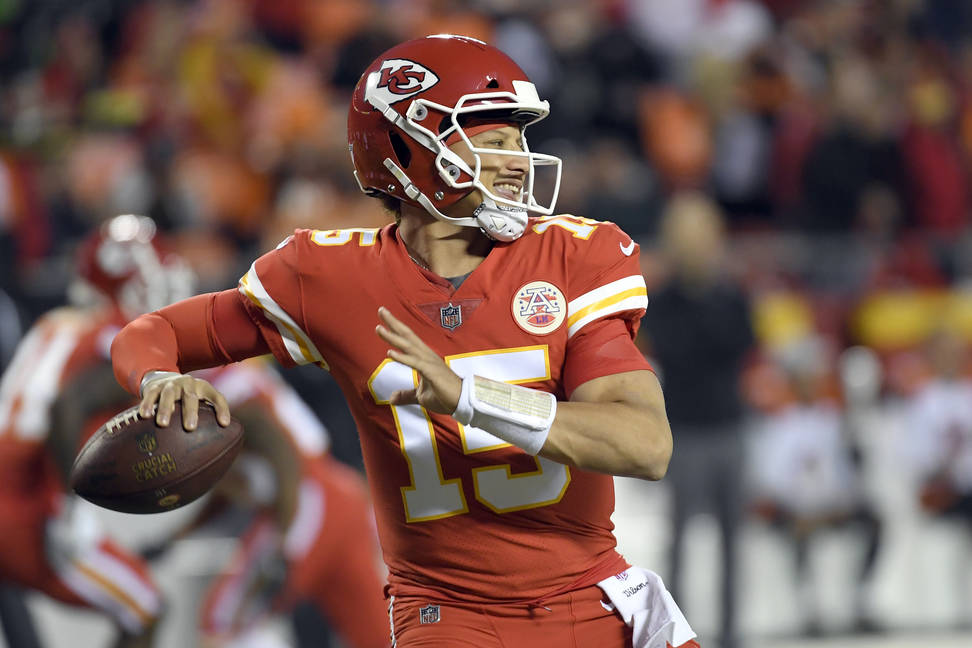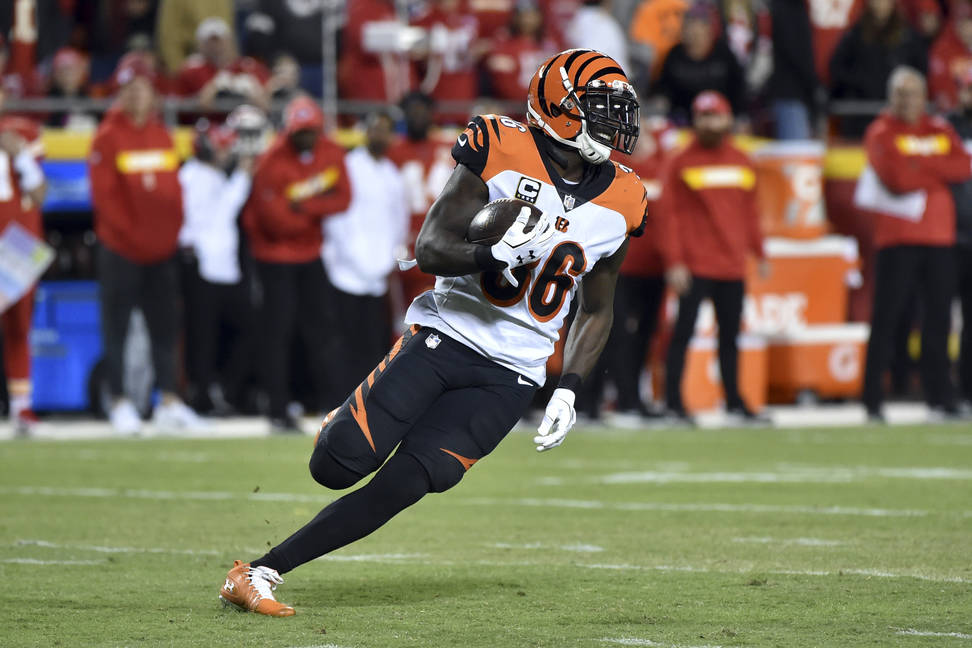 KANSAS CITY, Mo. — One of the few things Patrick Mahomes hadn't done in his young career was bounce back from a loss.
He made that look just as easy as Mahomes does everything else.
The Chiefs' young record-setting quarterback threw for 358 yards and four touchdowns Sunday night, Kareem Hunt finished with three scores and Kansas City rebounded from a last-second loss in New England by throttling the Cincinnati Bengals 45-10.
Mahomes was 28 of 39 with his only big mistake an underthrown interception, though the Chiefs (6-1) were already so far ahead of Cincinnati (4-3) by that point it didn't really matter.
He spread the wealth, too, connecting with eight targets. Tyreek Hill had seven catches for 68 yards and a touchdown, and Demetrius Harris hauled in the other TD catch.
The Bengals' Andy Dalton was held to just 148 yards passing with a touchdown and an interception by the NFL's worst defense. Joe Mixon managed just 50 yards rushing.
The Chiefs, wearing their all-red uniforms for the prime-time matchup, flexed some rare defensive muscle to open the game, creating a three-and-out for their first forced punt in 17 possessions.
Mahomes and Hunt immediately went to work.
With their quarterback shredding the Bengals' depleted backfield, and Hunt making the rest of the defense look downright foolish, the Chiefs marched 95 yards for a score. Hunt capped it with a short TD grab, but it was his play immediately before that set social media ablaze.
Hunt spun loose from a clutch of Bengals, then hurdled safety Jessie Bates on a 21-yard run .
Mahomes connected with Hunt again early in the second quarter, when the Pro Bowl running back left Bengals linebacker Vontaze Burfict grasping at air on his way to the end zone. And he answered a TD toss by Dalton with one to Harris as the Chiefs took a 24-7 lead into halftime.
Run the ball and protect the lead? Nah.
Mahomes opened the second half by hitting Sammy Watkins for 50 yards. And six plays later, Hunt punched it in from a couple yards out for his third touchdown and first on the ground.
Ron Parker's pick-6 on the ensuing play gave Kansas City two TDs in 9 seconds, and Mahomes connected with Hill — just after the speedster dropped a touchdown catch — to make it 45-10 in the fourth.
By that point, it was hard to tell what was more entertaining — the Chiefs' offense or their crazy touchdown celebrations — because the reality is there were plenty of both.
Harris celebrated his score by jumping into a camera well and using it as a foxhole while chucking the football as if it were a grenade. Hill fainted at the foot of an official and got CPR from offensive lineman Eric Fisher after his score, then reeled off a backflip before sprinting to the sideline.
The Bengals certainly weren't enjoying it. They got dinged for a pair of personal fouls down the stretch, including a late helmet-to-helmet hit on Hunt by safety Shawn Williams.
Stats and streaks
The Bengals are 3-16 on Sunday night, losing nine straight. … Mahomes has 22 TD passes and three picks this season. … Kansas City has won 13 straight when its defense scores.
Celeb sightings
Royals OF Alex Gordon pounded the ceremonial drum to start the game, while NASCAR star Clint Bowyer and retired driver Dale Earnhardt Jr. checked out the game. Bowyer and Earnhardt were in town for the Cup Series race at Kansas Speedway, where Bowyer advanced to the third round of the playoffs.
Injuries
Bengals: TE Tyler Kroft (knee), LB Nick Vigil (knee) and CB Darqueze Dennard (shoulder) were among the inactive players. … Burfict limped off with a hip injury late in the third quarter. WR John Ross (groin) and TE Mason Schreck (knee) also left in the second half.
Chiefs: OLB Justin Houston (hamstring), SS Eric Berry (heel) and C Mitch Morse (concussion) were inactive. … LB Terrance Smith left in the first half with a knee injury.
Up next
Bengals: Return home to face Tampa Bay next Sunday.
Chiefs: Go for the season sweep of Denver next Sunday.