Raiders coach Jon Gruden has work cut out for him
September 5, 2018 - 5:36 pm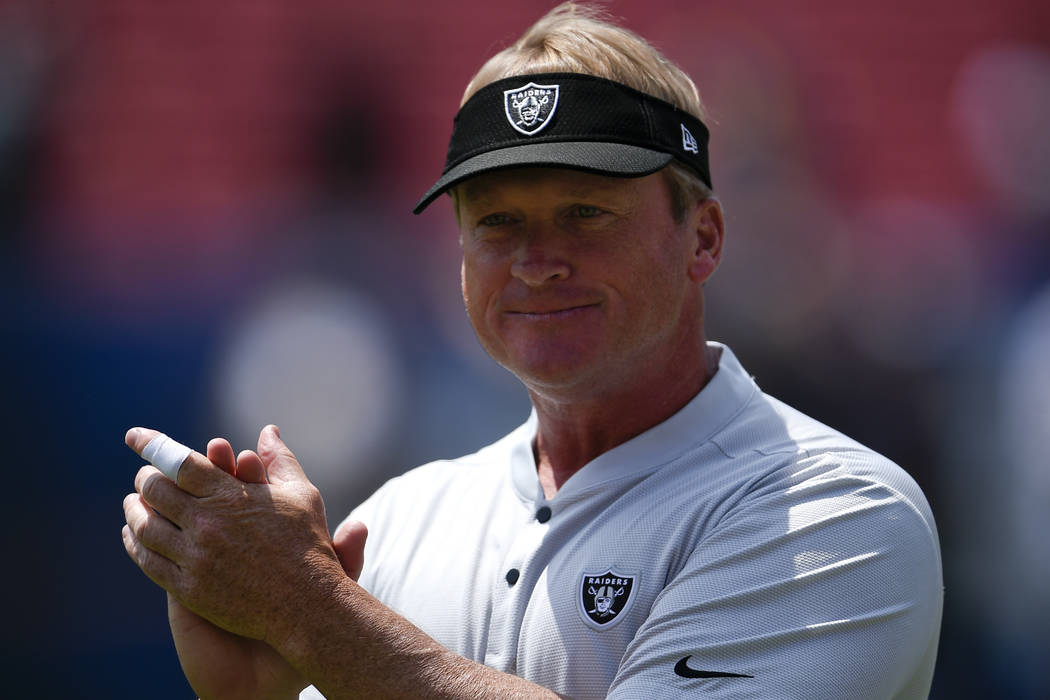 OAKLAND, Calif. — Jon Gruden dug a steel fork and knife into his dinner plate, ripping apart what began as a warm entrée. He sat opposite Tom Shaw, his future hire as Raiders strength and conditioning coordinator, in an enclosed patio sparing both from the January cold. Nearby boats rocked along a harbor.
It was just them.
A stranger then approached their table. The man had tears in his eyes, Shaw said.
Minutes later, a second man arrived. More tears.
"One guy says, 'I was 15 years old when you left,'" Shaw said . "And he was crying. I was shocked. What's crazy is Jon stood up every time, took a picture with every person I'm talking about, while he's cutting his steak. … It was pretty neat to see. No one would believe that. I wish I would have videotaped to see these guys crying and Jon just standing up. 'Hey, let's get a good picture.'
"He would sit back down, and we'd be talking, and all the sudden, another person would come up."
That scene, from a restaurant not far from Raiders headquarters, transpired a couple days after Gruden was introduced in a Jan. 9 news conference. Excitement. Expectation. Both surrounded Gruden when, a decade removed from NFL coaching, he signed a 10-year, $100 million contract. Amid the hype, it's easy to forget what sits on the man's plate.
Building a champion likely will take time.
The Raiders hope to be competitive in Oakland, Gruden often declaring it a personal goal to win a Super Bowl before the franchise's 2020 relocation to Las Vegas. But the Raiders made 44 draft selections from 2013-17. Only 10 are on the 53-man roster entering Monday's season opener against the Los Angeles Rams.
A 12-4 campaign in 2016, which featured a 9-2 record in one-score games and 5-0 record in games decided by three points or fewer, pollutes some of the perception as to where this roster stands. There are pieces, to be sure, such as a franchise quarterback. General manager Reggie McKenzie has slugged some home runs in free agency, too, particularly on his offensive line.
But a $100 million check does not solve every problem overnight.
This steak is tough. Gruden needs time.
His most significant decision to date featured a touch of irony. On Saturday, he helped oversee the trade of All-Pro defensive end Khalil Mack, whom he previously referred to as his "best player." The sendoff secured a draft-pick package centering on two first-round choices from the Chicago Bears. So ended Mack's four-year tenure.
Gruden, 55, last roamed Oakland's sideline from 1998 to 2001. There was no fifth year for him, either, as he was shipped to the Tampa Bay Buccaneers for draft-pick compensation that included two first-round selections.
A blockbuster trade ended Gruden's first Raiders experience. Now, with those draft picks and the financial flexibility afforded from offloading Mack's contract, Gruden hopes to kickstart this second one.
He does so under intense scrutiny.
It comes with the job. It comes with the contract.
'Vision' of Gruden
Pundits challenge how in touch Gruden remains with the game, given he hasn't coached in the NFL since 2008 and the league's growth and evolution since. He often reminds that he was not frozen in carbonite during that span; he kept involved after his firing in Tampa, maintaining relationships and exploring the inner-workings of all 32 clubs via his access as an ESPN broadcaster.
By his nature, though, Gruden invites such criticism.
He identifies himself as a throwback. He is classic rock in a Top-40 world. He studies league history. He respects it. He occasionally shows grainy, decades-old game and practice tape to players in meetings, turning legends like Jerry Rice and Jack Tatum into models for concepts he finds applicable today.
"Analytics" and "technology" are buzzwords in 2018. While he embraces certain aspects of the game's modern advancement, he believes innovation can carry limitation. Give him a leatherbound book over a Kindle. One won't die on Page 50. He incited a mob-in-waiting when he quipped in February he's "trying to throw the game back to 1998."
And then, there are roster decisions.
At the same Jan. 9 news conference, Raiders owner Mark Davis discussed his pairing of Gruden and McKenzie.
"When my father passed away and we had the first press conference," Davis said, "I told everyone here that one thing I know is what I don't know, and that I am going to surround myself with people who do know those things. My vision at that time was Jon Gruden to coach this football team, and Reggie McKenzie to bring in the talent."
In reality, Gruden does a bit of both.
This opens him to be questioned twofold: as a coach and a player evaluator.
Roster reflects the coach
On Saturday morning, for example, the Mack trade attracted its share of arrows. A few hours later, there came another round. The Raiders swung and missed on an April trade for Martavis Bryant. They sent a third-round pick to the Pittsburgh Steelers for the wide receiver, who was waived Saturday.
Bryant had a history of suspensions for violating the NFL's substance abuse policy. The chance of another suspension looms.
For the risk involved, Gruden received media criticism directly following the trade. He received more in its aftermath.
No evaluator bats 1.000. So, he makes no apologies.
"We released our second-round draft choice last year (safety Obi Melifonwu) and the year before (defensive tackle Jihad Ward) and the year before that (defensive lineman Mario Edwards Jr.)," Gruden said on Sunday. "Not everything is a perfect science, but we'll be criticized for that. It was a risk, I thought, well worth taking."
Repeatedly, Gruden has said publicly he has "a lot to prove."
The roster he helped assemble suits him.
Name a given position. More often than not, there is someone looking to prove, at his age, he still can play. Derrick Johnson, 35, is a starting linebacker in the base defense. The Kansas City Chiefs released him in February. Donald Penn, 35, will start Monday at right tackle. His other 170 career starts came on the left side where first-round pick Kolton Miller now operates.
Defensive tackle Frostee Rucker and safety Reggie Nelson are 34. Wide receiver Jordy Nelson and nickel cornerback Leon Hall are 33.
The Raiders have five cornerbacks on their roster. Only one, Gareon Conley, was part of the organization before this offseason. And a shin injury limited the 2017 first-round pick to 92 defensive snaps as a rookie. On the defensive line, much of the pass rush falls on rookies Arden Key, P.J. Hall and Mo Hurst. Two were removed outright from many teams' draft boards. One, Hall, was not invited to the NFL Scouting Combine.
More cameras are pointed to Gruden today than during his ESPN career.
His return to coaching was a long-anticipated event, one that captivated both the college and pro football audiences. Those who believe in him welcome him, their excitement spilling over a steak dinner. His doubters dine over him, too, awaiting the next example to present their case as to why he'll fail. Each play call and roster transaction is a piece off which either can feast.
The Raiders invested in Gruden because Davis believes he can place a fourth Super Bowl trophy into their cabinet. His first chance begins in earnest Monday.
It could take time.
He's at the table but just started cutting.
More Raiders: Follow all of our Raiders coverage online at reviewjournal.com/Raiders and @NFLinVegas on Twitter.
Contact reporter Michael Gehlken at mgehlken@reviewjournal.com. Follow @GehlkenNFL on Twitter.