Raiders hope to catch Reuben Foster's fall at NFL draft
Updated April 25, 2017 - 8:46 pm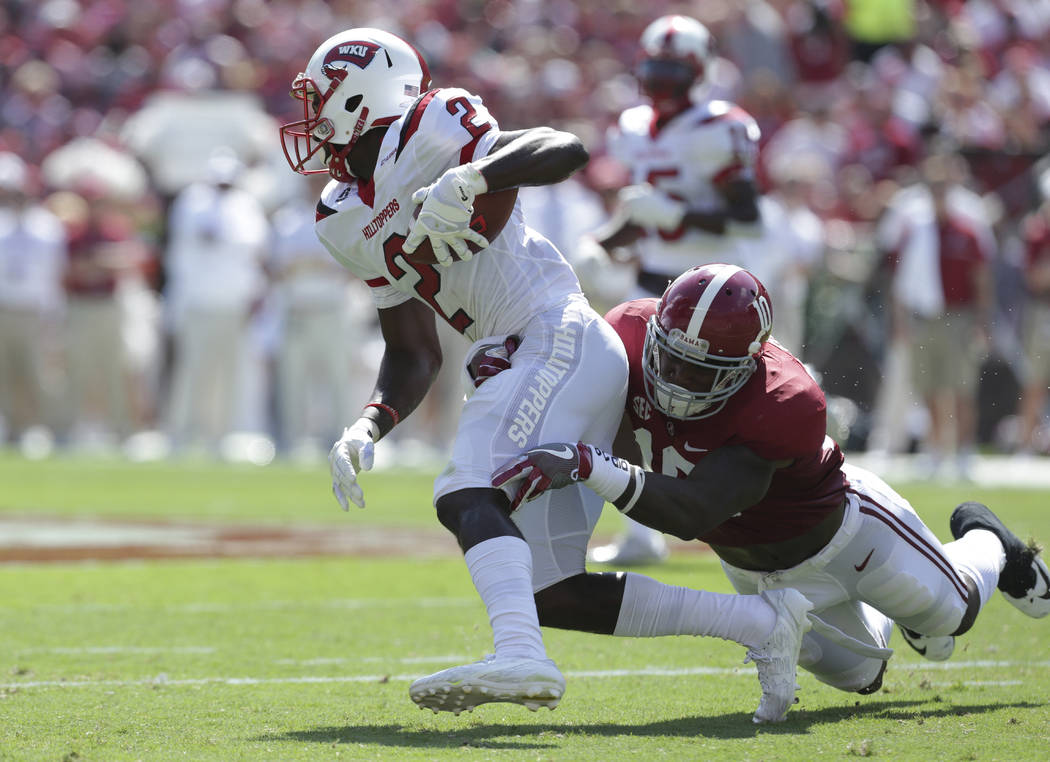 Reuben Foster first underwent shoulder surgery for a torn rotator cuff.
He then was involved in a dispute with a hospital worker during his medical check at the NFL Scouting Combine, leaving the event because of it.
News later surfaced that, before his departure, he provided a diluted urine sample during a drug test, a failure that entered him into the league's drug program.
The run-up to the NFL draft couldn't have gone much worse for Foster.
Or better for the Raiders.
The former Alabama inside linebacker once was widely considered his class's top talent at the position. And that still might be the case on many teams' draft boards. But what seemed an impossibility three months ago now is plausible to some: On Thursday, there is a chance the Raiders could see the prospect fall into their lap at No. 24 overall.
Should that occur, the sense is he won't fall any further.
A source affiliated neither with Foster nor his camp said the Raiders are hoping Foster is available when they are on the clock, the expectation being the club is fully prepared to draft him at that spot. Inside linebacker arguably is the team's top need, though interior defensive line, nickel cornerback and running back also are glaring. Foster's physicality and athleticism would make him a welcome addition.
That is, of course, if he's available.
"There are some red flags there," NFL Network analyst Mike Mayock said in a Friday media conference call. "I think the combine incident has been wiped clean by almost every team. I think that was way overdone, and the kid should not been sent home. That's my opinion. And most people in the league believe that.
"As far as the diluted sample at the combine, that's always really disappointing. It has to be taken into consideration. I think the shoulder is apparently going to be OK from a recheck perspective. I don't see him sliding all that far. I think he's a top-20 pick all day long in any draft. Could he have been a top-10 pick? He still might be a top-10 pick."
One league source echoed that sentiment Tuesday, flatly saying "he won't be there" at No. 24 because of the number of teams who still covet him in the first half of the first round.
Others aren't so sure.
NFL analyst and former league executive Mike Lombardi recently said on Twitter "teams picking between 33-45 will need to make sure they are comfortable" with Foster because "he will be there" in the second round.
Consider this, Las Vegas, an introduction to the week before the NFL draft.
Speculation is rampant. Conflicting information is abound. Ultimately, everyone will find out soon enough if Foster actually could fall to the second round.
He first must get past the Raiders, among other teams. That looks unlikely.
Follow all of our Oakland Raiders to Las Vegas coverage online at reviewjournal.com/Raiders and @NFLinVegas on Twitter.
Michael Gehlken can be reached at mgehlken@reviewjournal.com. Follow @GehlkenNFL on Twitter.
NFL draft
When: Thursday to Saturday (Round 1 Thursday; rounds 2 and 3 Friday; rounds 4 to 7 Saturday)
Where: Philadelphia
Time: 5 p.m. Thursday; 4 p.m. Friday; 9 a.m. Saturday
TV: ESPN and NFL Network