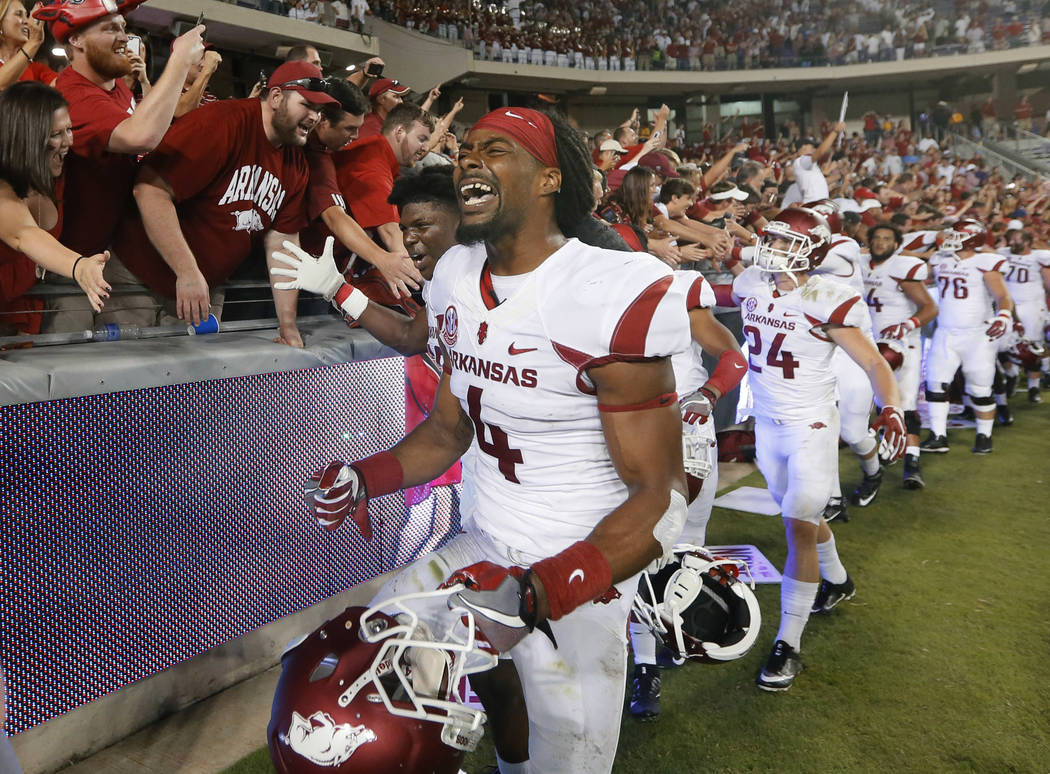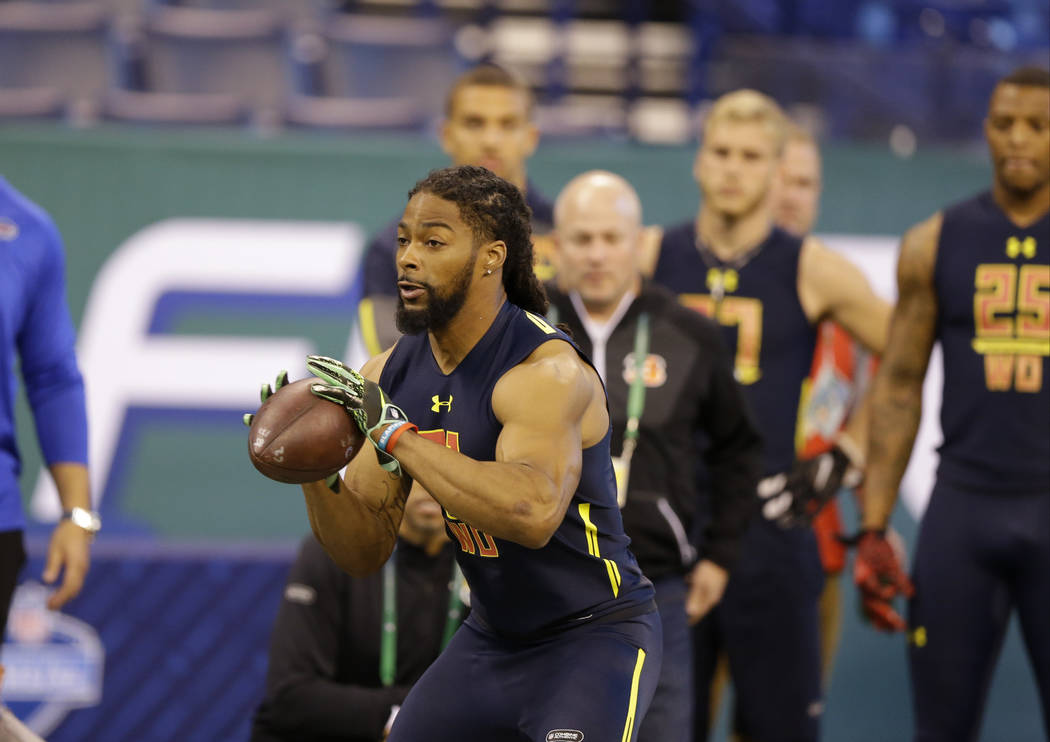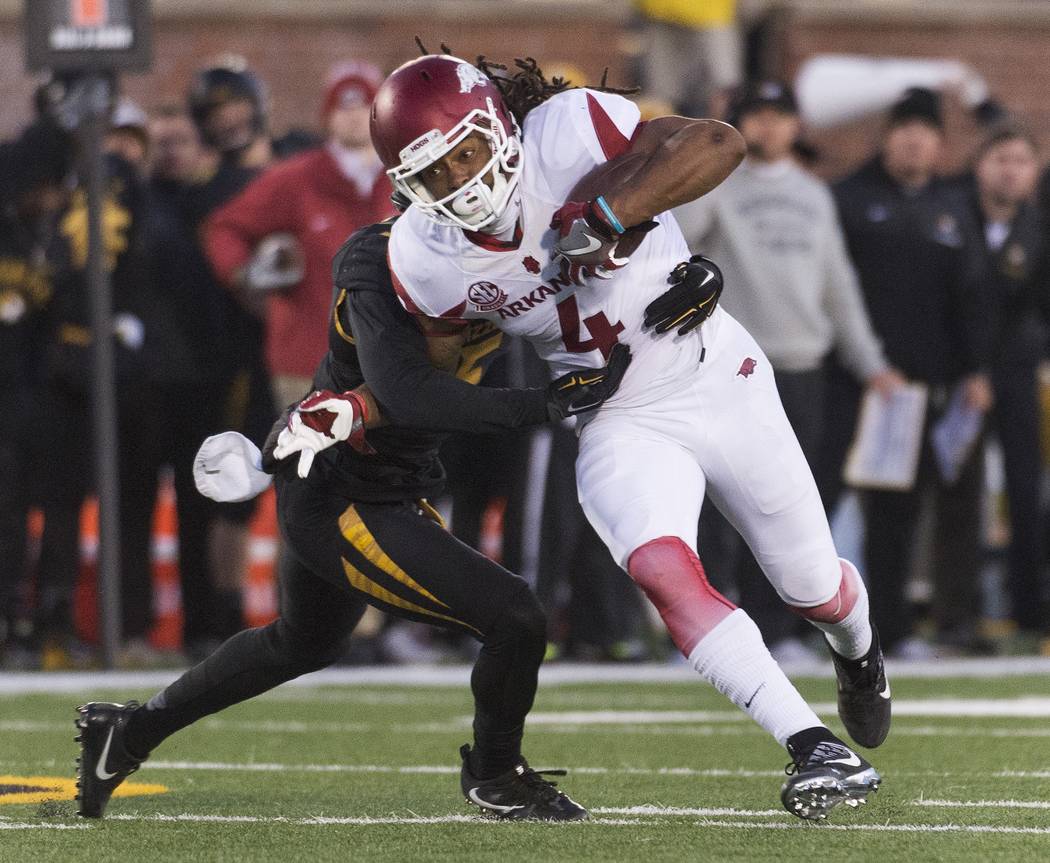 ALAMEDA, Calif. — It was sloppy. It was slow. And yet, it was successful.
Keon Hatcher ran thousands of routes at Arkansas. One of his worst, an imprecise dig route against Toledo in 2015, may best reveal how it is the Raiders, a franchise historically obsessed with speed, are thrilled to have landed a wide receiver who clocked an underwhelming 40-yard dash at the NFL Scouting Combine.
Hatcher is no track star.
He is a football player.
On Friday morning, the Raiders will begin a three-day rookie minicamp. This marks their first chance to evaluate up close a rookie class headlined by early draft picks such as cornerback Gareon Conley, their first-rounder, and safety Obi Melifonwu, their second-rounder.
But Hatcher, 22, is among their most intriguing. The 6-foot-2-inch, 207-pounder signed as an undrafted rookie and is expected to make a serious run at their 53-man roster this summer.
Certainly, a better run than he made at the combine.
Fifty other wide receivers attempted the 40-yard dash in March in Indianapolis. Five ran slower than Hatcher. His time of 4.64 seconds helped contribute to him going undrafted. He felt "embarrassed," he said, when his name went uncalled Saturday. A houseful of loved ones waited for a moment that didn't arrive.
Soon afterward, Hatcher headed to the gym for a workout. He was irate.
A straight-line speed test he calls "overrated" was partly to blame.
"I still consider myself fast," said Hatcher, who did not run the 40 at his pro day because of a hamstring injury. "It's crazy because the 40-yard dash shows (speed), but on the field, I'll run by your 4.3 guy. That's what I don't get. It's something different. If you watch film, you can tell my game speed isn't 4.6. The game speed is totally different. …
"(NFL teams) put so much into it. A guy who can run a 4.2, 4.3 40 but can't catch, they're going to pick him. He might not be able to run routes, but they're going to pick him because he can run a 4.2 or 4.3. … I feel like when it comes to football, you've got to go off the film. The test stuff is cool to see how athletic guys are, but at the end, when it comes down to it, you've got to look at the film because that's what we're doing. We're playing football."
His best film may come from one of his worst moments.
It was the second game of the Razorbacks' 2015 season. They trailed Toledo 16-10 with less than three minutes remaining. Hatcher ran a dig route in the end zone but felt a pop in his foot. He jogged to the sideline, where he saw Jonathan Williams, his roommate and now a Buffalo Bills running back. Williams was wearing a protective boot because he fractured his foot a few weeks earlier.
Hatcher had news.
He was about to join him.
"I said, 'I broke my foot,' " Hatcher said. "He was like, 'For real?' and I said, 'Yeah.' I told the (athletic) trainer, and he said, 'Let's go take a look at it.' I said, 'No, because if you take my shoe off, I'm not going to be able to finish this game.' …
"I wanted to beat this team. I knew I broke my foot, so either way it went, at the end of the game, I'm done (for the season). I just had to finish the game to help us win."
He returned to action.
He aligned as the outside wide receiver from a trip set in the ensuing drive. Running on a broken foot, he won separation. Running on a broken foot, he caught a pass for an 18-yard gain. It wasn't pretty but it worked. First down.
Pure vertical speed can separate players on a football field.
So can toughness. Such traits are why the Raiders invested a relatively significant $9,500 signing bonus to acquire him after the draft.
The injury, a fractured fifth metatarsal, required season-ending surgery. What was supposed to be a breakout senior year became a redshirt one, his final stats 13 catches for 198 yards and two touchdowns in two games. In 2016, he caught 44 passes for 743 yard and eight scores. He hoped his game film was enough to be selected on the third day of the draft, rounds four to seven.
When it wasn't, Hatcher chose the Raiders over a number of teams, including the Colts. Hatcher believes he is at his best when his back is against the wall, when his team is losing, when he is an underdog who is counted out.
That is what sent him back onto the field against Toledo.
That is what drove him in the immediate moments after the draft.
"Whoever gets me, they're going to get a steal," Hatcher said. "That's my mindset. Everybody else, because you didn't pick me, you're the one who's going to have to pay for it."
Michael Gehlken can be reached at mgehlken@reviewjournal.com. Follow @GehlkenNFL on Twitter.
Hester expected to miss rookie minicamp
ALAMEDA, Calif. — At least one Raiders draft pick could be a spectator this weekend.
Defensive tackle Treyvon Hester, a seventh-round selection from Toledo, is not expected to participate in drills at rookie minicamp, a source said Thursday. He is still recovering from December shoulder surgery to repair a torn labrum.
Michael Gehlken/Review-Journal