Raiders' offense helped contain WR Tyreek Hill
Updated December 3, 2018 - 6:43 pm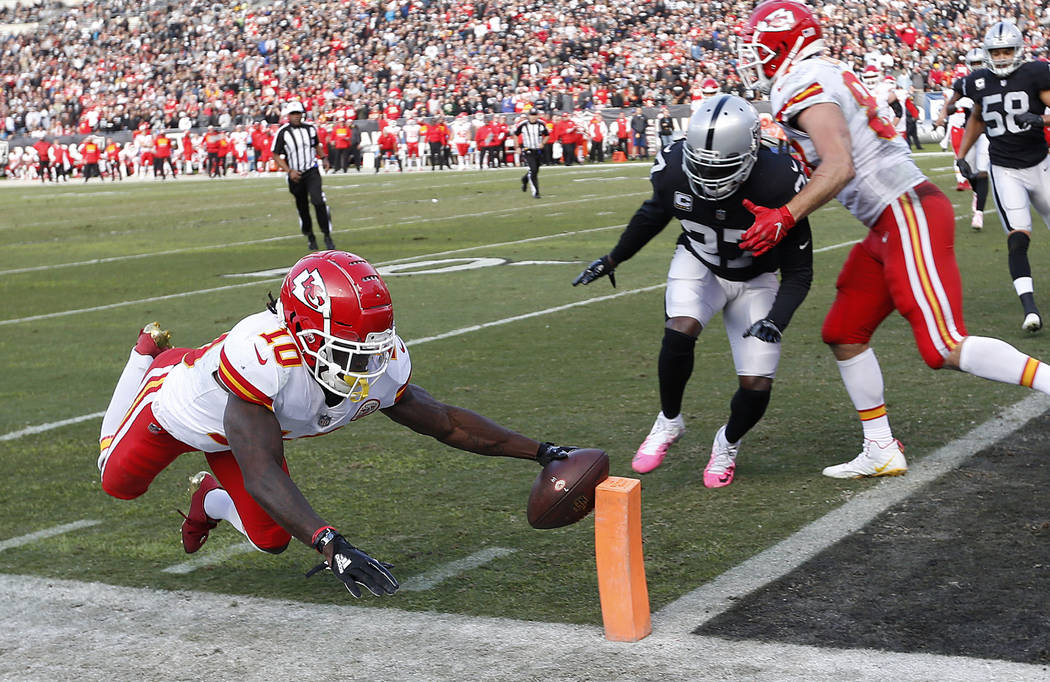 ALAMEDA, Calif. — Last week, the Raiders devoted extensive time scheming and practicing how best to contain Tyreek Hill, not only as a wide receiver but punt returner.
For the latter, their best defense was offense.
A key storyline entering the 40-33 loss to the Kansas City Chiefs was how rookie Johnny Townsend and his directional punting ability could negate Hill. Townsend had two punts in the first quarter. The first was far too directional, traveling a season-low 22 yards before sailing out of bounds. He rebounded on his second one, a 39-yard fair catch, and wasn't called upon again.
Indeed, that's the best way to punt to Hill.
Don't.
"Well, that was the objective, not let him return the ball," coach Jon Gruden said. "We wanted to kick the ball out of bounds or near the sideline where we could pin him into the short side of the field. The first punt wasn't good enough, but it wasn't returned. … I think the fans could return that first punt, but Johnny hit a good punt on the second one. We limited Hill, at least in the return game."
Hill recorded a 33-yard carry on offense. Otherwise, he totaled one catch for 13 yards and had a 4-yard rush.
Ellis back, somewhat
In principle, Gruden likes the idea of activating a player from injured reserve during the season.
In practice, he appreciates the difficulty.
Raiders nose tackle Justin Ellis played Sunday for the first time since a Week 1 foot ailment. Given the time missed, it will be a process for Ellis to return in earnest.
"He's rusty," Gruden said. "I don't think he's 100 percent yet. …Anytime you miss three months and you're a defensive tackle, that's tough. This short-term IR concept that they use now is neat to be able to bring a player back, but it's also challenging because a lot of time they're not in football shape. So, I think that'll be the process he needs to go through here in the next couple of weeks."
Right tackle Donald Penn (groin) and running back Marshawn Lynch (groin) technically are eligible, too, for activation. Neither is expected to return to game action this season.
Lynch is rehabbing away from the team's athletic trainers, Gruden said.
Notable
— Ex-Indianapolis Colts offensive tackle Denzelle Good was claimed Monday off waivers. Offensive lineman Ian Silberman was waived in a corresponding move. Good, who started two games this season at right tackle, isn't expected to be active Sunday against the Pittsburgh Steelers.
— The Raiders creatively involved wide receiver Jordy Nelson on Sunday, including aligning him at running back. Creativity exists in the playbook, too, for wide receiver Martavis Bryant, but he's missed the past three games to a knee injury. "Hopefully, Martavis Bryant can start using some of his plays because they're getting stale in my office," Gruden said.
More Raiders: Follow all of our Raiders coverage online at reviewjournal.com/Raiders and @NFLinVegas on Twitter.
Contact reporter Michael Gehlken at mgehlken@reviewjournal.com. Follow @GehlkenNFL on Twitter.