Raiders owner Mark Davis tours UNLV's Sam Boyd Stadium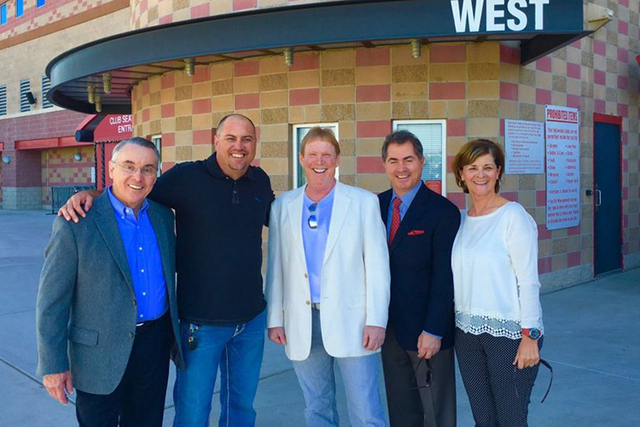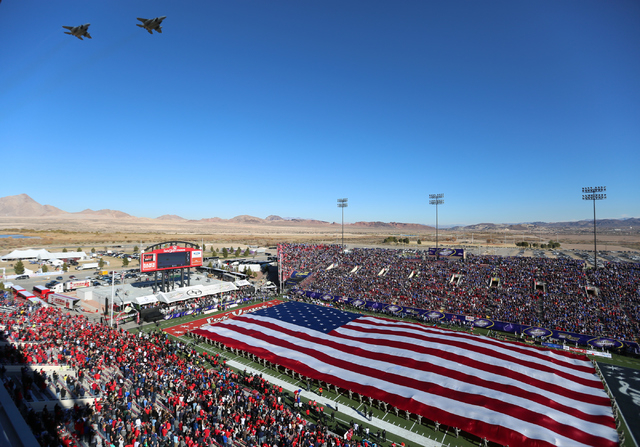 Oakland Raiders owner Mark Davis toured Sam Boyd Stadium on Friday and evaluated whether the UNLV field could serve as a temporary home for the NFL team if a deal is reached to build a new domed stadium near the Las Vegas Strip.
Mike Newcomb, Sam Boyd Stadium's executive director, said the 90-minute tour went well and that Davis came away feeling positive about the possibility of playing Raiders games there.
"They're really excited about Las Vegas," Newcomb said of the Raiders. "Mr. Davis had never been to Sam Boyd before, and I think he was surprised and excited about how nice it was."
"The main thing was to see everything," Newcomb said. "I know Mr. Davis is interested in Las Vegas, and if we can accommodate him, we would love to be able to help."
The stadium, which opened in 1971 as the Las Vegas Silver Bowl, underwent a renovation in 1999 that included a new press box, luxury suites, club seats and other amenities. Last year, a new $1.2 million artificial turf field was installed at the east valley stadium. Sam Boyd currently seats 35,500 people, though Newcomb said an expansion in the north end zone could boost capacity to 45,000.
Included in Davis' tour were the locker rooms, long a source of unhappiness for former UNLV head coaches, as well as stadium parking. He also inspected the playing surface. The Raiders currently play in O.co Coliseum, which seats 53,250 for football — the lowest capacity in the NFL — and has a natural grass field.
The tour was Davis' second known trip to Las Vegas in the past three months. UNLV adviser Don Snyder, football coach Tony Sanchez, school President Len Jessup and athletic director Tina Kunzer-Murphy were photographed with Davis on the Twitter account for Las Vegas Sands Corp. after touring the stadium.
Davis, who is staying at The Venetian, did not return a phone call seeking comment. Las Vegas Sands spokesman Ron Reese, whose company operates The Venetian and has been leading the push for a new $1.3 billion stadium in the Strip resort corridor, said the company had no comment on Davis' visit.
Jessup also did not comment on the tour. University spokesman Tony Allen provided a statement: "The university was asked to accommodate a tour of Sam Boyd Stadium today for Las Vegas Sands officials and Oakland Raiders owner Mark Davis, and we appreciate their interest in UNLV and our facilities."
Davis met with Las Vegas Sands Chairman and CEO Sheldon Adelson and Wynn Resorts Chairman Steve Wynn in late January when Las Vegas Sands first proposed building a domed football stadium near UNLV. The facility was discussed as a new home for special events, the Rebels and the Raiders. The Raiders applied to the NFL for relocation from Oakland but were rejected in mid-January when the Rams were allowed to move from St. Louis to Los Angeles.
Last week, consultants for Las Vegas Sands and Majestic Realty, partners in the planned 65,000-seat stadium, told the 11-member Southern Nevada Tourism Infrastructure Committee about the benefits the facility could bring to Southern Nevada. The presentation had a heavy emphasis on the potential of attracting a NFL team.
Craig Cavileer, executive vice president of Majestic Realty, and other speakers estimated the venue would attract 26 new special events — football games, sporting events, concerts or shows — resulting in $785.6 million in direct and indirect spending and an estimated $49.4 million in new tax revenue. The current stadium proposal seeks $780 million in public financing. Private investors would put up $420 million, although Las Vegas Sands has said those numbers are not final and are likely to change.
The Raiders have agreed to play the 2016 season in Oakland on a one-year lease. However, they have no home beyond this season, and Friday's meeting clearly was a fact-finding mission.
"I think they wanted to get an initial view of the overall picture (of Sam Boyd)," Newcomb said. "But I think they liked what they saw, and we left it open for them to come back and visit anytime."
There was no discusssion about playing outdoors in September, when temperatures are still in the triple-digits. The Rebels have played in the heat since UNLV started its football program in 1968. When the Arizona Cardinals played at Sun Devil Stadium, they dealt with Phoenix's September heat by playing their first few games on the road and playing home openers at night.
If the Raiders are looking at Sam Boyd Stadium as a temporary home, professional football has some history at the venue.
In 1994, the stadium housed a Canadian Football League team, the Posse. In 2001, the Las Vegas Outlaws played there in the XFL, a made-for-television league created by pro wrestling promoter Vince McMahon and NBC.
Both ventures lasted only one season. Pro football had another run in Las Vegas in 2009, when the Locomotives played in the United Football League. The Locos won the first two UFL titles, but the league folded in 2012.
Sam Boyd Stadium wouldn't be the first college stadium to serve as temporary home for an NFL team, but it would be among the smallest. For the past two seasons, the Minnesota Vikings have played at the University of Minnesota's 52,525-seat TCF Bank Stadium while awaiting the completion of 66,792-seat U.S. Bank Stadium. The Vikings paid for millions of dollars in improvements to TCF Bank Stadium to better accommodate their games. In 1997, the Tennessee Titans played at the 62,380-seat Liberty Bowl, home of the University of Memphis. In 1998, the Titans played at 40,550-seat Vanderbilt Stadium while 68,143-seat Nissan Stadium was being built in Nashville. And the Chicago Bears played at the University of Illinois' 69,249-seat Memorial Stadium in 2002 while Soldier Field was being renovated.
Friday's meeting comes one week after NFL Commissioner Roger Goodell said the league would consider allowing a franchise to play in Las Vegas. Previously, the league has strongly opposed the idea of America's gambling capital hosting a team. But Goodell said the league would have to address gambling if Davis wanted to move the Raiders to Las Vegas.
"Those are things we'd have to deal with," Goodell said at the end of the league meetings. "We would have to understand the impact on us. Each owner would have a vote; it would be a factor many owners would have to balance, the league would have to balance."
Goodell didn't reject the idea of an NFL franchise in Las Vegas.
"I think their ultimate decision is a long ways off," Goodell said. "There are several cities that have a tremendous interest in the Raiders. I'm hopeful also that Oakland will be one of those and that we can avoid any relocation to start with. … But until we've got a hard proposal that really put that in front of us, we'd have to understand what the ramifications of that are."
The Review-Journal is owned by the family of Las Vegas Sands Corp. Chairman and CEO Sheldon Adelson.
Contact reporter Steve Carp at scarp@reviewjournal.com or 702-387-2913. Follow on Twitter: @stevecarprj. Bill Bradley and Ana Ley contributed to this report.