Raiders QB Carr puts personal feelings aside as roster turns
Updated November 7, 2018 - 10:28 pm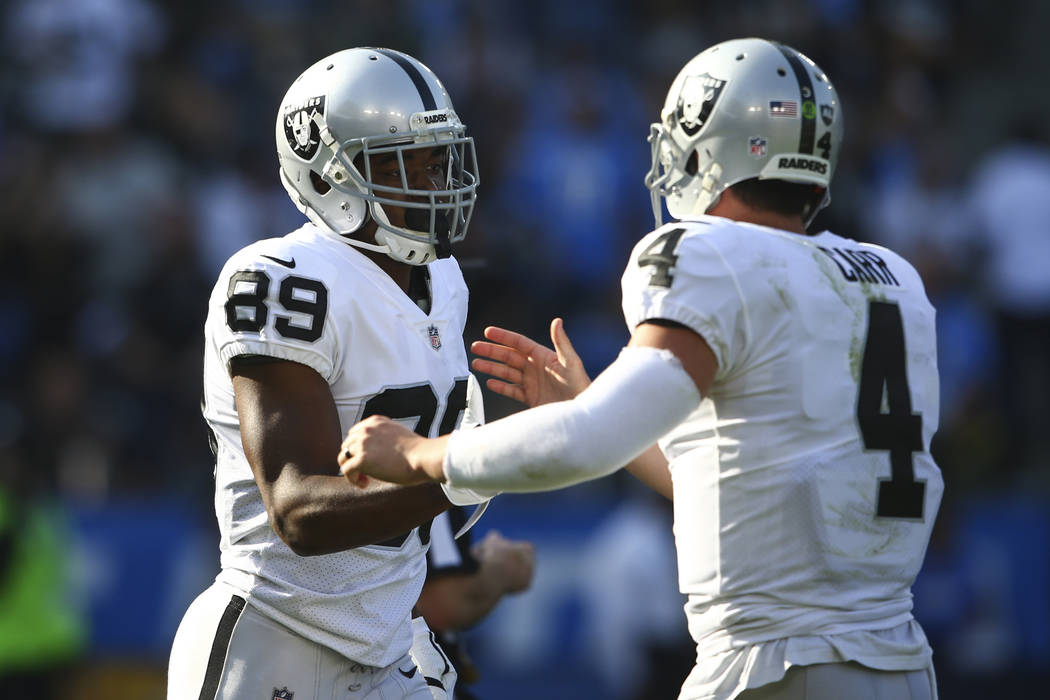 ALAMEDA, Calif. — Khalil Mack, Amari Cooper and Bruce Irvin were all gone within a two-month span.
Three players who were crucial parts of the franchise's most recent playoff run in 2016 are now donning colors other than silver and black. One of the few key players remaining from that team is Derek Carr.
Carr's connections with Mack, Cooper and Irvin extended past the playing field. Carr would often reminisce about the times he would have Mack and Cooper over to his home to play pool and basketball.
The loss of teammates over the years is a harsh reminder that the NFL is a business.
"I mean, I understand," Carr said Wednesday. "It's tough, it hurts and it's hard. No one pays me to care about my feelings or any of our feelings. I have a lot of friends that have been cut or traded, not just this year but for five years. That's always hard. You look around and Coop (Amari Cooper) is not sitting behind me in the offensive meeting anymore and Khalil (Mack) is not sitting next to me in a team meeting. I go to (Bruce Irvin)'s locker and it is not Bruce's anymore."
The Raiders traded Mack to the Chicago Bears on Sept. 1 as contract negotiations between the two sides fell through. On Oct. 22, Cooper was traded to the Dallas Cowboys in exchange for a first-round pick.
Irvin was the most recent release as the Raiders decided to part ways with the veteran defensive end last Saturday.
As the franchise quarterback, Carr's duties go beyond personal friendships with teammates. He looks to continue being a team spokesman and locker room leader.
"Going forward my job is to take whatever our owner, GM and head coach say and relay the message," Carr said. "Just do my best, that's my job. My job is to go out there and complete passes, lead my guys the best that I can and that's my job. That's what I am here to do."
Notable
— Linebacker Bruce Irvin signed with the Atlanta Falcons on Wednesday. The Raiders must pay nearly $3.8 million from his remaining $8 million salary.
— Guard Jon Feliciano (ribs), center Rodney Hudson (ankle), running back Doug Martin (hip), tackle Kolton Miller (knee/elbow), guard Kelechi Osemele (knee) and cornerback Daryl Worley (shoulder) were limited in practice Wednesday.
■ The Raiders waived linebacker James Cowser on Monday and then signed him to to the practice squad on Wednesday.
Contact Chris Booker at cbooker@reviewjournal.com. Follow @Bookerc94 on Twitter.