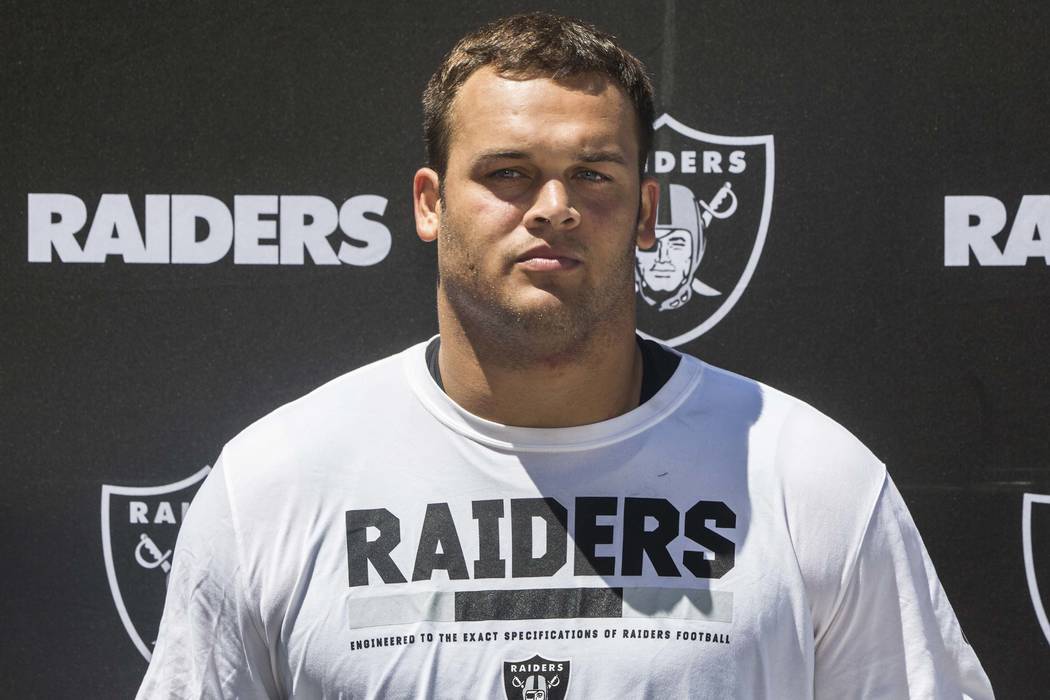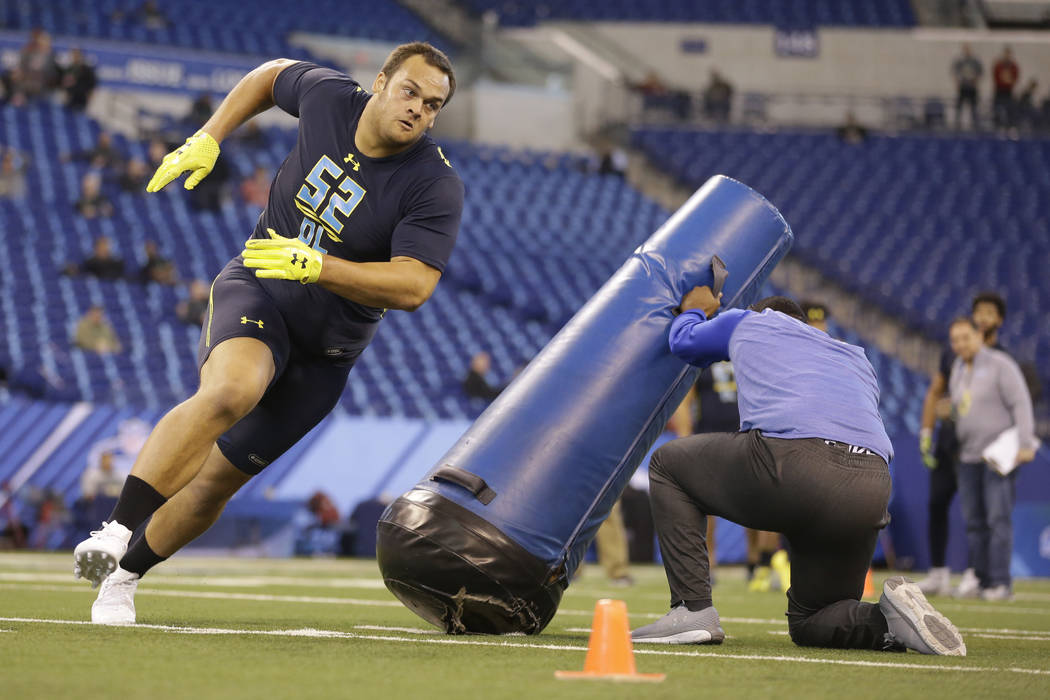 NAPA, Calif. — The Raiders drafted Eddie Vanderdoes in April.
Since then, Mario Edwards Jr. has barely seen him.
The veteran defensive lineman did not see Vanderdoes in the spring; the third-round pick missed all of organized team activities and minicamp because of UCLA's academic calendar. He hasn't seen much of Vanderdoes this summer; training camp began just last week, and Thursday's practice was the third in pads.
Still, Edwards has seen enough.
Vanderdoes worked with the starting unit Thursday for the third straight practice. The defensive tackle continues to turn heads, acclimating as smoothly as could be expected for someone who, before last Saturday, hadn't participated in a full-squad practice with NFL veterans.
Edwards, a 2015 second-round pick, returned from a minor injury Thursday to make his camp debut. He watched Vanderdoes closely while sidelined.
"He's a hell of a player," Edwards said. "He's really strong, has good hands. He is going to make some noise this year."
The Raiders' defensive line returns an exclamation point in Khalil Mack, an All-Pro end and defending AP Defensive Player of the Year. But there are question marks beside him.
Edwards projects as an impact player but can he keep healthy? Can Jihad Ward, last year's second-round pick, make a jump in his development, particularly when a June surgery for an apparent foot injury continues to ground him? Who else can emerge?
An impact from Vanderdoes is welcome, perhaps even needed.
The rookie's goal is to deliver.
Vanderdoes, 22, kept busy in the spring despite an NFL requirement that prohibits rookies without a degree from joining their club before their school's spring term concludes. He watched practice from afar, monitoring the drills and playbook installments from his Microsoft Surface tablet in southern California.
Despite the personal late start, camp's level of play hasn't seemed too much for him.
That is partly due to Vanderdoes' recognition.
He knows what he doesn't know. He knows where to seek answers. And he appreciates the importance of the opportunity ahead. With edge rushers like Mack and outside linebacker Bruce Irvin forcing quarterbacks to step into the pocket, there should be ample chances for sacks in 2017.
It's on Vanderdoes and others to seize them.
"I'm not scared to ask (Mack) questions," Vanderdoes said. "I know I'm a rookie, but I'm not a shy person. If I feel like I have a question and I see him doing something or teaching something, I'll say, 'Hey, can you watch me on this play?' We'll just talk about it. He'll show me how he does it.
"It should be a crime not to get information from guys like Khalil and Bruce Irvin. …They're obviously doing something right."
So far in Raiders camp, so is he.
More Raiders: Follow all of our Oakland Raiders-to-Las Vegas coverage online at reviewjournal.com/Raiders and @NFLinVegas on Twitter.
Contact reporter Michael Gehlken at mgehlken@reviewjournal.com. Follow @GehlkenNFL on Twitter.
Eddie Vanderdoes file
Position: Defensive tackle
Draft: 2017 third round, No. 88 overall
Height-weight: 6-feet-4-inches; 305 pounds
Age: 22