Raiders rookie Kolton Miller awaits the Von Miller test
Updated September 15, 2018 - 5:19 pm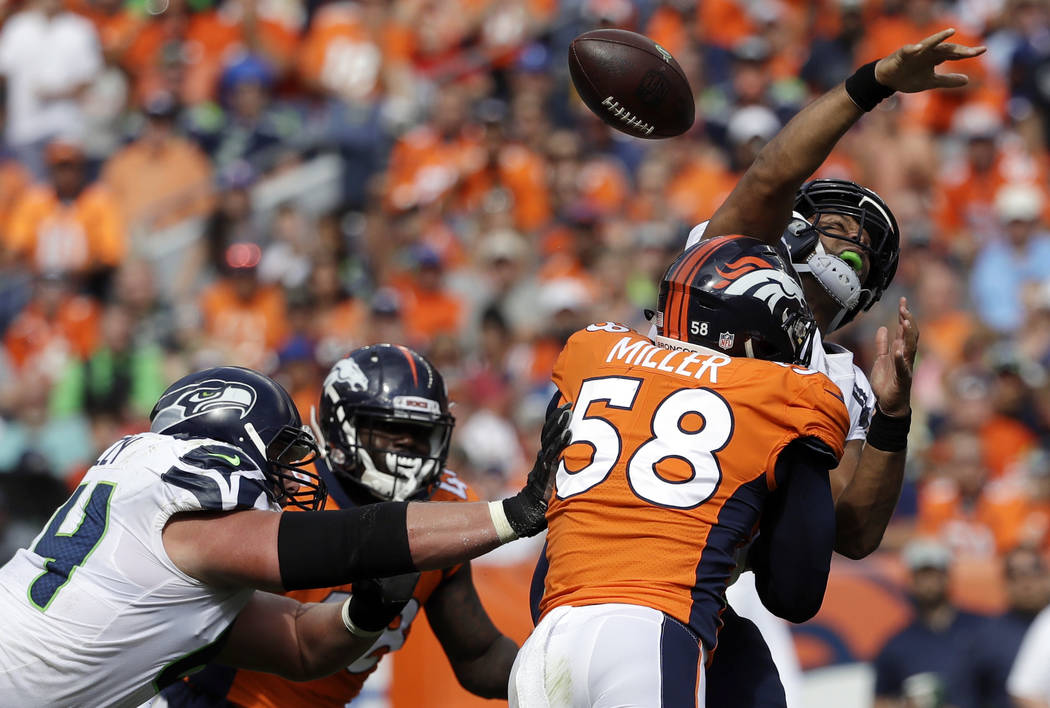 DENVER — For months, Donald Penn has been a resource to rookie Kolton Miller.
The 12th-year NFL veteran regularly has shared insight with the Raiders left tackle, providing tips regarding technical areas such as footwork and hand usage along with a larger-picture viewpoint of concepts surrounding the position. This weekend, Miller will face Denver Broncos edge defender Von Miller.
Penn joked Friday about his advice this time for Kolton.
"Pray," the right tackle said. "Pray."
Kolton Miller will make his second career start Sunday, and the difficulty level doesn't get any tougher. The first-round pick not only will face Von Miller, who projects to be a Pro Football Hall of Fame inductee someday. He will do so in a noisy, thin-air atmosphere with the Raiders' offensive line operating in the silent count.
What a matchup.
What a test.
Penn, of course, provided Kolton more detailed advice than Hail Marys or Our Fathers. His "pray" quip in a locker-room interview merely was a good-natured acknowledgment of Von's football ability. Even while Penn recovered from foot surgery this spring and most of training camp, he prided himself as someone who can mentor Kolton.
Penn called Von "special."
"Von is a different animal," he said. "He's a great athlete, the best D-end in the league. The stuff I tell Kolton, I'm not going to tell you right now because it's going to get printed. But Von's a great player. There are certain ways you've got to attack him, and even if you attack him in those ways, sometimes that still doesn't work. You've got to adjust.
"It's going to be a battle. It's going to be a (darn) battle. Von has so many different pass-rush moves he can pull out. He's one of those few guys who has a variety of moves. But I have talked to (Kolton). I have tried to coach him up as much as I could. … No matter what I tell him, he's going to have to go out there and fight because it's going to be a battle."
This is the eighth NFL season for Von Miller.
The only year in which he didn't earn a Pro Bowl selection was 2003 when he missed the first six games for violating the league's substance-abuse policy and the final two with a right ACL tear.
Last Sunday, the Super 50 MVP wasn't too dominant in the Broncos' season opener against the Seattle Seahawks once you get past the three sacks, one of which featured a strip, and seven tackles, including one that saw Von rip the ball away from running back Chris Carson's clutch into his own.
Von, 29, was highly complimentary of Kolton this past week.
In a conference call with Raiders reporters, he called the No. 15 overall selection a "beast" and the best offensive tackle in the 2018 draft. He added that Kolton's presence makes what he already considered the NFL's best offensive line that much better.
Kolton was made aware of those comments.
"I think it's just the Miller thing," Kolton said with a smile. "He's got to look out for Millers out there. That kinda threw me off, your opponent complimenting you. But I'm very excited to go against him this week. I'm preparing. He's a really dynamic player. He has really good football instincts. I think that's what separates him from other players."
Von presents a test for Kolton and Penn.
The Broncos have outside linebacker Bradley Chubb, the rookie No. 5 overall pick, working on the opposite side of him for good measure. Kolton appreciates the challenge ahead, facing not only these edge rushers but also doing so in the silent count. The crowd component only raises an already tall task.
Kolton's focus, he said, is to use proper technique and pad level.
"If the job gets done, then you should be doing pretty well after this game," Kolton said. "There's not much tougher places than that."
More Raiders: Follow all of our Raiders coverage online at reviewjournal.com/Raiders and @NFLinVegas on Twitter.
Contact reporter Michael Gehlken at mgehlken@reviewjournal.com. Follow @GehlkenNFL on Twitter.
Game day
Who: Raiders (0-1) at Broncos (1-0)
When: 1:25 p.m. Sunday
Where: Sports Authority Field at Mile High, Denver
TV: KLAS-8
Radio: KDWN-AM (720), KCYE-FM (102.7)
Line: Broncos-6; total 45½