Raiders TE Jared Cook sets milestone for third franchise
September 11, 2018 - 11:51 am
Updated September 11, 2018 - 12:10 pm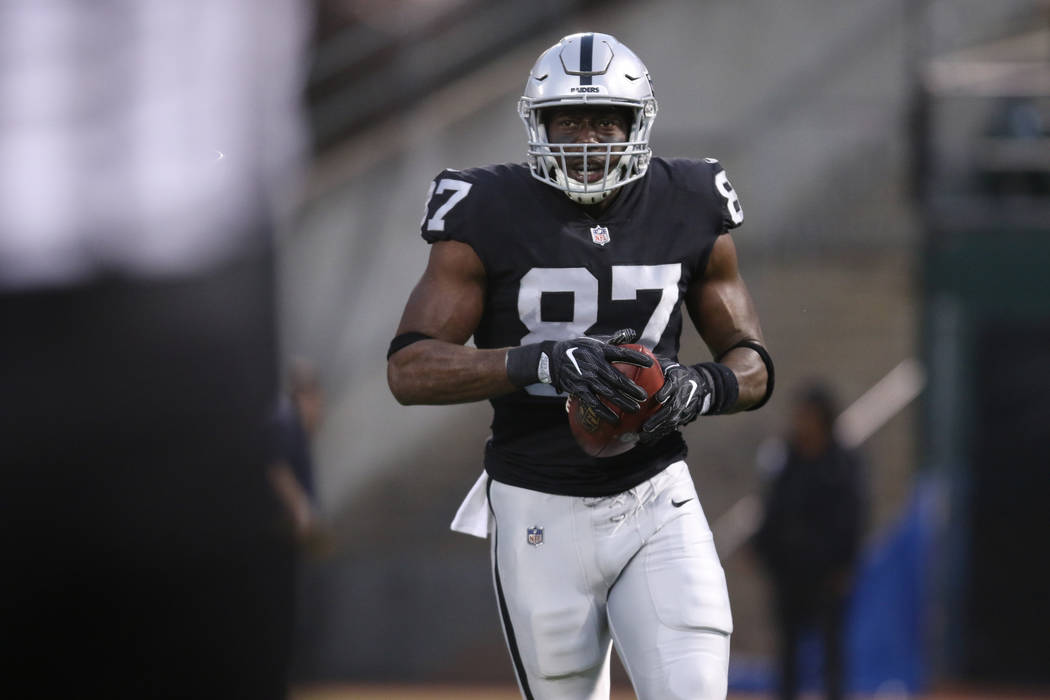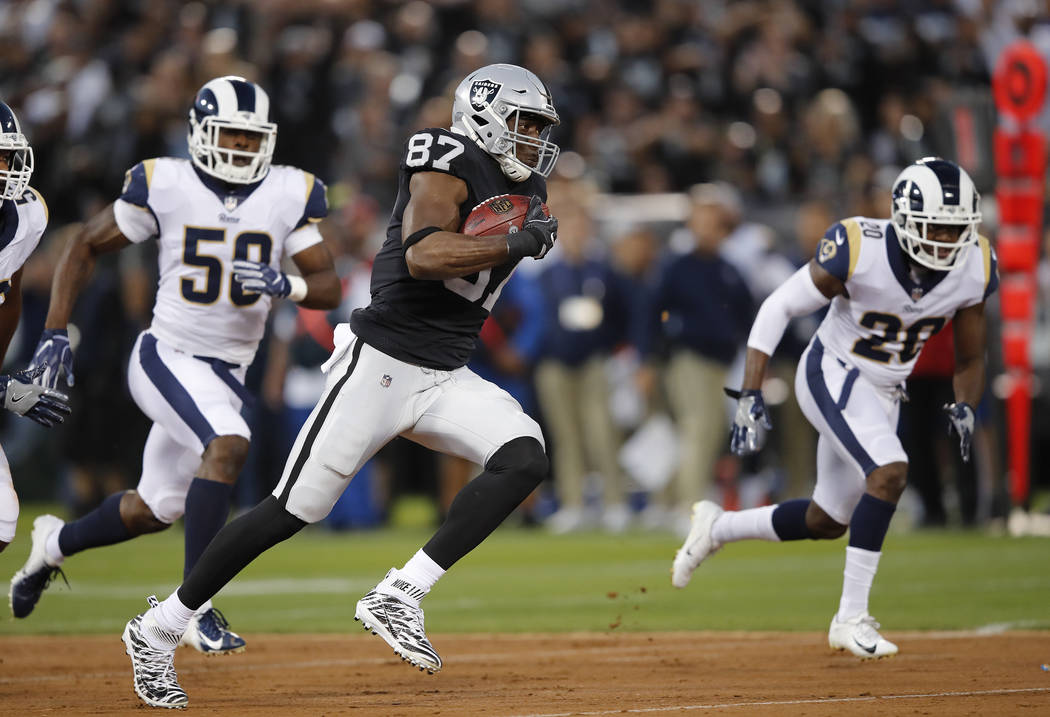 ALAMEDA, Calif. — Derek Carr noticed an empty patch of grass and baseball-dirt infield where the Los Angeles Rams' defense wasn't. And so, before attempting the first pass of the season, he adjusted the play at the line of scrimmage, amending tight end Jared Cook's route to a slant versus a linebacker.
Cook caught the pass, sprinted for 45 yards and was off to the record book.
Another record book.
Cook set a franchise record in Monday's 33-13 loss at the Oakland-Alameda County Coliseum, stringing together explosive plays on a joint-use surface en route to a career-high 180 yards. The receiving total is a new mark for a Raiders tight end. What's more: Cook now owns the single-game receiving record by a tight end for three separate NFL franchises.
Cook owns the Rams' and Tennessee Titans' all-time marks, too.
For the Titans on Christmas Eve in 2011, Cook caught eight passes for 169 yards and a touchdown against the Jacksonville Jaguars. For the Rams on Sept. 8, 2013, Cook totaled seven receptions for 141 yards and two touchdowns against the Arizona Cardinals. Both records still stand.
"I wouldn't want to play with any other tight end; that's for … sure," tight end Lee Smith said Monday evening. "That speaks for itself right there. The guy makes my life easy. I can just go out there and do the dirty work while he just shreds people. The guy is a freak show. The guy is 6-foot-5. What is it, 'Megatron'? That's who Jared is. He just so happens to play tight end instead of receiver.
"There's no way to cover him. If your question is why a guy like that has bounced around, it beats me. But I'm sure as hell glad he is because now he's setting records here instead of setting records in Nashville or LA."
Cook's performance was a bright spot for the offense.
The Raiders had four plays that gained more than 17 yards. All were connections between Carr and Cook, those chunks good for 45, 32, 28 and 27 yards. That final one came with 54 seconds remaining in the game. It pushed Cook past the previous franchise mark of 173 yards, set by Todd Christensen against the San Diego Chargers on Nov. 20, 1986.
Cook, 31, was born about five months later.
The team had a sense Cook could be in for a productive evening. Mark Barron, an athletic Rams linebacker, was inactive for the game after an ankle injury sidelined him throughout the practice week.
Los Angeles also made a point to contain wide receivers Amari Cooper and Jordy Nelson on the outside. Ultimately, Cooper had one catch on three targets for 9 yards. Nelson led all Raiders wide receivers with three catches on four targets for 23 yards.
Of Carr's 303 passing yards, 260 were to a tight end or running back. Running back Jalen Richard caught nine of 11 passes for 55 yards. Cook converted nine of his 12 targets for the 180.
"They really wanted to take both wideouts out," Carr said. "Not only did they have Peters and Talib on (Cooper and Nelson), but most of the time they were doubling them also with the safety. Kind of like a little box deal – trying to keep them into a little thing. That's why Jared had a big game.
"We had no problem seeing what they were doing, obviously. It's not an indictation of Amari or anything like that. If the coverage looks a certain way during a certain play, we have other options.
"That's why Jared and the running backs came up big than the pass game for us."
It all amounted into a historic game from Cook.
Yet again.
More Raiders: Follow all of our Raiders coverage online at reviewjournal.com/Raiders and @NFLinVegas on Twitter.
Contact reporter Michael Gehlken at mgehlken@reviewjournal.com. Follow @GehlkenNFL on Twitter.
Most single-game yards by tight end in franchise history
Titans
1. Jared Cook, 169 vs. Jaguars, Dec. 24, 2011.
2. Delanie Walker, 155 vs. Eagles. Nov. 23, 2014.
Rams
1. Jared Cook, 141 vs. Cardinals, Sept. 8, 2013.
2. Pete Holohan, 126 vs. Falcons, Dec. 11, 1988.
Raiders
1. Jared Cook, 180 vs. Rams, Sept. 10, 2018.
2. Todd Christensen, 173 vs. Chargers, Nov. 20, 1986.