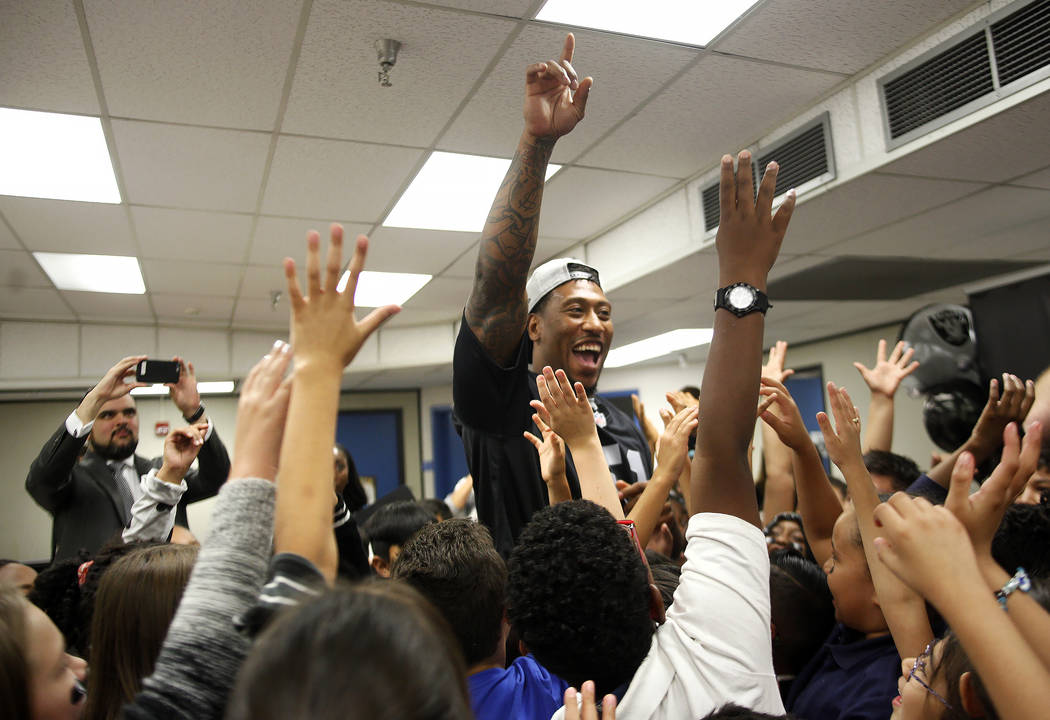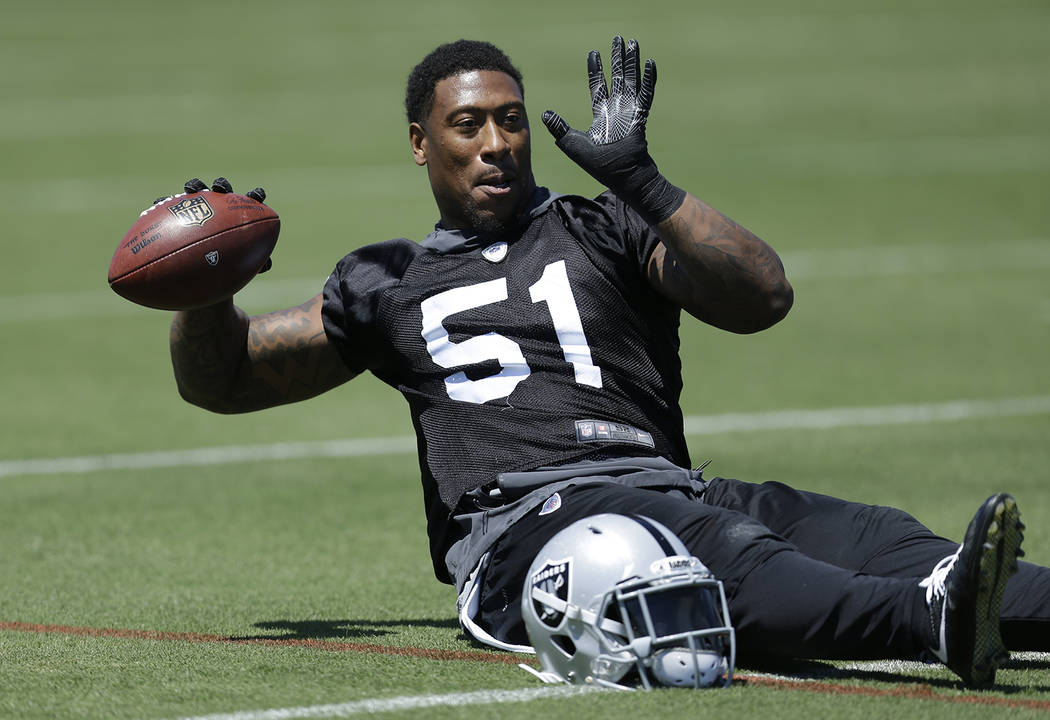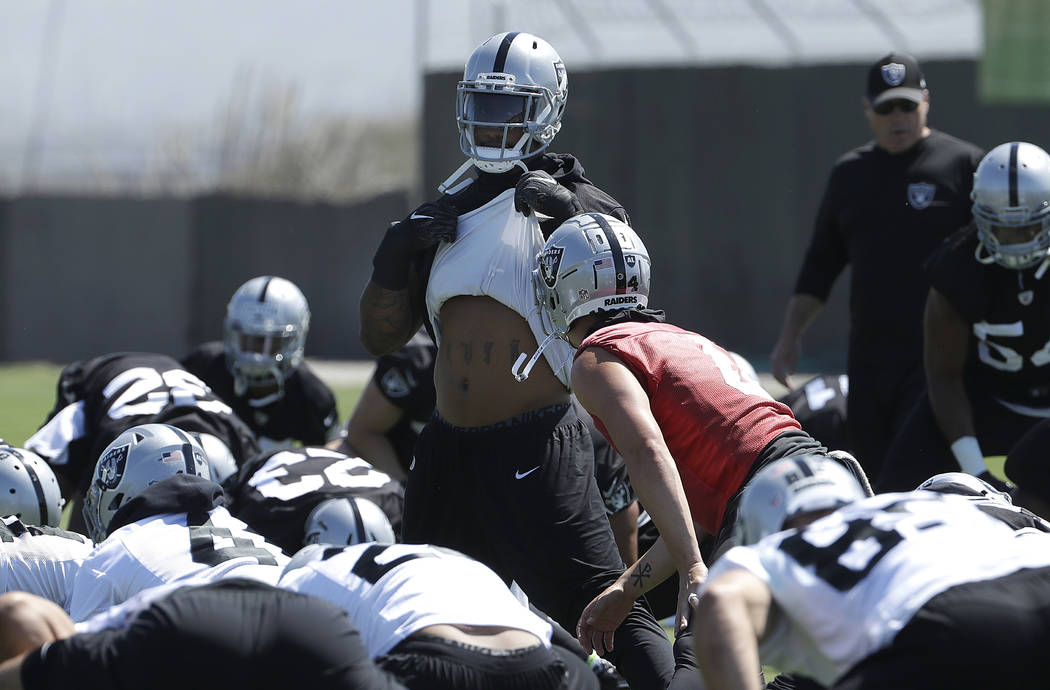 ALAMEDA, Calif. — Bruce Irvin is celebrating a birthday this week.
Not his own. These days, it's not about him.
The defensive end was one of four Raiders veterans who graduated from college this offseason. The accomplishment, a first in his family, follows a season in which Irvin ramped up his community involvement, earning the club's 2017 nomination for NFL Walter Payton Man of the Year.
He is an example to young teammates. He is an example to son Brayden, who will turn 5 Wednesday.
"He talks like a 12-year-old," Irvin said. "Kids nowadays get ahold of these iPads and things. They will be 4 or 5 years old, going on 23. He's a smart kid. Everything I do is for him."
Irvin's journey to the NFL is well-documented, his path as a high-school dropout involving homelessness and crime. The latter included charges of disorderly conduct and property destruction one month before the Seattle Seahawks made him a 2012 first-round pick. His story is relevant to why the Raiders made certain moves during the April 26-28 draft.
Players can mature and develop. So can people, they believe.
"That's a great success story," coach Jon Gruden said, "and it just goes to show you, you can't judge a man's character just because he's made a mistake when he's 21 or 22 years old. You have to try to create an environment where people can flourish.
"Young people can develop and mature and become great. Bruce Irvin is a great example of that. He was surrounded with greatness in Seattle. He was put in a channel of success, and he took advantage of it. Hopefully we can provide that for some people down the road."
A draft class inherently carries risk. The Raiders compounded theirs this spring when acquiring several players with question marks unrelated to football ability.
Those included defensive end Arden Key, a third-round pick, and linebacker Azeem Victor, a sixth-round choice. Both had character-related issues arise in college. Key also had surgery in 2017 for a shoulder injury that other teams flagged as a concern.
On April 26, the team traded a third-round pick for wide receiver Martavis Bryant. His reported marijuana usage has resulted in multiple past suspensions.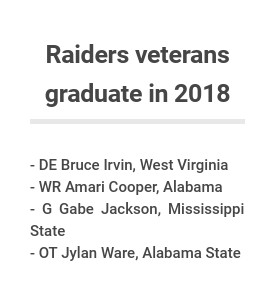 Irvin said that he's embraced a leadership role. He can continue it Tuesday when the Raiders begin a three-day minicamp, their final team function before training camp starts in late July.
"I was always a guy who had to get burned a couple of times to learn," Irvin said. "That didn't change when I got into the league. I got locked up two weeks before the draft and I got the suspension (in 2013 for violtating the Performance-Enhancing Drug policy), so when I got into the league, I still was immature even though I had been through what I had been through. I still was young-minded. I still was a kid. For me to go through what I went through, getting locked up, getting suspended, overcoming that and look at me now. I'm one of the team leaders here. It's big.
"Guys don't often get second or third chances, but I was one of those guys who was fortunate enough to get it. I'm just happy that I didn't blow it and I learned in time. … Guys can learn from me. It's never too late. You can mess up but just … surround yourself with the right people, and it'll take care of itself."
More Raiders: Follow all of our Raiders coverage online at reviewjournal.com/Raiders and @NFLinVegas on Twitter.
Contact reporter Michael Gehlken at mgehlken@reviewjournal.com. Follow @GehlkenNFL on Twitter.