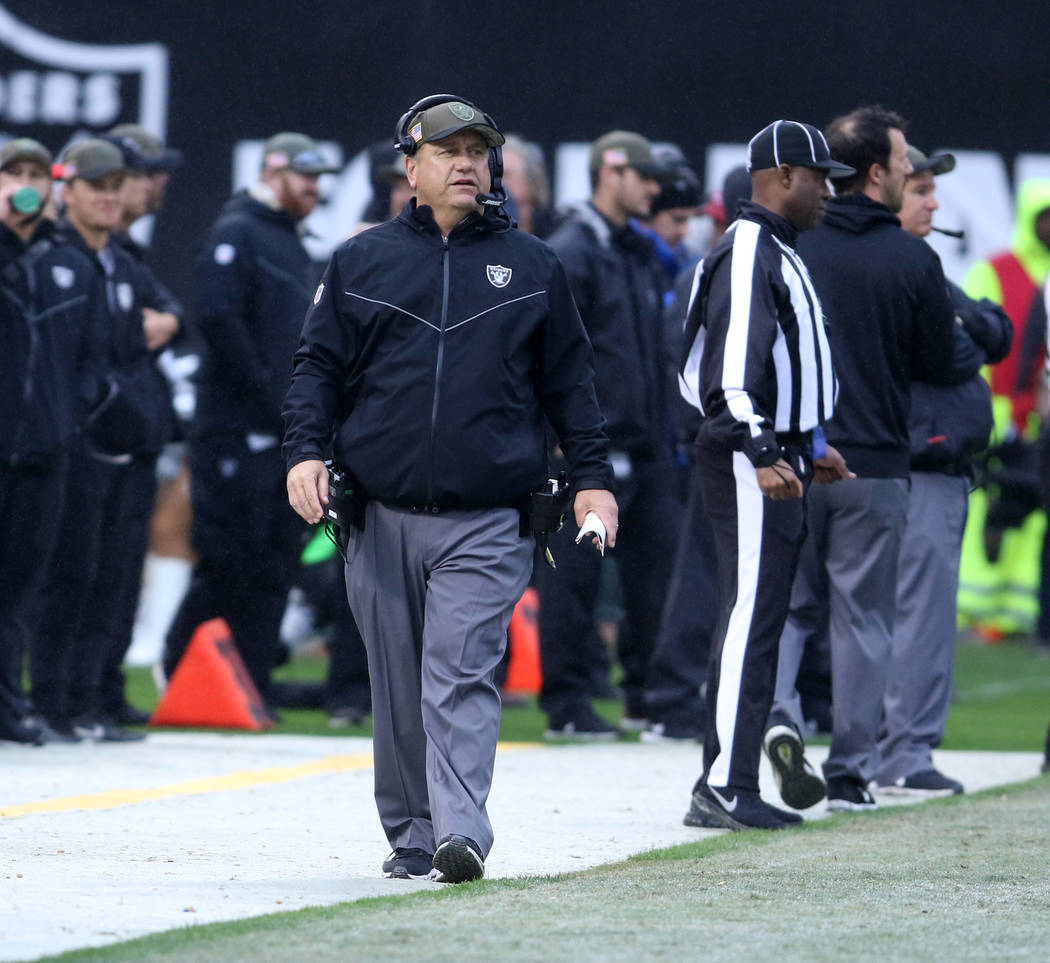 CARSON, Calif. — To work a Chargers home game required a drive south for John Pagano. Interstate 15 generally was the most popular path to Qualcomm Stadium. The trick to avoid traffic was to exit on Aero Drive instead of Friars Road. Make a couple left turns. Drive down a long, steep hill that dropped into the parking lot's main entrance.
Home.
But Sunday is no homecoming. This is no surreal return.
"Maybe if the game was in San Diego," Pagano said. "It's the LA Chargers."
Pagano will work his sixth game Sunday as the Raiders' defensive play-caller. It marks his first time visiting his former employer of 15 years. The StubHub Center, though, is about 100 miles north of familiarity, and he already saw old colleagues at an Oct. 15 game in Oakland. The matchup is less about Pagano and more about the improvement under his watch.
Adjusted preparation and a simplified scheme have been the root causes, players say.
At the core of the former, defenders are spending more time on the practice field via walkthroughs and less in meeting rooms. The adjustment is designed to enhance their introduction and retention of game-plan installments for an upcoming opponent.
"That's helped us out a lot," said safety Reggie Nelson, a co-captain. "That's the one thing he likes to do is explain to us and let us see it first. That's been A-plus, so (practice) is not the first time we ever go out and see it (on a field).
"… Some learn in the classroom. Some got to see it out on the field. There's a lot of ways that different guys learn. I think he's been doing a good job of just accomodating everybody."
Pagano, 50, joined the Raiders as their assistant head coach/defense in January. The opportunity arose after the Chargers made a change at head coach, and as can be the case, the new coach had a specific coordinator in mind with Anthony Lynn locked into Gus Bradley.
Shortly after Pagano became available, Raiders coach Jack Del Rio approached him. The opportunity represented a chance to remain in the AFC West division and stay on the West Coast. Ken Norton Jr., the team's defensive coordinator at the time, continued to oversee the defense, leading meetings and calling plays until his Nov. 21 dismissal.
This offseason, Pagano plans to implement more changes. The ones so far have been well received.
"He likes to get on the field more than being in the meeting room," linebacker NaVorro Bowman said. "I feel like, as players, we benefit from that a little bit more. (Intead of) sitting in a meeting room hearing that, (we're) being out there on the field and being able to do exactly what he's trying to get done at a walking tempo and then go out later in practice and try to execute faster.
"There are three different parts. He understands if you see it more, you'll understand it more than just seeing it on the board. I think that's one of the things that has helped us out. …Usually we wouldn't be on the field until practice starts. Now we're getting that extra 10, 20 minutes to cover some things we might not be clear on."
Of course, Pagano has done more.
Readily apparent adjustments include cornerbacks like Sean Smith and TJ Carrie shadowing receivers more or outside linebacker Bruce Irvin dropping into pass coverage less. The playbook has been simplified, part of Pagano's effort to have defenders think less and thereby play faster. There have been more nuanced touches affecting coverage schemes.
The 2017 season will end Sunday for the Raiders.
Pagano has proven he's the coach to lead their defense into the new year.
Contact reporter Michael Gehlken at mgehlken@reviewjournal.com. Follow @GehlkenNFL on Twitter.