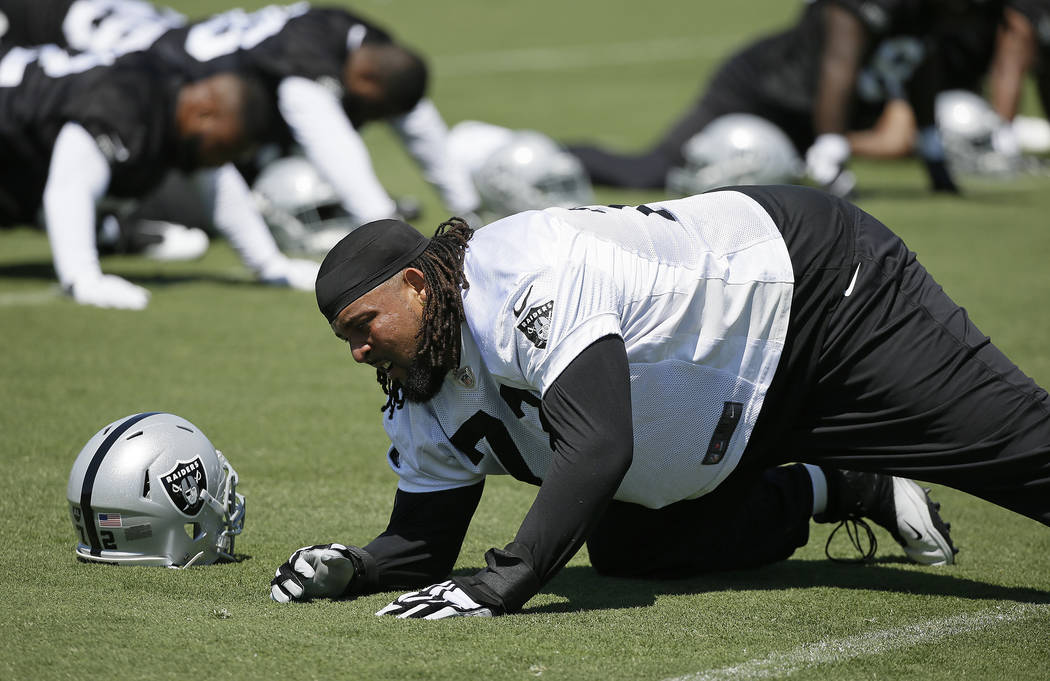 ALAMEDA, Calif. — Donald Penn is back.
The Raiders left tackle, who skipped nearly the past month of team activities, reported on Wednesday. He participated in an afternoon practice, his first on-field work since June.
Penn has sought a pay raise this offseason. As of now, he does not have one.
But it is expected the Raiders will extend his contract in the next couple weeks, the likely result being Penn will earn at least $10 million in 2017. Certainly, such is his hope. He initially was due to report to training camp on July 28 in Napa, California. He arrived to Alameda on Wednesday instead, believing his presence could facilitate a deal.
Penn, 34, is currently entering a contract year. He is due a $5.8 million salary with up to $750,000 in potential incentives.
Throughout the holdout, General Manager Reggie McKenzie maintained that he would not negotiate the contract of a player absent from the team. So began a stalemate, as the Raiders practiced for weeks without a veteran who's made every regular-season start in each of his three years with the organization.
Neither McKenzie nor Penn was made available Wednesday to comment. Penn's agent could not be reached for comment.
Without Penn, the Raiders were forced to reconfigure their offensive line during camp. Marshall Newhouse flipped from right to left tackle. Reserve guard-tackle Vadal Alexander saw first-team reps at right tackle. The line then went through stretches in which rookie tackles David Sharpe (ankle) and Jylan Ware (concussion) were unavailable because of injury. In the team's Aug. 12 exhibition opener against the Arizona Cardinals, guard-tackle Denver Kirkland suffered an injury that is believed to be significant.
The Raiders found a silver lining.
More practice reps for young linemen would benefit their development.
"You call those the dog days of camp," said Alexander, who played first-team tackle and second-team guard. "But I think it got me better. … I think my conditioning has really improved, and I think the game is going to be slower for me. I'm going to be very well conditioned for a game because I pushed myself hard in practice."
Penn arrived at just the right time.
Had he not reported this week, his availability for the Raiders' Sept. 10 opener against the Tenneseee Titans would have been jeopardized. Penn worked to keep himself in shape when away from the club; however, he needed practice and game reps before he could be expected to play every Week 1 snap.
He has time for those reps now.
The Raiders will face the Cowboys this Saturday in Dallas. It is their third exhibition game, the one in which starters typically play at least through the first half. Traditionally, few if any starters play in the fourth game, which for the Raiders comes Aug. 31 against Seattle. They can use this week to evaluate where Penn is physically before deciding how many game reps he sees.
Moving forward, Penn will reassume his spot at left tackle. Newhouse will flip back to right tackle. In between, left guard Kelechi Osemele, center Rodney Hudson and right guard Gabe Jackson will continue their work in the Raiders' interior.
Contact reporter Michael Gehlken at mgehlken@reviewjournal.com. Follow @GehlkenNFL on Twitter.