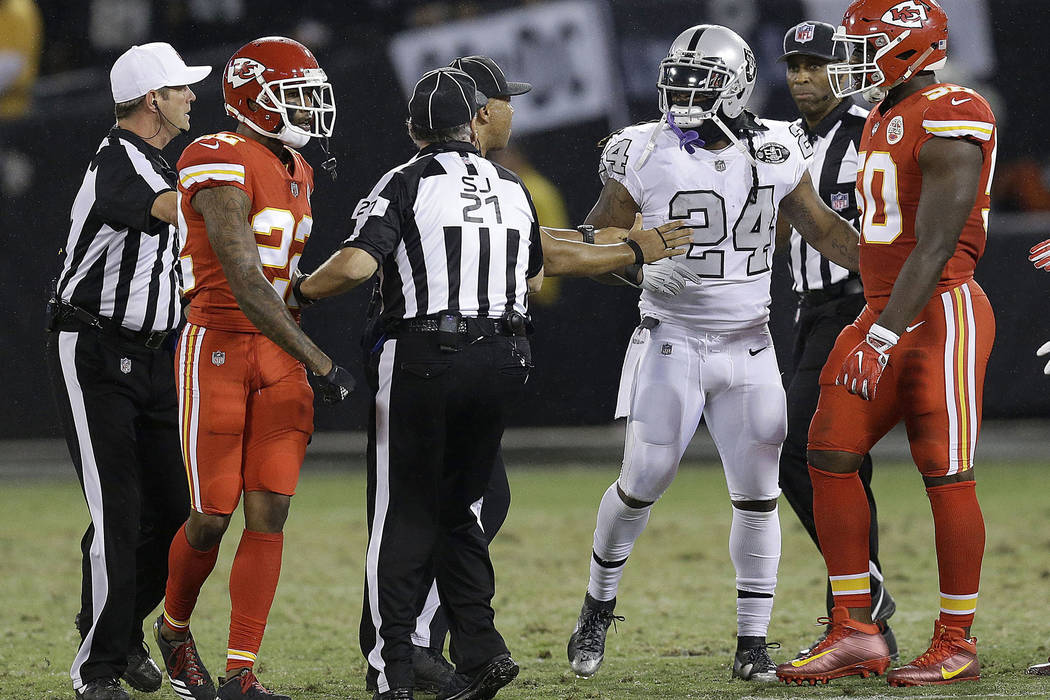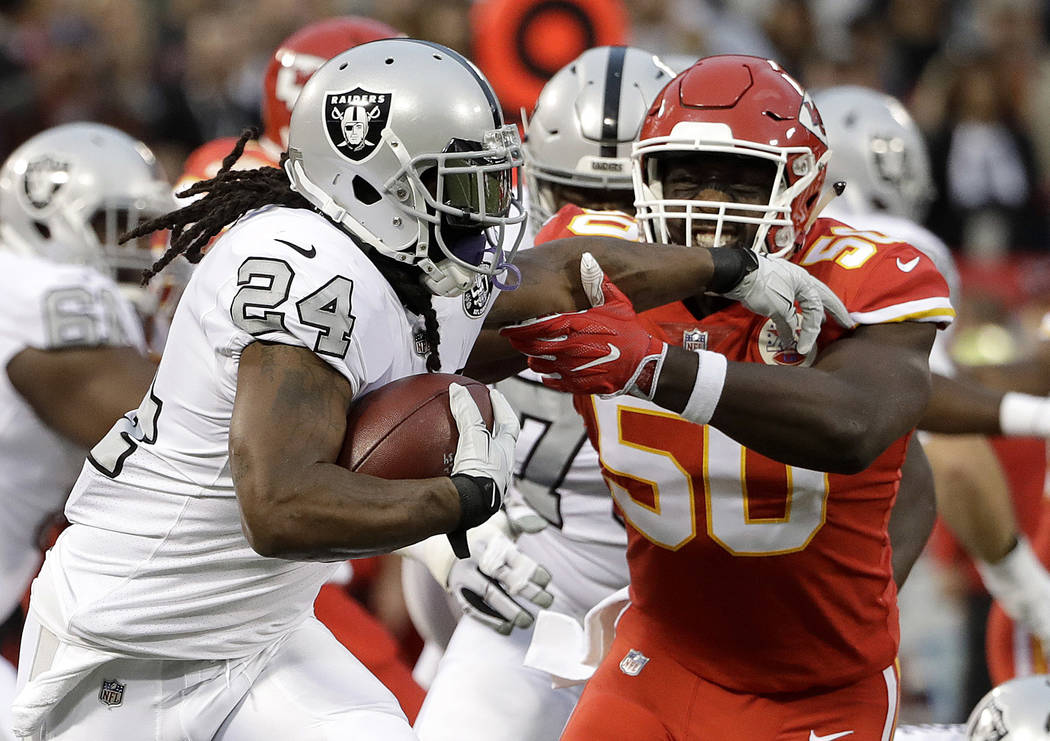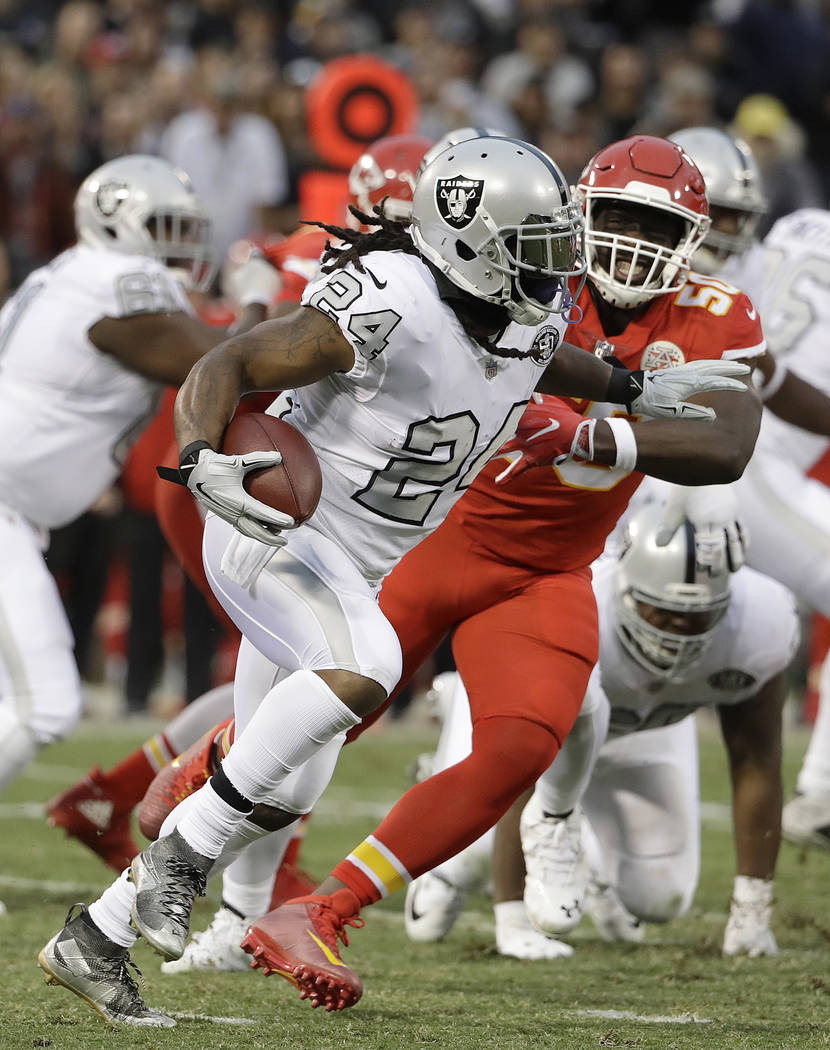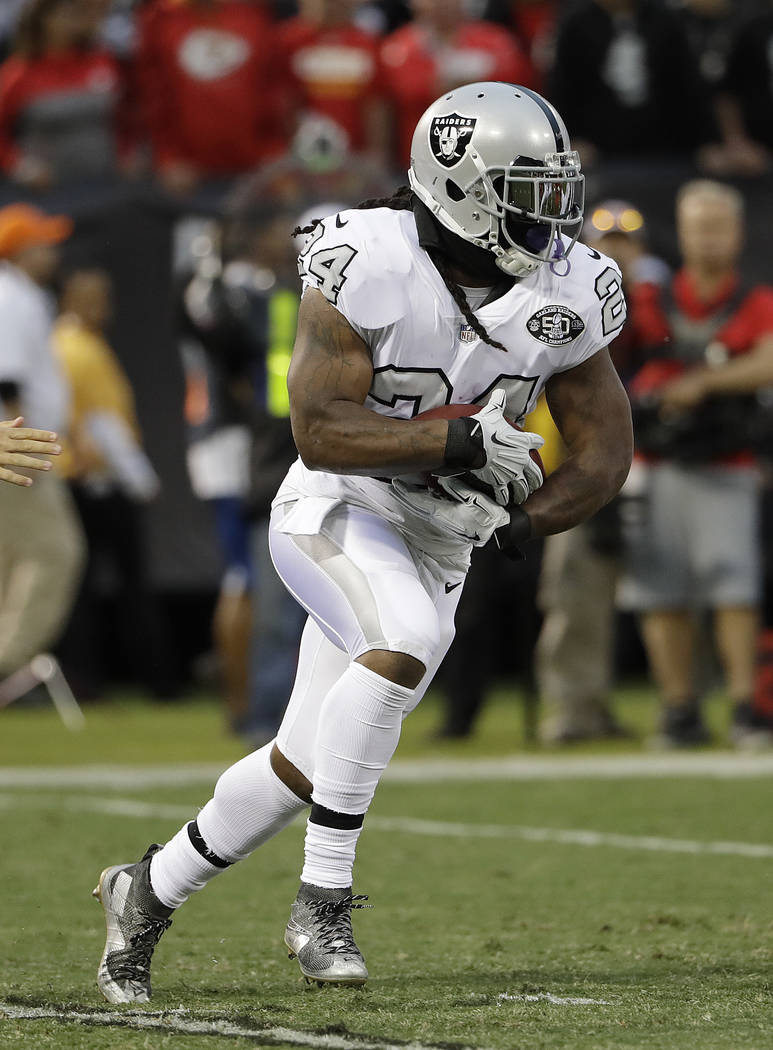 OAKLAND, Calif. — An ejection ended Marshawn Lynch's evening early Thursday.
It should cost him at least another game — and some money.
The Raiders running back stood on the sideline during a shotgun scramble from Derek Carr in the second quarter. When a skirmish developed as the play ended, Lynch ran onto the field, at one point grabbing and pushing a referee. A 15-yard flag and automatic ejection followed.
One or more NFL-imposed fines and a suspension are expected next.
Lynch, 31, collects $31,250 in per-game roster bonuses for each week he's active. If suspended for the team's Oct. 29 game against the Buffalo Bills, he'd lose an installment of that money.
The NFL additionally can fine a player up to $30,387 for physical contact with an official. Unnecessarily entering a fight area is $6,076. Lynch did both.
It appeared he attempted to separate teammates from Kansas City Chiefs cornerback Marcus Peters. Peters delivered a late hit on Carr. He and Lynch are close friends, having both grown up in Oakland.
Lynch finished with two carries for 9 yards. After being ejected, he reportedly watched the rest of the game from the stands.
Busy Bowman
NaVorro Bowman was the second Raiders player announced at the Oakland-Alameda Coliseum in pregame introductions. He started at inside linebacker. He wore a speaker inside his helmet, enabling him to relay play calls — none of which he knew when the week began — to teammates in the huddle.
The Raiders put a lot Thursday on their new linebacker's plate.
For better and for worse.
Bowman was a vocal presence who regularly was around the ball, contributing to stop the running game. There were other moments in which he proved a liability, perhaps most glaringly on the Chiefs' second offensive drive. He was unable to shed a block on a 34-yard Kareem Hunt run and was in coverage on tight end Travis Kelce's 10-yard touchdown.
All in all, the Raiders couldn't ask for more.
He signed a one-year contract Monday that is worth up to $3 million. He logged extra hours to learn the defense's terminology and most relevant sections of its playbook. He then gave the Raiders valuable reps Thursday, as the club had linebackers Cory James (knee) and linebacker Marquel Lee (ankle) inactive.
Notable
* CBS sideline reporter Tracy Wolfson reported in the second quarter that Raiders wide receiver Michael Crabtree and left tackle Donald Penn were pushing and shoving each other on the sideline. What prompted the tussle was not immediately clear.
* Cornerback Sean Smith saw no snaps last Sunday versus the Los Angeles Chargers. He was busier on Thursday, seeing extensive action in the second half. Cornerback David Amerson suffered a foot injury in the first half. He was listed as questionable to return and did not.
More Raiders: Follow all of our Raiders coverage online at reviewjournal.com/Raiders and @NFLinVegas on Twitter.
Contact reporter Michael Gehlken at mgehlken@reviewjournal.com. Follow @GehlkenNFL on Twitter.