Saints climb to No. 1, Raiders drop to 32nd in NFL rankings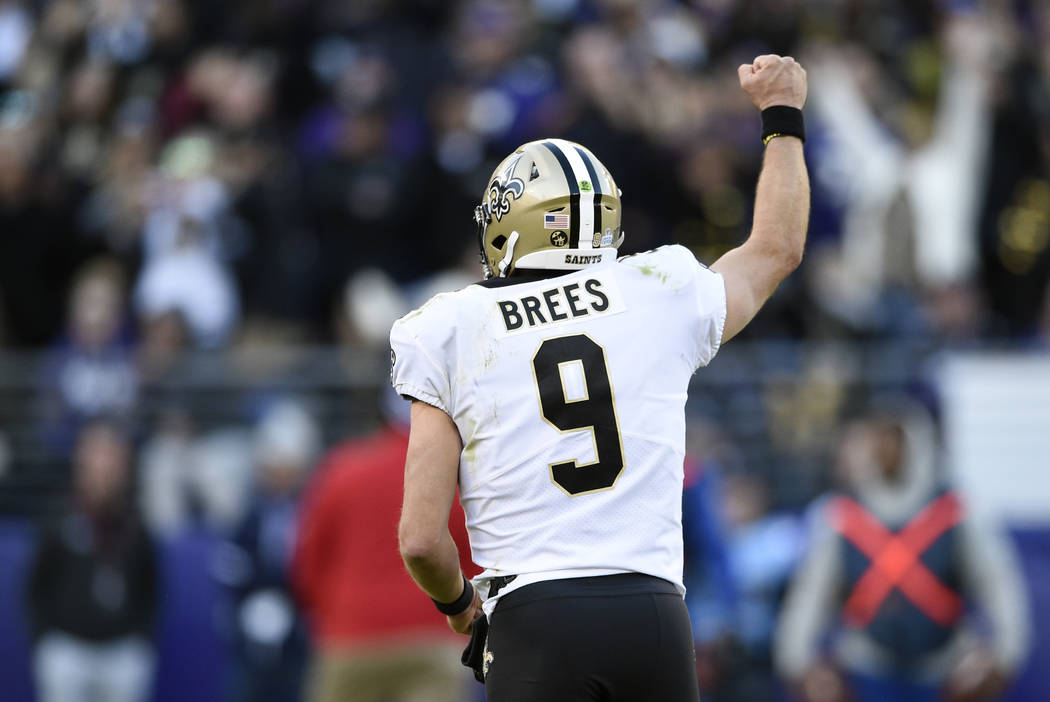 Review-Journal NFL reporter Gilbert Manzano's weekly rankings, with last week's ranking in parentheses.
1. Saints 7-1 (4). There's a new leader atop the rankings. The Saints earned the No. 1 spot after going 3-0 against the Ravens, Vikings and Rams in consecutive weeks.
2. Patriots 7-2 (2). The Patriots played without Rob Gronkowski and Sony Michel last week and still beat the Packers by 14.
3. Rams 8-1 (1). The Rams almost pulled off a memorable comeback against the Saints but ran out of gas in the final quarter.
4. Chiefs 8-1 (3). The league's highest-scoring offense kept rolling in Cleveland last week.
5. Panthers 6-2 (5). It's time to take the Panthers seriously. There's a lot of speed on Cam Newton's offense.
6. Chargers 6-2 (6). Philip Rivers and company took care of the Seahawks on the road.
7. Steelers 5-2-1 (7). Pittsburgh keeps riding that James Conner wave to victories.
8. Vikings 5-3-1 (8). Mike Zimmer's defense is finally awake and they now get a bye week to get healthy.
9. Texans 6-3 (10). Thanks to a missed field goal by the Broncos, the Texans extended their winning streak to six games.
10. Bengals 5-3 (12). The Bengals return from their bye week but could be without A.J. Green (foot) for the next few games.
11. Packers 3-4-1 (9). Green Bay went winless on its two-game gauntlet against the Rams and Patriots.
12. Bears 5-3 (16). The Bears' offense got the day off against the Bills. Chicago's defense took care of Nathan Peterman.
13. Eagles 4-4 (13). Philadelphia returns from its bye week to host the rival Cowboys.
14. Falcons 4-4 (17). Matt Ryan did it. He finally threw a touchdown pass to Julio Jones. Oh, and he got the Falcons back to .500.
15. Redskins 5-3 (11). The Redskins have no chance if they fall behind in games with a run-heavy offense.
16. Ravens 4-5 (14). It was going so well for the Ravens. They've lost three straight games.
17. Seahawks 4-4 (15). Russell Wilson never found his rhythm against the Chargers.
18. Dolphins 5-4 (20). The Dolphins keep hanging around for a wildcard spot. They smothered the Jets in Week 9.
19. Titans 4-4 (23). Did Marcus Mariota found his groove again? The Titans handled the Cowboys on "Monday Night Football."
20. Jaguars 3-5 (18). Anyone still care about the Jags? The Jaguars return from a bye week to face the Colts on the road.
21. Colts 3-5 (22). Andrew Luck and the Colts' offensive line were starting to peak before getting Week 9 off.
22. Lions 3-5 (19). Seems like the Lions waived the white flag on 2018 after trading Golden Tate. It got ugly against the Vikings.
23. Cowboys 3-5 (21). Did Dak Prescott lose his talents from his memorable rookie year? He's still not back on track.
24. Buccaneers 3-5 (24). Tampa Bay might want to consider a two-QB system with Jameis Winston playing in the first half and Ryan Fitzpatrick getting the final two quarters.
25. Broncos 3-6 (25). Is Broncos coach Vance Joseph the problem? Or is it John Elway? Demaryius Thomas seems to think the latter.
26. Browns 2-6-1 (26). Remember when the Browns were exciting for about a month and a half?
27. Jets 3-6 (27). The progress for rookie quarterback Sam Darnold has stopped.
28. Cardinals 2-6 (28). New offensive coordinator Byron Leftwich got an extra week to fix the Cardinals' offense.
29. 49ers 2-7 (32). Jimmy Garoppolo who? Nick Mullens was that good in his NFL debut against the Raiders.
30. Giants 1-7 (30). The clunky Giants are back from their bye week to face the Niners on the road.
31. Bills 2-7 (29). Sign a new quarterback already, Buffalo. Peterman is not the answer for the last time.
32. Raiders 1-7 (31). Welcome to rock bottom, Raiders. But keep rooting against the Bears and Cowboys.
Contact Gilbert Manzano at gmanzano@reviewjournal.com. Follow @GManzano24 on Twitter.