Tim Leiweke's NFL connections help Las Vegas' case for a team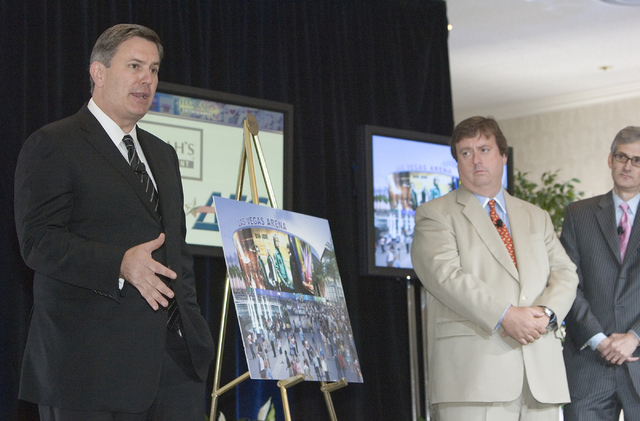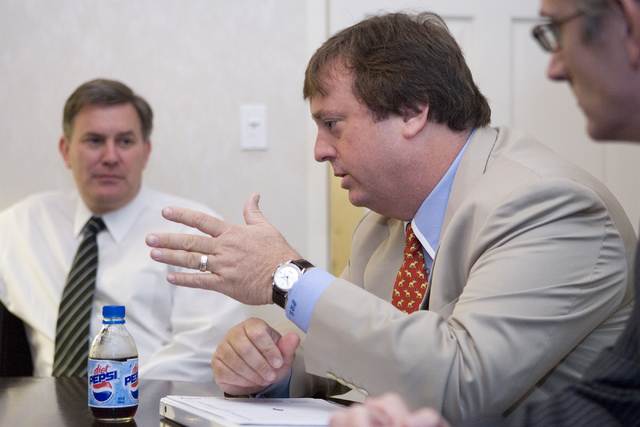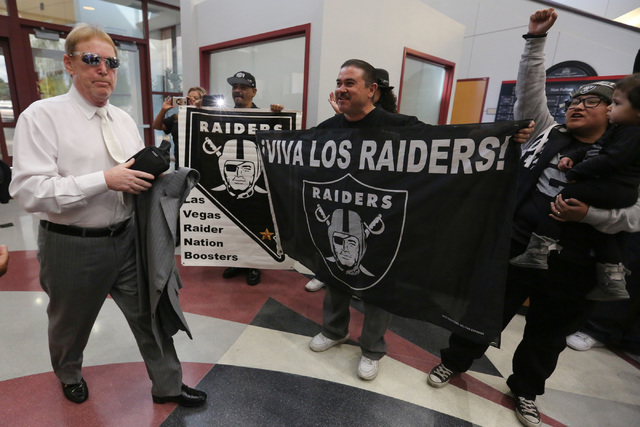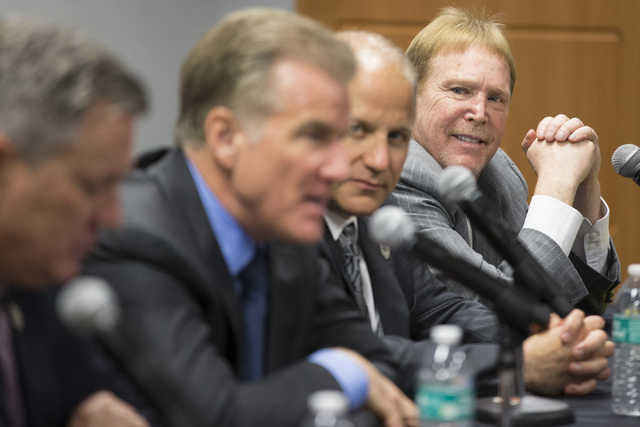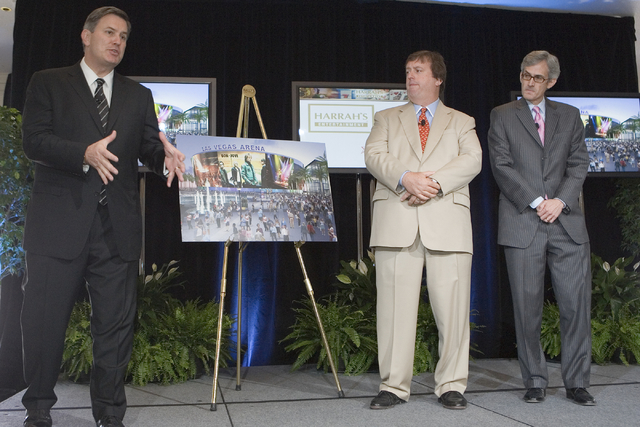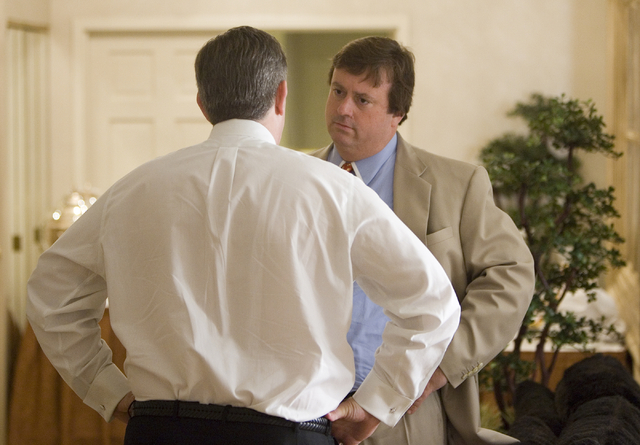 Everything unfolded in slow motion in Los Angeles, so Tim Leiweke is ready to punch the fast-forward button.
"I spent almost 10 years chasing the NFL in L.A.," he said. "This is a guy who got beat up for 10 years."
Leiweke laughed and called it "shocking" how quickly Las Vegas could land an NFL franchise.
In just a few months, with Leiweke in the middle of the action, the Raiders' potential relocation from Oakland to Las Vegas has moved from an entertainment topic to serious business. If a stadium is built and the whirlwind plan becomes reality, Leiweke will play an integral role.
Much of his career has been about making arena and stadium deals. The former CEO of Anschutz Entertainment Group, Leiweke led the Staples Center project in Los Angeles before striking a deal with MGM Resorts International to construct T-Mobile Arena on the Strip. He also had a brief run as president of Maple Leaf Sports and Entertainment in Toronto before resigning.
Leiweke, now the CEO of Oak View Group, an L.A.-based entertainment advisory, development and investment company, adds credibility and influential connections to the Las Vegas stadium drive, which will be discussed at 8 a.m. Thursday by the Southern Nevada Tourism Infrastructure Committee at UNLV's Stan Fulton Building.
A proposed $1.4 billion, 65,000-seat stadium near the Strip would be funded through a public-private partnership including the Raiders, Majestic Realty and Las Vegas Sands Corp., which is using Leiweke as a consultant to help lead the campaign.
"There is such a huge need in the marketplace for a stadium. It's the one thing that city's missing," Leiweke said. "It's easily justifiable. We've got to get a deal that makes sense to everybody.
"The deal can get done. It's all sitting right there. It's shocking."
How well-connected is Leiweke? His younger brother, Tod, was named chief operating officer of the NFL in July.
Tim Leiweke also has years of experience working with NFL commissioner Roger Goodell and Eric Grubman, the league's executive vice president of business operations. Grubman, who was intricately involved in the Rams' relocation from St. Louis to Los Angeles early this year, is closely monitoring the situation with the Raiders and Las Vegas.
It's fair to assume Tim Leiweke's connections could help Las Vegas gain favor in the NFL's front office.
"It's not just one relationship, and not just a blood relationship," Tim Leiweke said. "I have a very good relationship with Eric, with Roger and with a lot of the owners. The NFL is more aligned with this than you would think."
Leiweke's company played a role in a major venue announcement this week. Las Vegas Sands and The Madison Square Garden Co. are partnering with Azoff MSG Entertainment, Live Nation Entertainment Inc. and Leiweke's Oak View Group to build a 17,500-seat off-Strip venue designed for live music performances.
"As we navigate this whole stadium issue and the NFL, Tim's input has been insightful. He's a real value add," said Rob Goldstein, president and chief operating officer of Las Vegas Sands. "He's a straight shooter, and he doesn't say things he doesn't back up. We think there's a real chance this is going to happen."
Las Vegas' sudden emergence as a potential NFL city is not a mirage in the desert. It was one of the biggest topics of the NFL Spring Meeting on Tuesday, when team owners and league executives gathered in Charlotte, North Carolina, to discuss future Super Bowl sites, rules changes and the future of the Raiders.
Tim Leiweke's focus is on the financing strategy for a stadium in Las Vegas. He called Thursday's meeting of the tourism infrastructure committee "critical" in terms of advancing the project.
The current proposal calls for $750 million from the public and $650 million from private sources. The Raiders would contribute $500 million, including a $300 million loan from the NFL, with Las Vegas Sands/Majestic Realty adding $150 million. The revenue sources for the $750 million public contribution must be decided by the Nevada Legislature.
"My guess is this gets closer to a 50-50 partnership when it's all said and done," said Leiweke, adding "there is room" in Las Vegas' hotel tax rate of around 12 percent to draw more tax money from tourists.
"I think there's a fairly reasonable concept on how to fund it, and it doesn't cost the people of Las Vegas any additional money," said Leiweke, who is assisting retired soccer star David Beckham in a plan to build a stadium in Miami. "It's not increasing taxes on the people who live there.
"The only way it doesn't happen is if people turn down the deal for whatever reason, and I don't see that happening. There is real momentum for this."
Leiweke said he estimates the Las Vegas stadium could host "50 to 60, maybe more" events per year, including eight regular-season games and two preseason games for the Raiders. It also would be the new home for UNLV football.
"I've been doing this a long time, and I'm actually really optimistic," Leiweke said. "I am pleasantly surprised. I think things are coming together. There is a real opportunity here."
The Review-Journal is owned by the family of Las Vegas Sands Chairman and CEO Sheldon Adelson.
Contact reporter Matt Youmans at myoumans@reviewjournal.com or 702-387-2907. Follow on Twitter: @mattyoumans247