WRs Antonio Brown, JuJu Smith-Schuster pose problem for Raiders
December 7, 2018 - 5:06 pm
Updated December 7, 2018 - 5:25 pm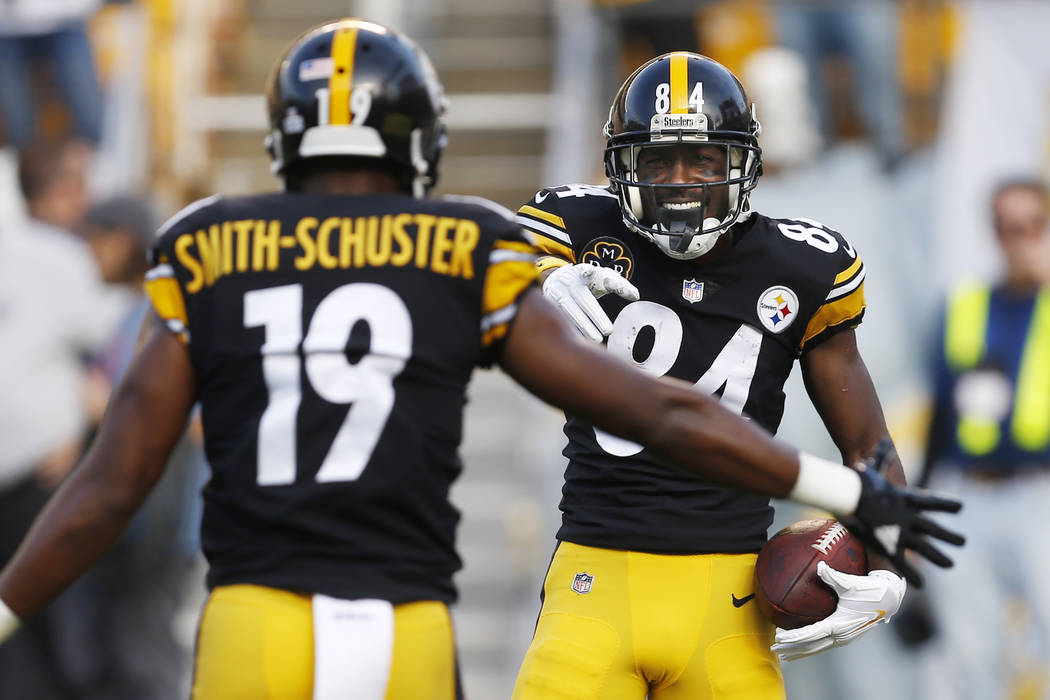 ALAMEDA, Calif. — Raiders coach Jon Gruden has to prepare for not one, but two elite wide receivers Sunday against the Pittsburgh Steelers.
The Ben Roethlisberger-Antonio Brown quarterback-to-wide receiver connection has been one of the most prolific in the NFL over the last few seasons. The addition of JuJu Smith-Schuster — who's entering his second year — has turned a dangerous passing attack to one of the NFL's most lethal.
Gruden has noticed the impact Smith-Schuster has had for the Pittsburgh offense.
"He's a good player," Gruden said Friday. "He's a physical guy; he's obviously smart and he's taken advantage of some of the coverage that Antonio's getting.
"He is a natural football player. He is an excellent blocker; he's outstanding after the catch, and he's coming into his own as a legitimate go-to guy. They've got two of them in Pittsburgh and that's a problem for us."
Brown and Smith-Schuster have both eclipsed 1,000 receiving yards this season — the first time for a Steelers' duo since 2011. Brown also leads the league in receiving touchdowns (12).
Constructing a scheme against an explosive second-year wide receiver is difficult enough. It almost becomes secondary when you also have to prepare for Brown — a wide receiver that Gruden believes is one of the greatest ever at his position.
"They move him around everywhere," Gruden said. "You don't know where he's going to be. He can run every route you dream up. I say that about other receivers but he can run double moves, he can run by you, he can run crossing routes, he's very good after the catch. What's the greatest thing about this man, I've told all of our receivers, if you get a chance to watch him practice, you'll see what unlocks the greatness in him.
"He's the hardest working man, I think, in football. Hardest working player I've ever seen practice. I've seen Jerry Rice, I've seen a lot of good ones, but I put Antonio Brown at the top. If there are any young wideouts out there, I'd go watch him practice. You figure out yourself why he's such a good player."
Notables
— Defensive tackle Maurice Hurst (ankle), offensive lineman Kelechi Osemele (toe), linebacker Kyle Wilber (hamstring) cornerback Daryl Worley (shoulder), wide receiver Seth Roberts (concussion) and Doug Martin (knee) are questionable for Sunday. Hurst and Osemele did not participate in practice Friday and the Raiders announced that Roberts is in concussion protocol.
— Martin is questionable for Sunday despite being a full participant in practice this week. Team trainers will check out Martin's knee Saturday and Gruden is confident in newly signed running back C.J. Anderson if Martin is unavailable. "Pretty good," Gruden said. "He's a pro's pro, he really is. A quick learner."
More Raiders: Follow at reviewjournal.com/Raiders and @NFLinVegas on Twitter.
Contact Chris Booker at cbooker@reviewjournal.com. Follow @Bookerc94 on Twitter.