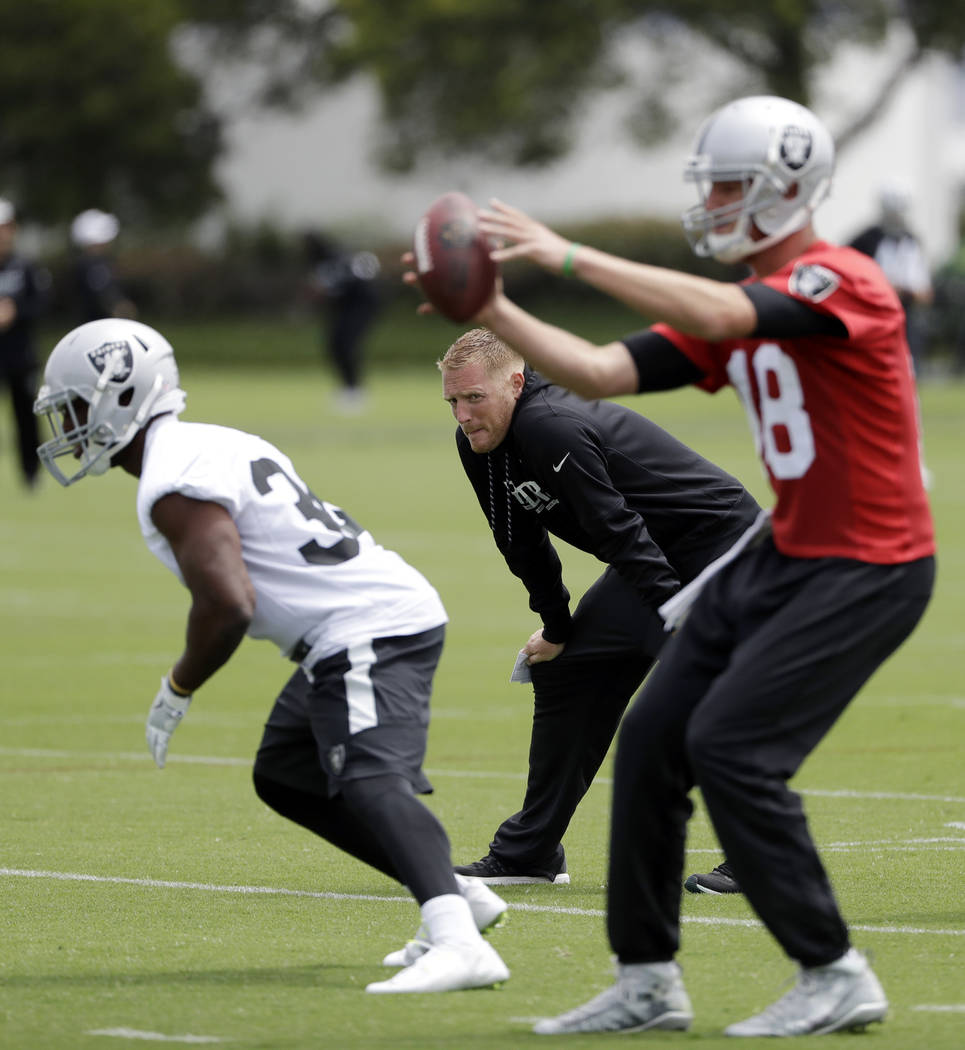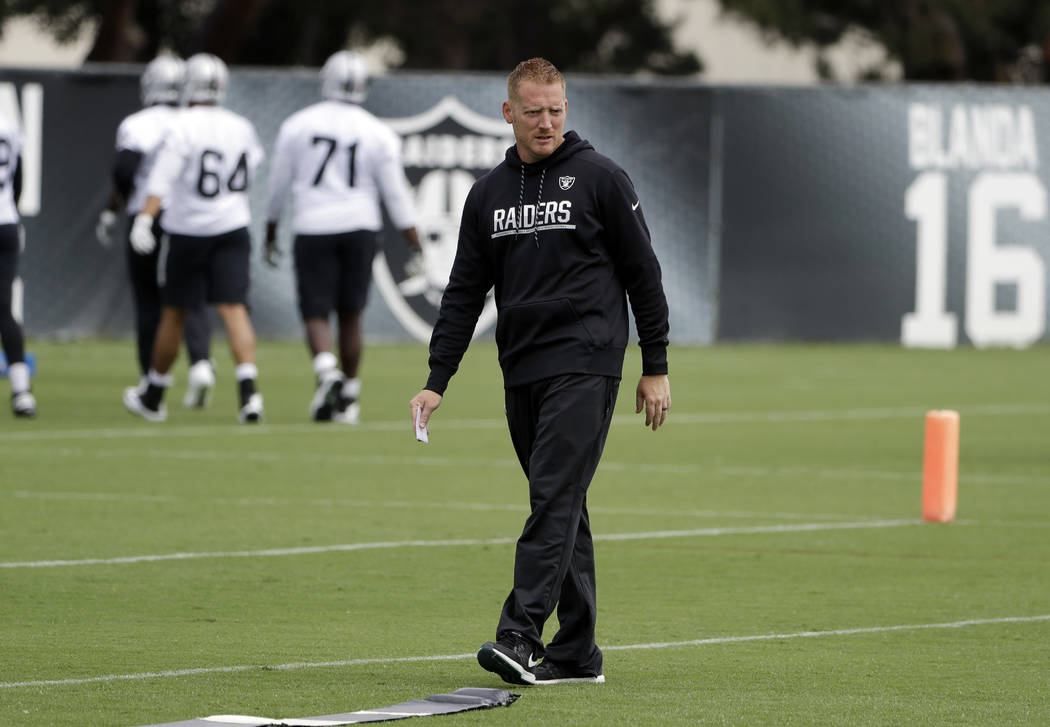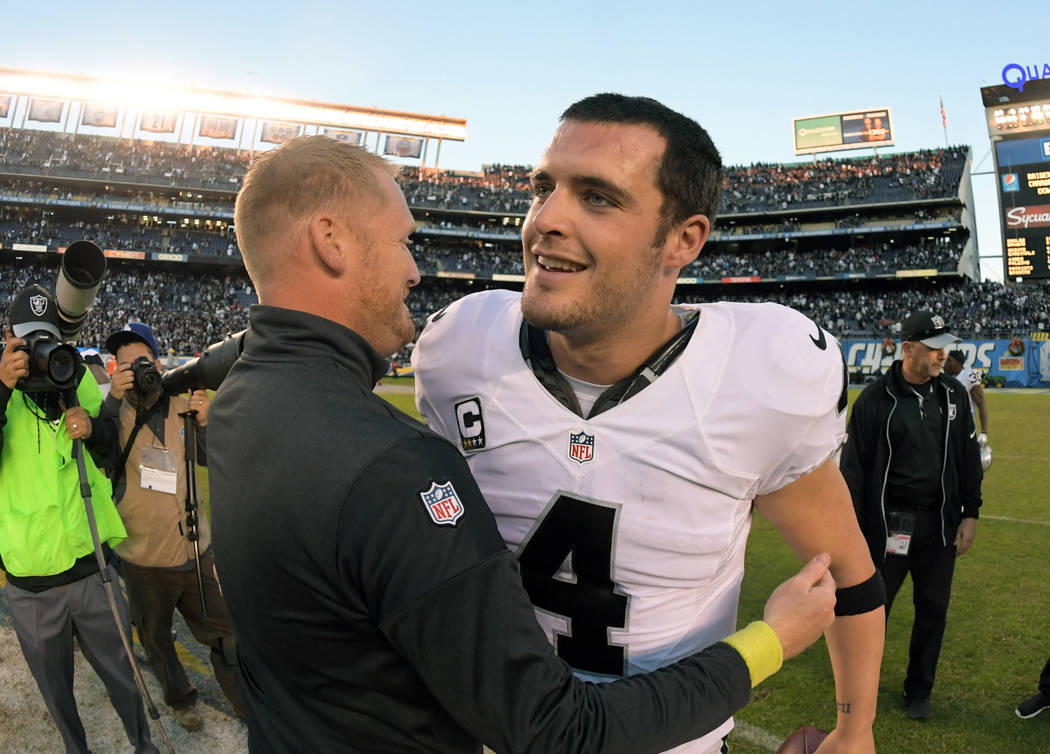 OAKLAND, Calif. — The youngest offensive coordinator in the AFC took some swings last month, his company at a Bay Area golf course including Raiders quarterback Derek Carr and a guest in town. The latter, retired wide receiver Calvin Johnson, attended practices that week, imparting advice to players on the coordinator's behalf.
Todd Downing is only 36.
But age is proving to be an advantage for him.
Downing is old enough to tote credibility, evidenced in a track record that includes working with the likes of Johnson, one of the game's former greats. Yet, he is young enough to share a fraternal-like connection with Carr, who works now to join the next generation of greats. The relationship between the Raiders' first-time coordinator and fourth-year quarterback could elevate both in 2017.
Before this offseason, Downing and Carr never worked together in a coordinator-quarterback capacity.
They were, however, familiar.
Downing spent the past two seasons as the Raiders' quarterbacks coach, both of which saw Carr have a Pro Bowl campaign. The coach is a year younger than one of Carr's older brothers, David, an NFL quarterback from 2002 to 2012.
"T.D. has been like a big brother since I've met him," Carr said. "He's family. He and I, we just really click. We think the same way. Whenever he has a thought or I have a thought, it's pretty much like, 'Yeah, that's what I was thinking, too.' … (Away from football), we play golf. We talk about faith. We talk about politics. We talk about basketball, baseball — we talk about everything together. There's nothing that him and I don't step into with each other.
"To have that off the field is cool, just to have a friend like that, let alone your offensive coordinator."
And that's the key.
Downing's youth, he has said, generally helps him connect with players. The connection then can be applied onto the field where communication between a play caller and quarterback is paramount. They've worked to hone that this offseason, Carr said, as the 26-year-old looks to operate the offense in the way Downing envisions, trying not to do too much in the process.
It goes both ways.
Downing highlighted what he calls a "more fluid stream of communication."
"I've been with Derek the last couple of years, so I kind of know how he thinks," Downing said. "I know what he likes and what he doesn't like. Sometimes, it's just as easy as reading his body language. If he doesn't like a certain route combination versus a certain look we're getting, then I'll just steer clear from it.
"There's been a lot made about his ability to change things at the line of scrimmage and so on and so forth. To me, the quarterback is an extension of the play caller anyways. I think he and I having the relationship that we have and understanding each other and the way we think about football is probably about as dynamic as that analogy needs to get."
Downing, who turns 37 in July, became an NFL coach in 2003.
He started as a football systems analyst with the Vikings, working for three years under then-coach Mike Tice. Tice now oversees the Raiders' offensive line; his Oakland hiring was announced about a week before Downing's in January 2015. Downing previously worked on the Lions' staff from 2009 to 2013, when he met Johnson, and was the Bills' quarterbacks coach in 2014.
As NFL offensive coordinators go, his youth is notable but far from extraordinary.
The Lions' Jim Bob Cooter, 32, is the league's youngest offensive coordinator. The Bears' Dowell Loggains, 36, is a couple of months younger than Downing. All told, Downing is one of seven offensive coordinators under 40, joining the 49ers' Kyle Shanahan (37), the Rams' Matt LaFleur (37), the Jaguars' Nathaniel Hackett (37) and the Chiefs' Matt Nagy (39).
Neither LaFleur nor Nagy will call plays in 2017. Downing will.
His blend of youth and experience have prepared him.
Contact reporter Michael Gehlken at mgehlken@reviewjournal.com. Follow @GehlkenNFL on Twitter.
Youngest NFL offensive coordinators
Jim Bob Cooter, Lions, 32
Dowell Loggains, Bears, 36
Todd Downing, Raiders, 36
Oldest
Terry Robiskie, Titans, 62
Clyde Christensen, Dolphins, 61
Matt Cavanaugh, Redskins, 60