Jon Gruden basks in Raiders' cornerback competition
Updated April 24, 2018 - 8:37 pm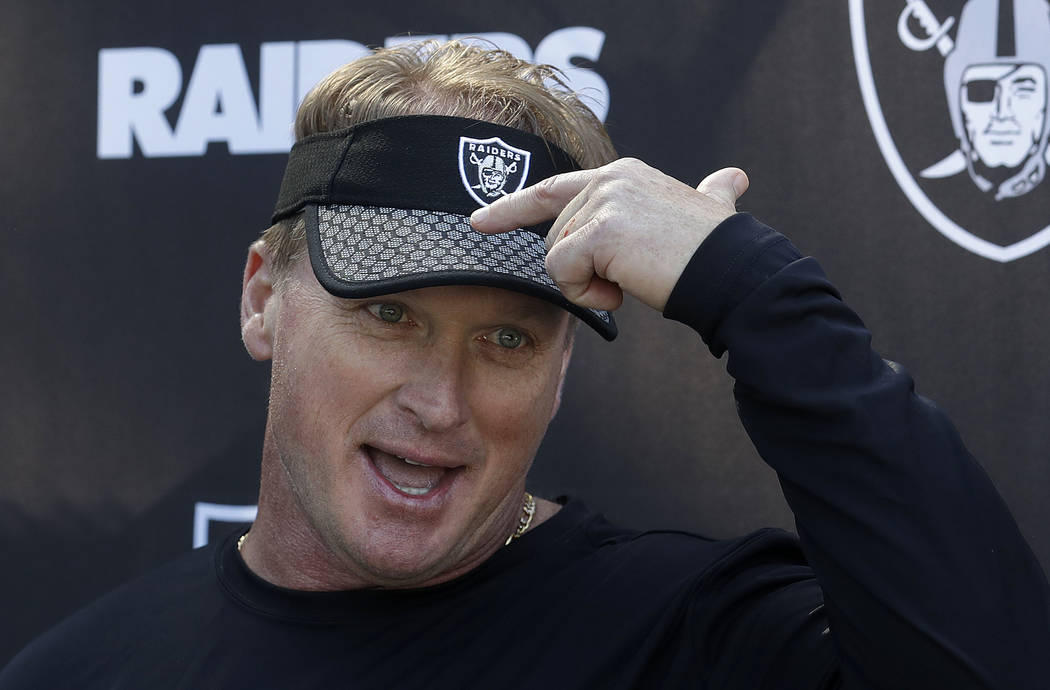 ALAMEDA, Calif. — Someone has to emerge at cornerback for the Raiders.
At least, they are counting on it.
Cornerback Daryl Worley signed a one-year contract with the team Monday. A day later, coach Jon Gruden publicly commented about a position group that features no shortage in quantity. Where the quality level stands will surface over the coming months.
Gareon Conley and Rashaan Melvin are being relied upon to start in the base defense.
Beyond that, the Raiders signed Shareece Wright, Leon Hall, Senquez Golson and Worley to one-year contracts with negligible guaranteed money. Melvin arrived via a one-year deal in March, but its value of $5.8 million easily outpaced the others.
"It looks like it's going to be competitive," Gruden said of the cornerback group. "We got shut out in free agency. We lost TJ Carrie, a guy we really wanted to get back. We let (David) Amerson go. We lost Sean Smith. We lost our top three corners from last year. We had to do something. Conley is still not 100 percent, so we had to look at our budget, who was available, how many guys we could acquire.
I credit our coaching staff. I credit (director of football administration) Tom Delaney, (general manager) Reggie McKenzie, honestly, for helping recruit these players. A lot of them didn't come for big contracts. We think Rashaan Melvin can be a really good player. We think Conley can be a really good player if healthy. We have a lot of competition right now behind him, and usually, that breeds success."
The Raiders have the No. 10 overall pick Thursday.
They could draft a cornerback in the first round for the second straight year, after taking Conley last year. Their recent commitment toward signing veterans, though, can be viewed as preparation for pursuing a potential different direction.
Arrested development
This is a second chance for Worley.
On April 15, he was arrested in Philadelphia near the Eagles' practice facility after police said they found him passed out in a vehicle. Worley was charged with driving under the influence, violation of the uniform firearms act, disorderly conduct and related offenses. The Eagles waived him later that day.
"Well, we looked into it, and obviously, it was an unfortunate matter," Gruden said. "We have a lot of intel on Worley with Karl Joseph here, who was his teammate at West Virginia. Bruce Irvin played at West Virginia. We have a lot of insight in him. Talked to some of his previous coaches. We think he deserves another chance. We're happy to give him one. I think he's learned his lesson. He has to prove that. And he can help us if he's right."
Contact reporter Michael Gehlken at mgehlken@reviewjournal.com. Follow @GehlkenNFL on Twitter.