Kelsey Martinez strengthens Raiders as 1st female assistant coach
Updated August 5, 2018 - 6:07 pm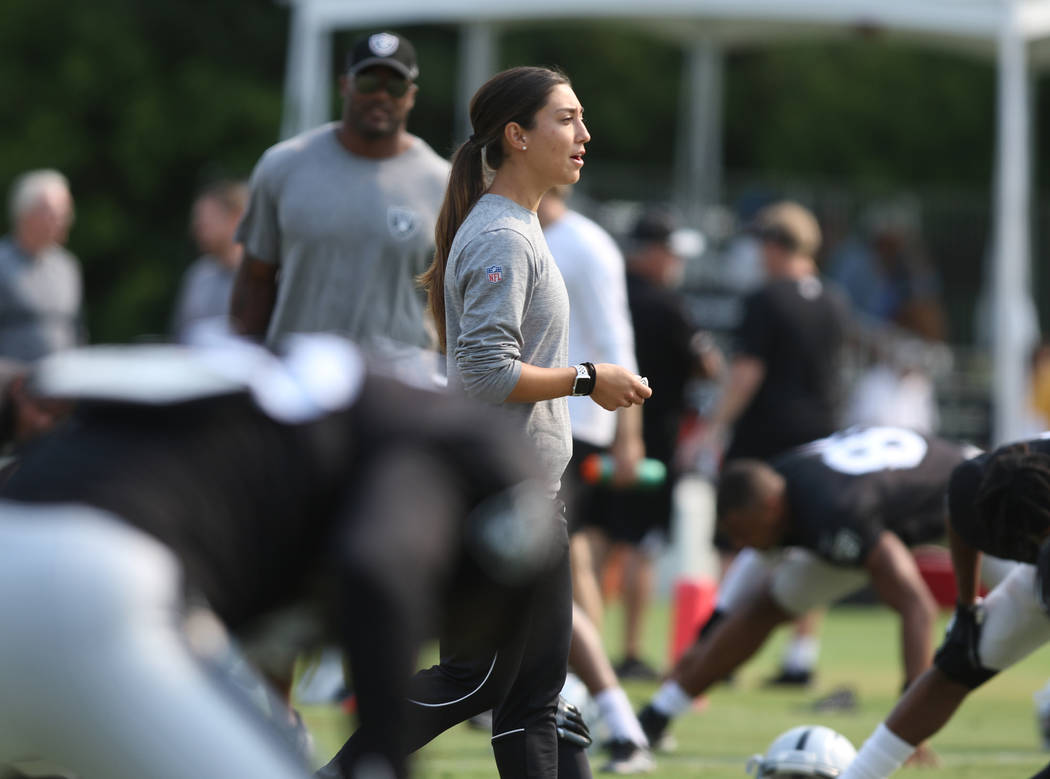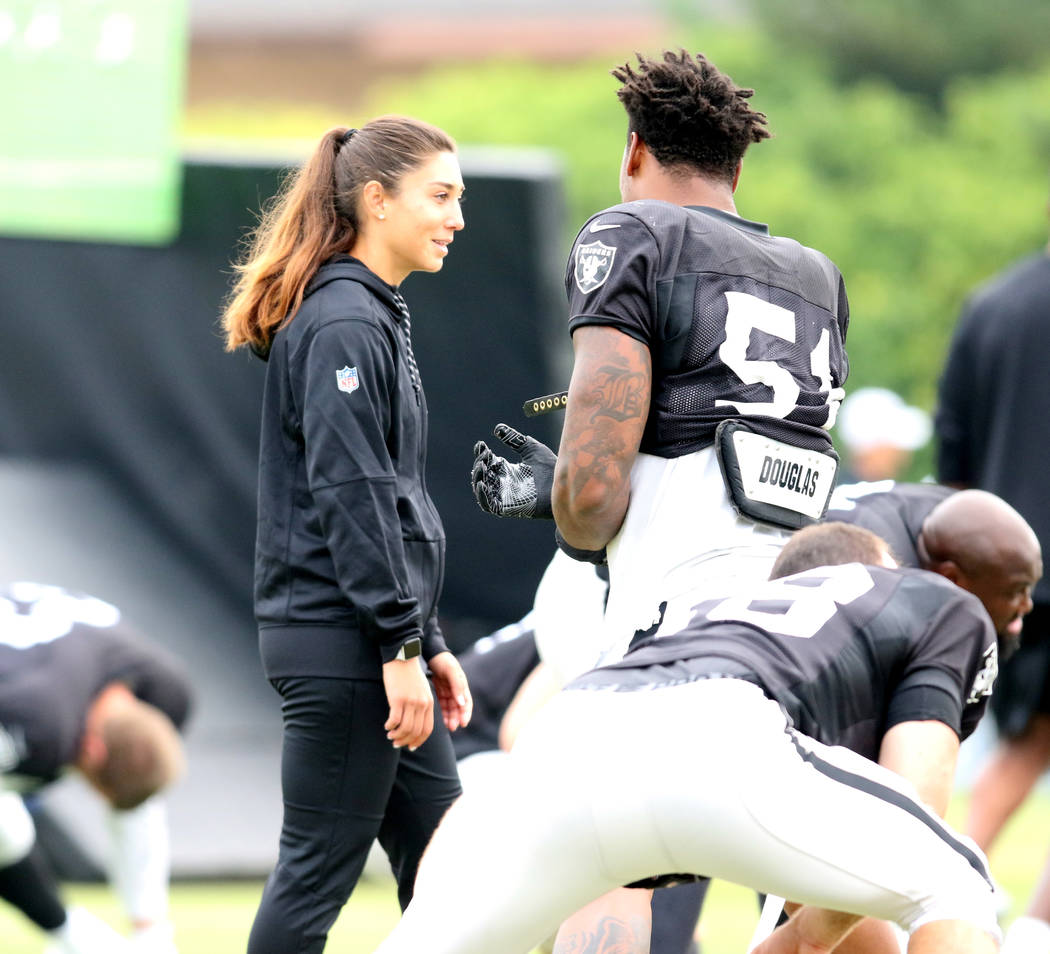 NAPA, Calif. — She wore a black hooded sweatshirt and black pants when pacing the Raiders' practice field. Her brown hair sat in a ponytail, a whistle in her right hand. She monitored the dynamic-stretching technique of 80-plus NFL players, all of whom awaited her next call.
"Stride forward." They strode.
"Backward run." They ran.
"Three-step cuts." They cut.
This is Kelsey Martinez at work. On the football field, she says, she seldom thinks about any trail she's blazed. But there have been conversations with Raiders coaches, men who have daughters. They've thanked her for embodying how their girls can do whatever they want in life.
"That's when it started to hit: 'Oh, wow. This is a big deal,' " Martinez said. "To be an inspiration for them is huge to me."
Martinez is an example of how initiative and work ethic can lead to an NFL opportunity at age 26. She also happens to be a woman. Part of an organization that has broken race and gender barriers in its history, the strength and conditioning assistant is the Raiders' first female assistant coach.
Martinez joined in March and is nearly two weeks into her first training camp.
She seems to have acclimated well to the Raiders — and they to her.
Some players worked with Martinez before her arrival. Of those in camp, nose tackle Justin Ellis, defensive end Bruce Irvin, outside linebacker James Cowser and defensive end Shakir Soto have conducted offseason training at Tom Shaw Performance at ESPN Wide World of Sports in Orlando.
Martinez worked for four years under Shaw, whom she said "treats me like a daughter" and is "the closest thing to a father figure to me." Shaw now coordinates the Raiders' strength and conditioning department. She credits the mentor for the respect and support received, be it in Florida or here in California.
But she is plenty responsible for that reception, too.
Martinez can stand on her own merit. For example, Cowser credits her for refining his sprint technique. Once in Orlando, she watched his movement and suggested he focus on pushing off the ground more with his feet when he explodes to run. Cowser did so and followed with his best recorded time in the drill, he said.
"She's super awesome," Cowser, 27, said. "I mean, there's a reason I went to Tom Shaw in the offseason, right? When I first met her, from the beginning, she opens her mouth, and you instantly know she knows what she's talking about. It's the same reaction here with all the guys. At first glance, you're like, 'Wow, that's a woman.' And then they start talking, and it's, 'Oh, that's a coach.' You know what I mean? It's that instant switch of, 'Oh, that's interesting,' to, 'Oh, I need to get my feet up.'
"It instantly becomes business, and that's what it's all about. I think that's a testament to her and who she is because she's able to get us to switch into work mode. We don't think about male-female whatever. It's just business and how can we get better."
'You can't limit yourself'
Martinez grew up in Pueblo, Colorado.
A softball standout, she played outfield at Bethany College in Lindsborg, Kansas, before transferring closer to home. She ultimately earned a bachelor's degree in exercise science from Colorado State University, but her education continued under Shaw's tutelage.
This offseason, the Raiders have noticed results from their strength and conditioning department. Perhaps no position group exemplifies this more than offensive line, a group that collectively struggled this spring to keep up with the pace that coach Tom Cable dictated during individual drills.
Tackle David Sharpe, guard Jordan Simmons and guard Denver Kirkland are among those who followed a personalized plan, lost weight and showed improvement in camp.
Martinez is focused on inspiring such success stories. Yet, she inspires more.
Running backs coach Jemal Singleton and his wife have a young daughter. He has thanked Martinez for being an example to her. Months ago, special teams coordinator Rich Bisaccia had dinner with different members of the strength and conditioning staff, including Martinez and Shaw.
He thanked her, too.
"I have five sisters, and I have three daughters," Bisaccia said. "For them to be able to, along with all other females, see that she's accomplished this goal is going to give them a chance to realize, 'Wow, this is a path I can take.' … She carries herself extremely professionally. She's incredibly knowledgeable in what she's trying to teach these guys. She hasn't missed a beat with the players. …
"Once a pro player feels like you're knowledgeable and you can help them get better, they're going to listen to you. And I feel like with Kelsey, that was evident right away, not only to the coaches but certainly to the players."
For the New York Jets, Lee Brandon is widely credited as having become the NFL's first female strength and conditioning assistant. That was 1990.
All these years later, an NFL weight room remains a male-dominated setting. None of the league's other 31 teams have a woman listed on their strength and conditioning staff, according to the directory page posted on each club's website.
A message accompanies Martinez' journey.
It can apply to any gender.
"Don't create limits on yourself," Martinez said. "There's many excuses or whatever that can be made, but at the end of the day, what do you love to do? I was able to find what I love to do, and that's working for Jon Gruden every day. 'Do you love football?' That's his number one question. Do you love football? Do you love what you do? Why limit yourself or who you are if that's what you want?
"I didn't let that try to ever stop me. More than anything, I'm thinking of how young I am coming in here versus me being a girl. You can't limit yourself."
More Raiders: Follow online at reviewjournal.com/Raiders and @NFLinVegas on Twitter.
Contact reporter Michael Gehlken at mgehlken@reviewjournal.com. Follow @GehlkenNFL on Twitter.