Raiders K Giorgio Tavecchio still chasing dream after 6 NFL camps
August 21, 2017 - 7:02 pm
Updated August 21, 2017 - 10:45 pm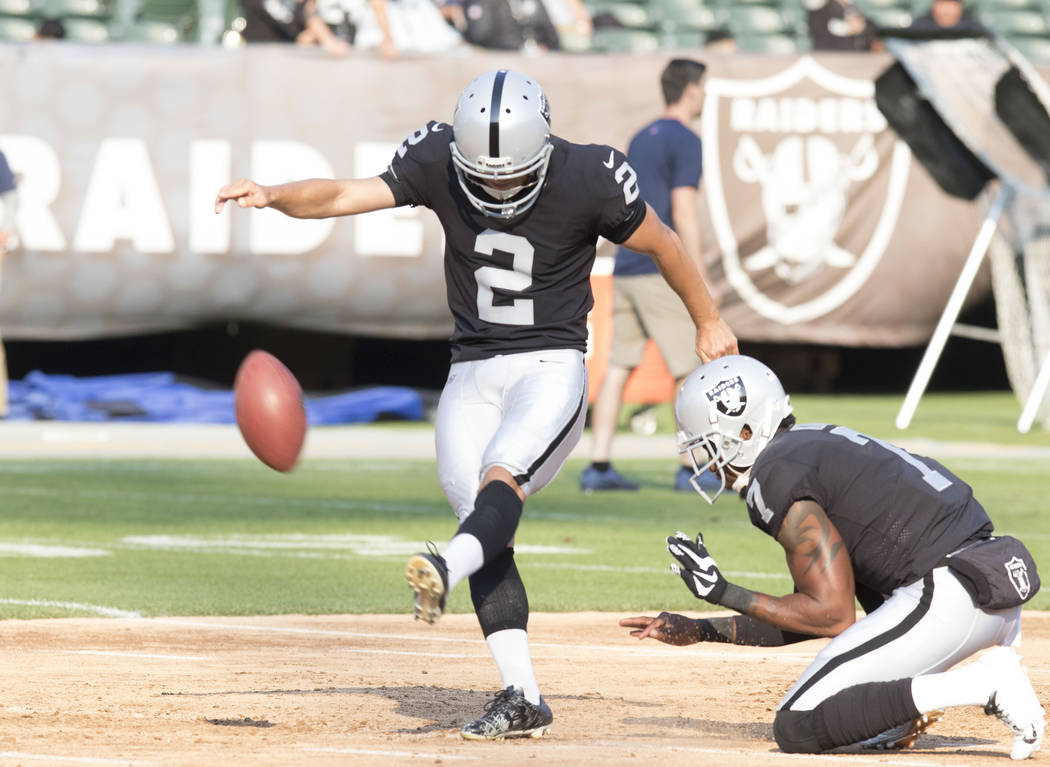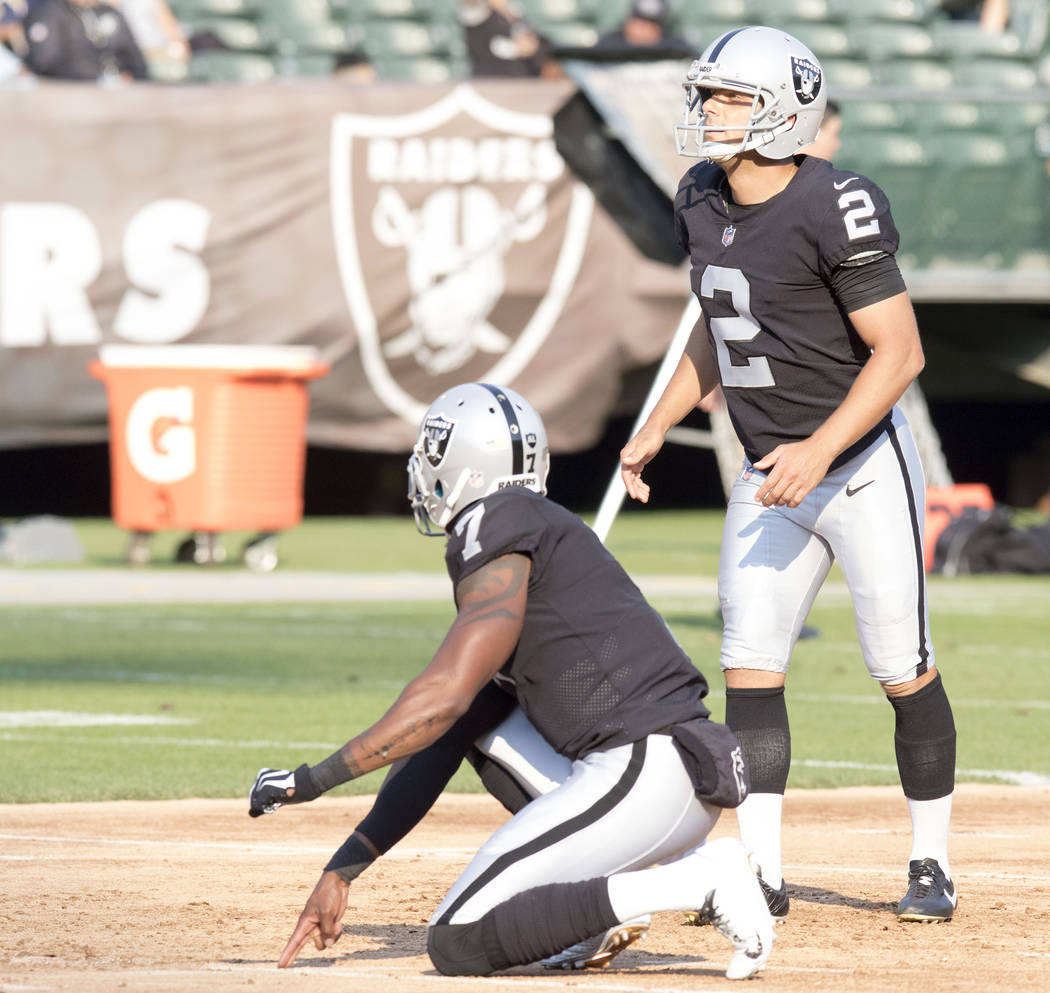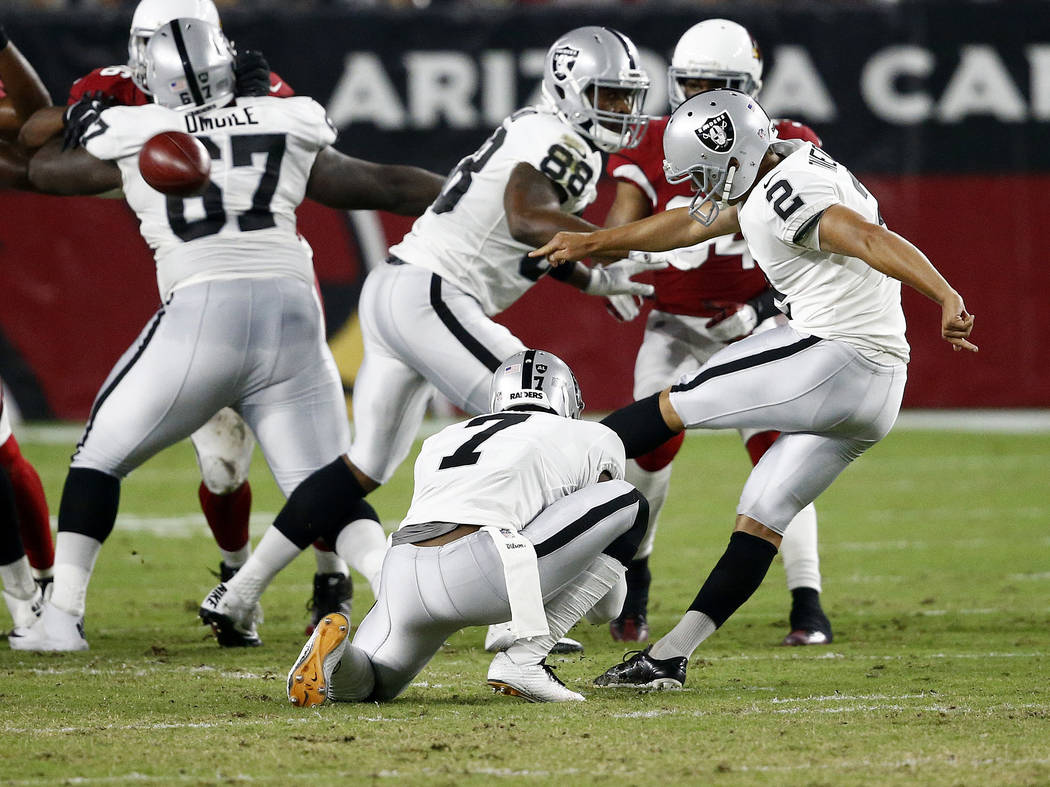 OAKLAND, Calif. — This foray into football began innocently enough for Giorgio Tavecchio.
It was fun.
A catchy Italian song from the 1950s, "Eh, Cumpari!" by Julius La Rosa, bounced from the stadium speakers at Campolindo High in Moraga, California, whenever the Italian-American took the field for a field goal or extra point. He relished the time spent with friends. The sport unexpectedly morphed into a college opportunity; he was set to play Division I soccer at UC Davis before California extended a late invite to be a freshman walk-on.
Three days after his first college practice, he kicked off Cal's 2008 season opener against Michigan State.
So much fun in such a short span. He since has learned to bide his time.
Tavecchio, the Raiders' backup kicker, is 27 years old and recently finished his sixth NFL training camp. He has yet to appear in an NFL regular-season game. His story is one of patience, perseverance and an ongoing chase for perfection that he hopes, one day, will produce a professional opportunity. It continues this Saturday on the road against the Dallas Cowboys.
This is Tavecchio's third preseason with the Raiders. So far, he's been as steady in games as in practices, converting both extra-point attempts and a lone field-goal try of 43 yards.
"To me, he's grown," coach Jack Del Rio said. "I think he's right on the edge. We're happy to have him back competing. I think he's a good, young kicker. Those guys sometimes will bounce for a while before they finally catch on and get a career going. He has a lot of desire. He has a good leg. I like the way he's worked."
It was difficult to miss Tavecchio in camp.
The Milan, Italy, native stands 5 feet, 10 inches. He weighs 182 pounds and wears a No. 2 red jersey. But there he was, holding a tackle bag for certain drills against defensive linemen, linebackers and defensive backs. He wanted to contribute as a teammate any way he could, he said, without being a detriment. His frame allowed a lower target for defenders practicing their pad height.
One day, he hopes to contribute as a kicker.
That largely is what his journey is about.
"As I look back, there is a waterfall of gratitude for these experiences, these moments, even these difficult moments," Tavecchio said, "because I'm rewarded with a glimpse of myself that I think has made me feel like I'm 75 years old with the amount of life I've lived."
Last prospect
There was much to see at the 2012 Cal pro day.
Scouts from across the NFL convened to evaluate the school's draft-eligible talent. Offensive tackle Mitchell Schwartz and linebacker Mychal Kendricks would be drafted in the second round. Punter Bryan Anger went in the third. Three others were selected on the draft's third day, including wide receiver Marvin Jones by the Cincinnati Bengals as a fifth-round steal.
But zero scouts saw Tavecchio.
As he warmed up to punctuate the afternoon, rain fell on Berkeley. Scouts flipped up their jacket hoods. They lowered their heads to keep their faces dry. Having seen the top prospects, they left the field and retired to the parking lot.
The storm shone light on the last prospect remaining.
Anyone wanting to learn about Tavecchio could have grabbed an umbrella and lingered. They would've seen a kicker who spent months training for his March pro day and was determined to complete the workout as if every scout in the league was observing behind binoculars.
"By the time I was done with my set, maybe 45 minutes later, I had kicked probably 30 field goals, a couple kickoffs," Tavecchio said. "There was just my team chaplain (Kevin Knox) and a couple teammates (kicker Vincenzo D'Amato and punter Jed Barnett). … I noticed (the scouts), but this is one of those things that kickers can understand. You don't want the circumstances to dictate your behavior or actions.
"I told myself, 'I'm going to kick during my pro day.' So, I went to kick for my pro day. If nobody is watching, nobody is watching."
He went undrafted and signed with the San Francisco 49ers. Their special teams coordinator at the time, Brad Seely, holds the same position with the Raiders now. He was cut before the season. Tavecchio signed with the Green Bay Packers in 2013. He was cut before the season. He signed in 2014 with the Detroit Lions, who cut him before the season. The Raiders added him only to cut him a few days later before the same season.
He has spent the 2015, 2016 and 2017 offseasons with the Raiders.
So far, each has ended the same way.
Still kicking
By many measures, Tavecchio does not need this.
He has a political economy degree, which readily applies to international relations. He has work experience unrelated to cleats, goal posts or holding a bag for 330-pound linemen who knock him on his heels or worse. Last winter, he completed a 12-week training program with MediaMath, an ad technology company, on the 45th floor of the World Trade Center. He had offers to work in the company's New York or London office.
Yet intrinsically, he does need this.
He must finish this.
Tavecchio is a backup to the longest-running kicker show in the NFL. "Sebastian Janikowski the Raider" first debuted in 2000. The 39-year-old veteran may not be cheap against the salary cap, and he is entering a contract year. But his ability and experience are expected to extend the program into an 18th season.
UC Berkeley would do well to consider Tavecchio for an honorary philosophy degree.
His river of experience affords him perspective.
He understands the paradoxes to his NFL journey. No, he has not kicked in a regular-season game. The longer he is denied the chance, the more he wants it. Still, he recognizes the folly if he makes more of it than what it is. He keeps loose and has fun to prevent the effect of time from consuming him.
In training camp, no one played "Eh, Cumpari!" but he enjoyed himself and considers the summer the strongest of his career.
Likewise, he seeks to appreciate the journey.
If he is released despite his best efforts, a failure of result will not equal a failure in process. He must maintain belief in the latter. In the same breath, he recognizes the binary nature to the NFL. Win or lose. Make a kick or miss it. On the roster or off it.
"Reconciling those two worlds has been a beautiful ride," Tavecchio said. "It's been a passion. It's caused me to suffer. It's caused me to love. It's what gets me up every morning. That, and my faith in God, is why I'm still here."
Contact reporter Michael Gehlken at mgehlken@reviewjournal.com. Follow @GehlkenNFL on Twitter.