Raiders turnovers kill comeback, give Eagles 19-10 win
December 25, 2017 - 9:04 pm
Updated December 25, 2017 - 11:49 pm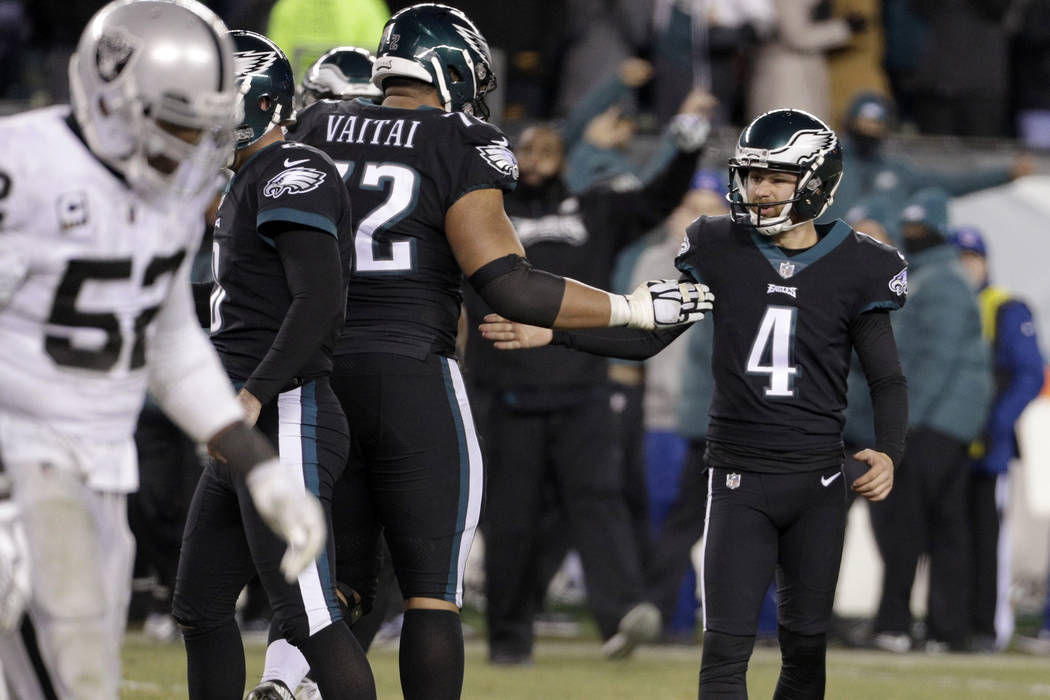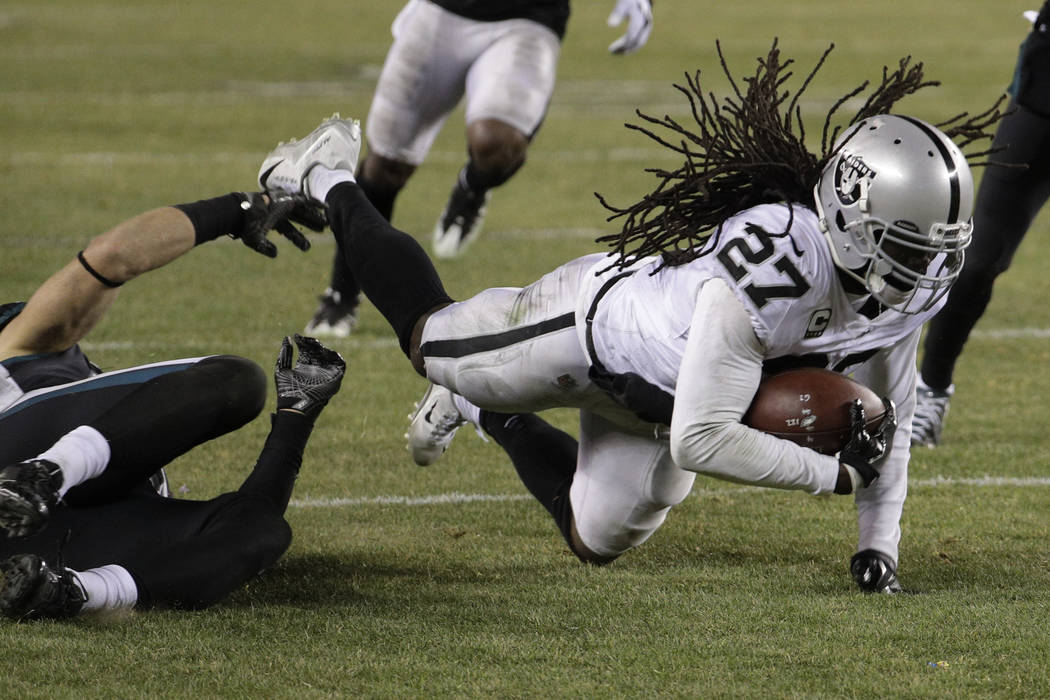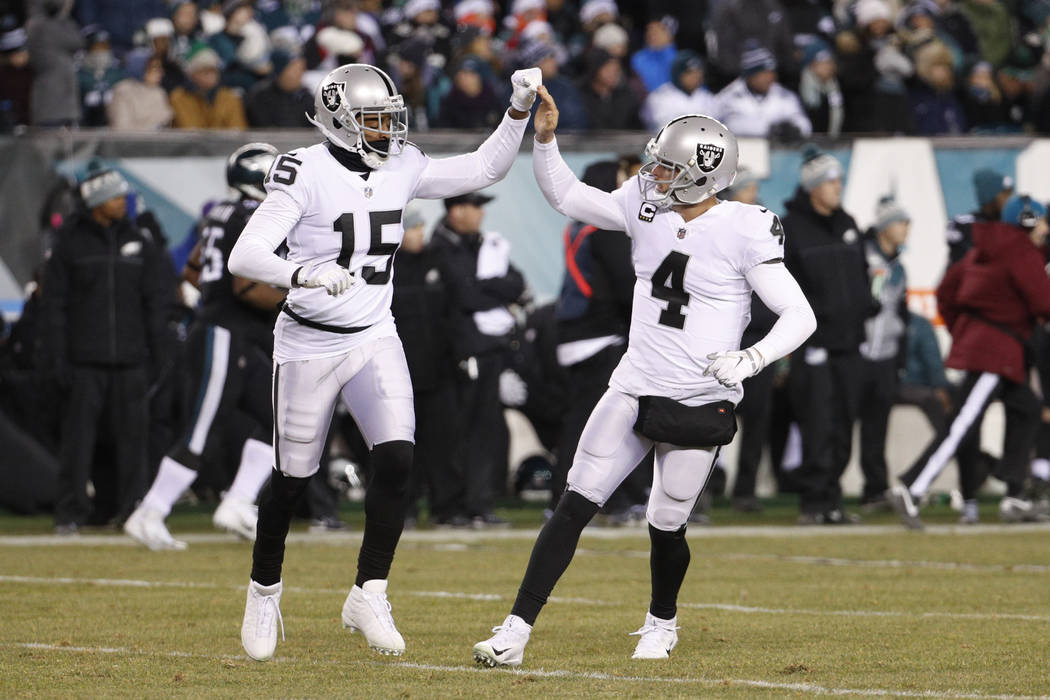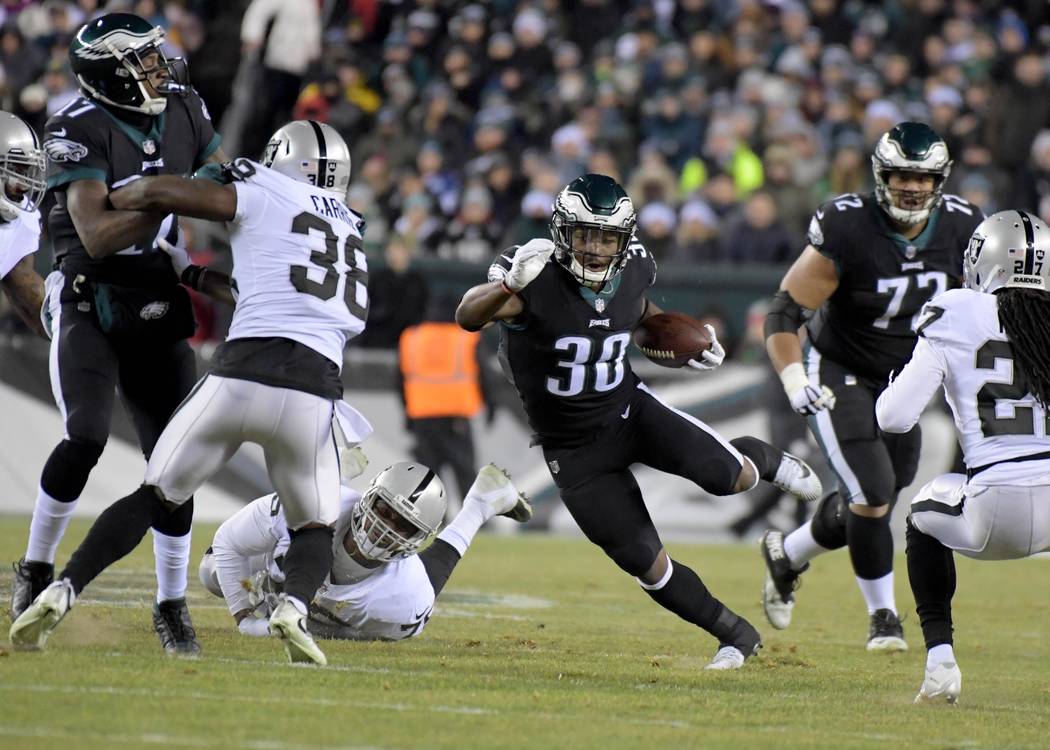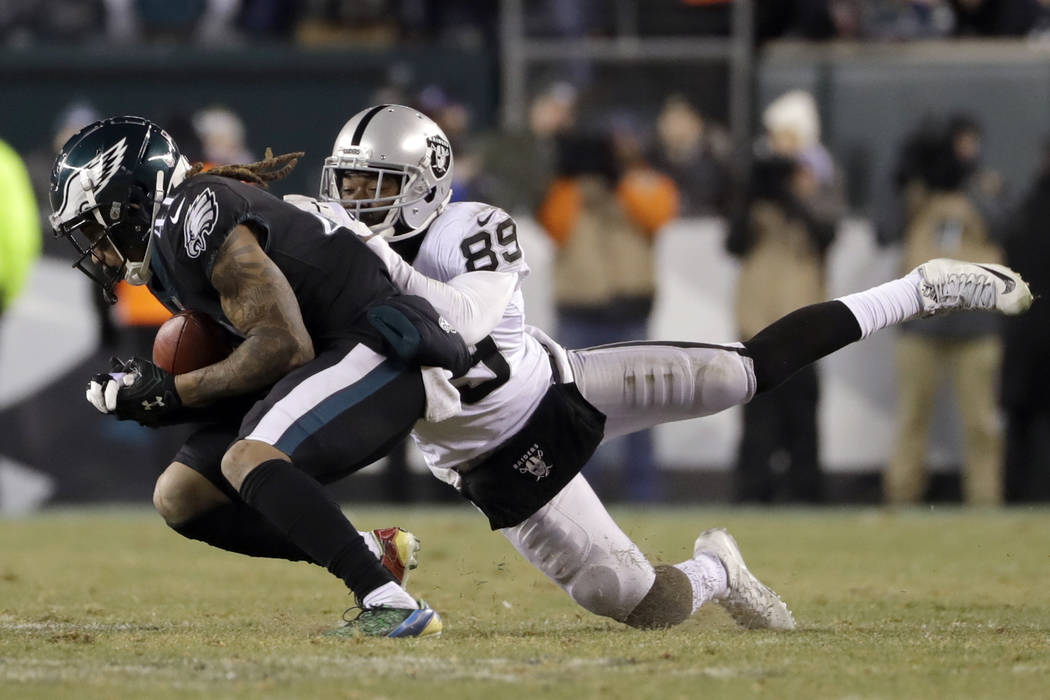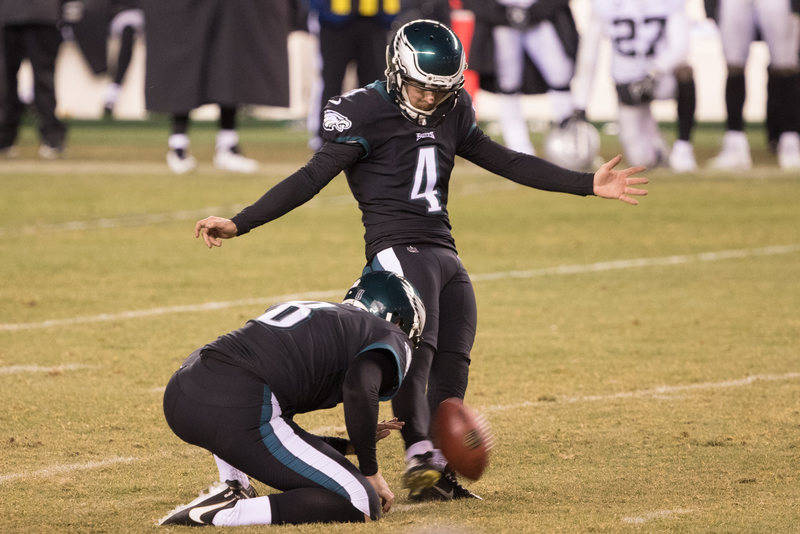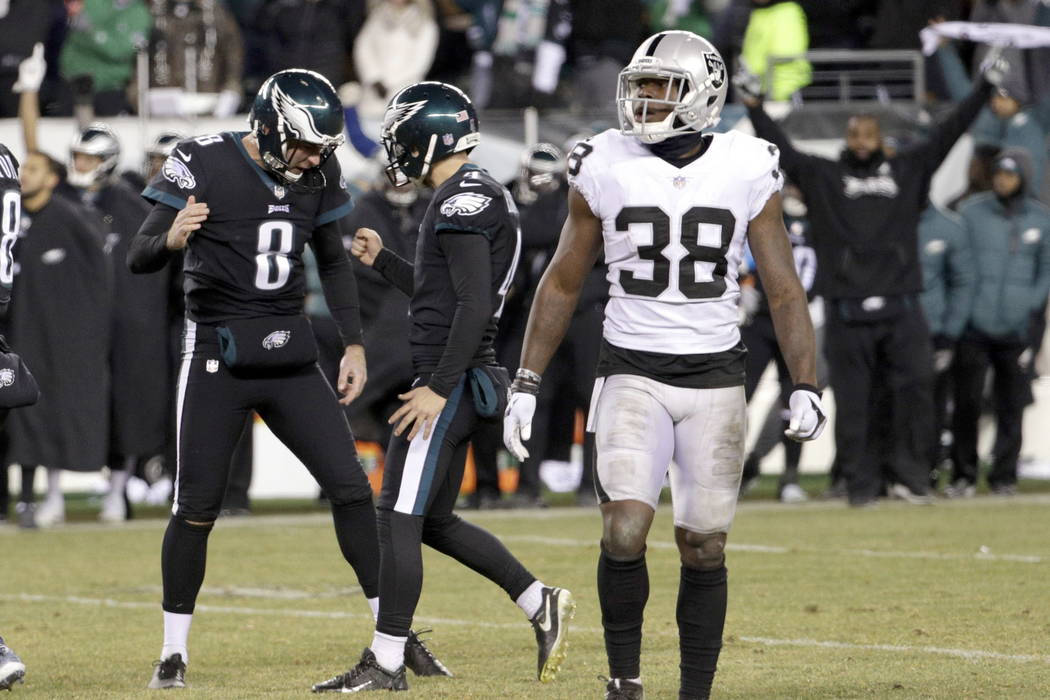 PHILADELPHIA — The spirit of giving overwhelmed the Raiders on Christmas Day.
At least, the spirit of giving back.
They earned a third-and-4 chance. It became third-and-9 on a delay of game and third-and-14 on a false start. Safety Reggie Nelson was gifted an easy interception. He dropped it. Later, when the Raiders forced their first turnover, running back Marshawn Lynch lost a fumble on the next play. When Nelson caught his first interception of the season, running back Jalen Richard lost a fumble three plays later.
Derek Carr delivered the final gifts.
Unable to connect with wide receiver Amari Cooper, the Raiders quarterback dispensed his second interception of Monday night — his offense's fourth turnover of the second half. The Philadelphia Eagles took possession at their own 48-yard line and eventually the lead with a 48-yard field goal. A remote comeback attempt died with a desperation lateral drill that ended with Carr's fumble being returned for a touchdown in a 19-10 loss.
The fifth second-half turnover.
Merry Christmas.
The Eagles received the NFC's top playoff seed, assuring them homefield advantage in January. Those who give during the holidays are often said to be rewarded, too. The Raiders dropped to 6-9 in 2017 and, indeed, boosted their draft selection in April. They were formally eliminated from playoff contention on Sunday with the Kansas City Chiefs' win over the Miami Dolphins.
If that result hadn't done it, this one would've.
"It's a fine line," coach Jack Del Rio said. "It's a fine line between really good and being where we are right now. We work hard. We go out and compete. We had an opportunity to earn it. … Like I've said many times, the would've-could've-should'ves are not going to get it done. You get your opportunity (to) earn it. You live with the results."
The Raiders had plenty of positives on a mistake-filled night.
Cooper caught a 63-yard touchdown on a slant-and-go route in the second quarter. He was coming off a left ankle injury, which later may have affected his ability to cut on a slant route and thereby contributed to Carr's interception versus man coverage in the final minute.
The Eagles entered Monday having allowed an NFL-low 71.5 rushing yards per game. The Raiders had 137 with Lynch leading the way. He had 25 carries for 95 yards.
The defense continued to play better football under John Pagano, the team's assistant head coach who overtook play-calling duties in November. Philadelphia converted just one of 14 third-down attempts. It committed two turnovers and managed 216 total yards.
But where there were positives, there were negatives. Back and forth the teams went all night. Ultimately, the Raiders' Giorgio Tavecchio missed a 48-yard field goal in the fourth quarter. The Eagles kept receiving chances until kicker Jake Elliott made his to break the tie.
"That's the NFL," right tackle Marshall Newhouse said. "There's just so much ebb and flow. You've got to keep your head down and keep playing, just like when they fumbled and we got the ball back. In our head, we were going to score, and then we fumbled and gave it back to them. Our defense holds. They played great.
"What sets you apart, at the end of the day, what leads you onwards and upwards in the playoffs and beyond is you take way more than you give. When they give you opportunities, you slam the door shut."
Five second-half turnovers proved daunting.
On Christmas Day, the Raiders were too generous for their own good.
Contact reporter Michael Gehlken at mgehlken@reviewjournal.com. Follow @GehlkenNFL on Twitter.