Top draft pick Kolton Miller bulks up before Raiders camp
Updated July 23, 2018 - 8:19 pm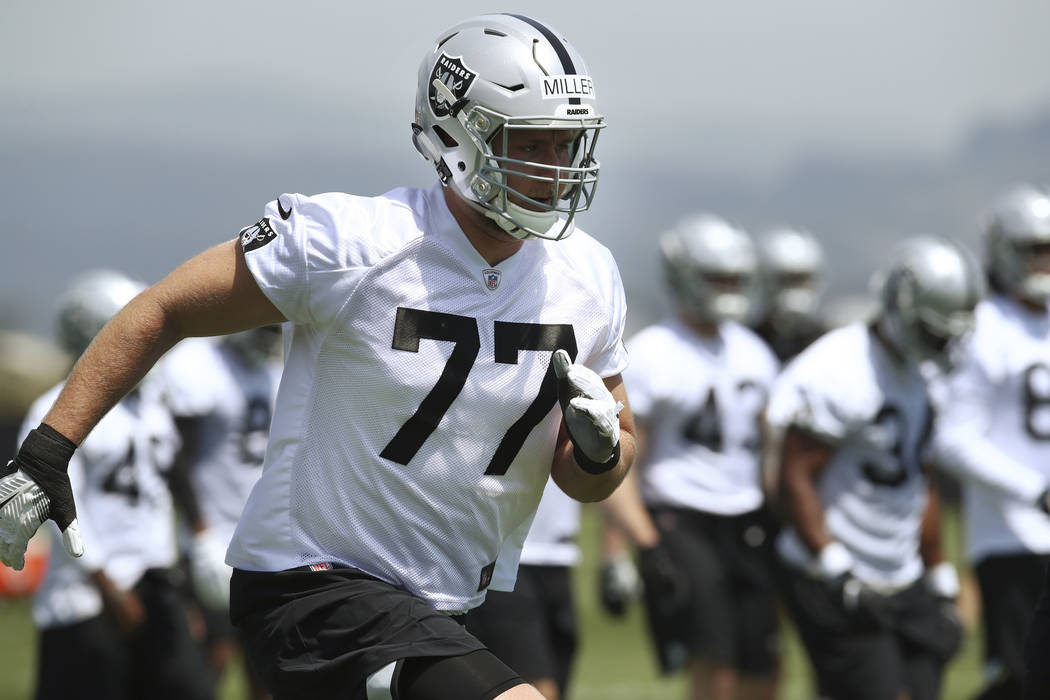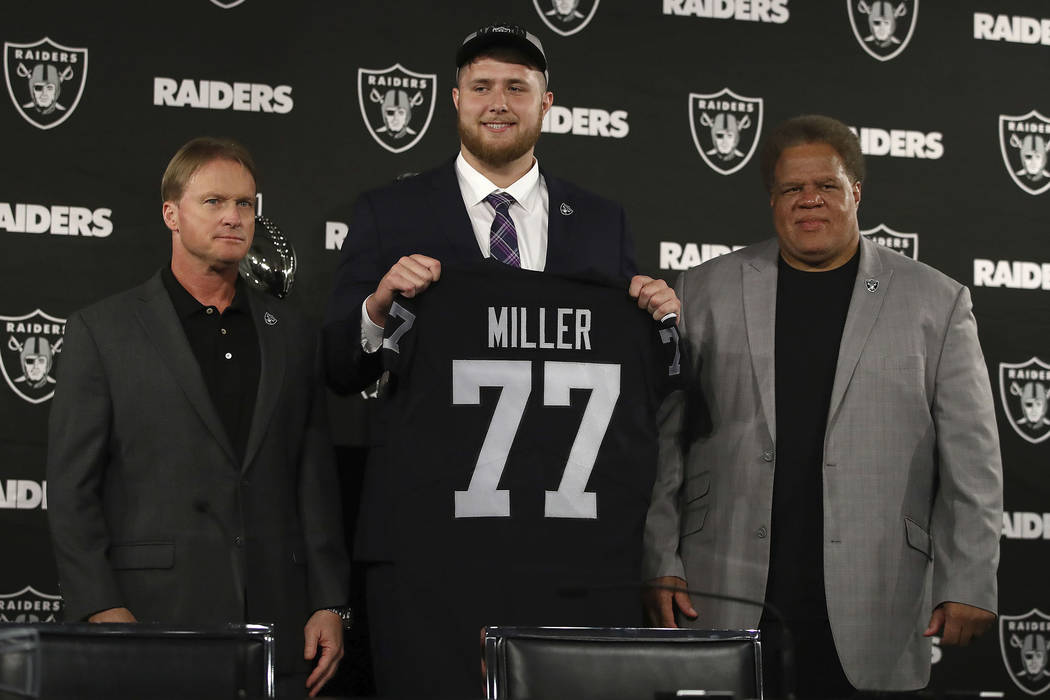 OAKLAND, Calif. — Kolton Miller reported to the NFL Scouting Combine in late February at 309 pounds before dazzling there, the former UCLA offensive tackle running the 40-yard dash in 4.95 seconds and setting an event record at his position with a 121-inch broad jump.
On Monday, he reported to training camp a bit heavier.
Just as the Raiders wanted.
Miller has added about a dozen pounds since the Raiders drafted him in the first round on April 26. His private trainer, Dan Jameson of Syndicate Sports Performance, said Monday that the 6-foot-9-inch lineman worked to 321 pounds as of last week. The team desired an increase, although the goal wasn't merely about achieving a number on a scale.
"Not so much gaining weight, just gain strength yet remain athletic," coach Jon Gruden said earlier this offseason. "He's one of the most athletic tackles that I've ever seen — I mean, ever seen. At the combine, his broad jump, I think, was almost 11 feet. That's outstanding. Ran a sub-five flat. We don't want to take away from any of his athleticism, but remember, he's an underclassman.
"All these draft picks have been on this (predraft) tour, this rock-n-roll tour. Get to go to all these facilities and eat all of these meals. So we just want to get him in great shape. Get him stronger but maintain his flexibility and his athleticism."
Such a goal requires a group effort.
The Raiders' strength and conditioning staff, headed by Tom Shaw, plays an important part. But the collective bargaining agreement limits how much time an athlete has at the facility. Ultimately, the onus often falls upon the player to commit his own external time to reach landmarks set from within the organization.
That seems to come easy for Miller.
Those close to him speak highly of his work ethic. The NFL draft, for example, is designed to be a celebratory period for a first-round prospect. During Miller's few days in Texas, friends and family said that he didn't miss a workout, training in a hotel swimming pool, hotel gym or room itself before the Raiders selected him No. 15 overall.
For multiple offseasons, he has worked with Jameson, who is based in Roseville, California.
"Kolton's put good weight on," Jameson said. "It's not 'dad bod.' It's not all around his waist. It's in his shoulders. It's in his arms. It's in his back. … Kolton's ready. Kolton's ready to learn. He's ready to handle his business. He's ready to just be a sponge and take it all in and be the best he can be.
"There ain't no tougher position than left tackle or right tackle, whatever it is, in the AFC West. There ain't a day off. For six games, you get the cream of the crop. Kolton will be absolutely, 100 percent ready for training camp. No doubt. No doubt at all."
Contact reporter Michael Gehlken at mgehlken@reviewjournal.com. Follow @GehlkenNFL on Twitter.