10 storylines to watch as the National Finals Rodeo begins
December 6, 2017 - 5:01 pm
Updated December 6, 2017 - 5:28 pm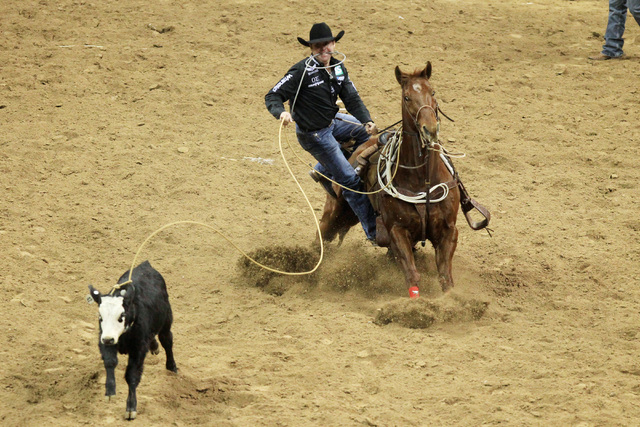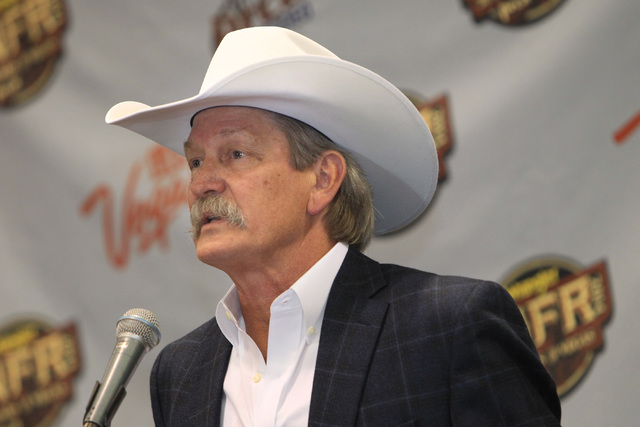 The National Finals Rodeo returns to Las Vegas, and with it the city welcomes an influx of rodeo fans and contestants from around the world.
The 10-day event begins Thursday night at the Thomas & Mack Center and runs until Dec. 16. Here are 10 storylines heading into the competition:
All-around title
After a year away, Trevor Brazile, the winningest cowboy of all time, will enter the 10-day competition searching for his 14th all-around title.
Brazile enters NFR having pocketed $243,760.09 in earnings this season.
He has a $13,738.26 edge over Tuf Cooper, his brother-in-law.
Both compete in tie-down roping, making that the event to watch as the all-around race develops over the 10 days.
Cooper enters at first in tie-down roping while Brazile is sixth.
Bull riding supremacy
Sage Kimzey has had success in Las Vegas since he burst onto the scene.
The bull rider from Oklahoma became the PRCA's youngest millionaire a year ago.
At 23, he has a chance to become a four-time World Champion bull rider after winning in each of his first three seasons.
Kimzey enters with a $32,912.81 edge over Garrett Smith.
Repeats
Kimzey will have one of the best chances to repeat from a season ago.
Bareback rider Tim O'Connell will also enter with a great chance to defend his 2016 title. O'Connell has a more-than $65,000 lead over Tanner Aus, who enters in second place.
Zeke Thurston, the 2016 World Champion saddle bronc rider, enters in second place, $13,471.99 off the lead.
Wide-open races
With a $26,000 payout for taking first place on any given night, the standings could be shifting nightly.
Last year, tie-down roper Tyson Durfey went from 14th to first over the course of 10 days.
"It's given everybody a much better opportunity to end up with a gold buckle on," commissioner Karl Stressman said. "You've just got to get here. You've got to get to the Wrangler National Finals Rodeo in Vegas, and then it is a matter of how you perform because of the increase in the dollars."
Family event
With three pairs of brothers competing — twins Jesse and Jake Wright, Jacobs and Sterling Crawley and Cody and Heith DeMoss — saddle bronc riding will be a family affair.
Ryder Wright, Jake and Jesse's nephew, will also be participating, as will CoBurn Bradshaw, Jake and Jesse's brother-in-law.
Stressman retiring
This will be Karl Stressman's 10th and final NFR as PRCA's commissioner.
Stressman announced his intent to retire earlier this year. His retirement will be effective Dec. 31.
"It's been a great experience. It's been a great ride. I have enjoyed myself," Stressman said. "I am humbled to be able to be at the helm of the Professional Rodeo Cowboys Association. I think you just know when it's time to pass the baton to somebody else."
Mixture of vets/newcomers
Because of the dispute between the PRCA and Elite Rodeo Association, some of the top cowboys, like Brazile and Cooper, sat out of last year's NFR.
That paved the way for a record 39 first-time qualifiers.
This year, with some of those vets back, there will be a good mix of both.
"It's always nice to a blend of new faces and established veterans to kind of battle it out," Stressman said. "Last year we had a lot of new faces and not so many of the veterans and this year we've got some of the great veterans and the great young people that are excited about trying to overtake the veterans and it just becomes a really, really great race."
Nevadans to watch
Bareback rider Mason Clements, who currently resides in Utah, was born in Las Vegas and lived in the city for the first four years of his life.
Three contestants list Nevada as their hometown state: Steer wrestler Dakota Eldridge (Elko), bareback rider Wyatt Denny (Minden) and team roper Jade Corkill (Fallon).
Tribute
Prior to the beginning of the event, there will be a tribute to the victims of October's mass shooting on the Strip.
In honor and remembrance of those who lost their lives, PRCA COO Aaron Enget came up with the idea to retire back No. 58 for the competition.
Outside the arena
Outside of the Thomas & Mack Center, there will be plenty of other entertainment options.
Cowboy Christmas runs 9 a.m. to 5 p.m. daily at the Las Vegas Convention Center.
There will be concerts around town, contestant autograph sessions and more.
A schedule of events can be found on nfrexperience.com.
Contact Betsy Helfand at bhelfand@reviewjournal.com. Follow @BetsyHelfand on Twitter.
If you go
What: National Finals Rodeo
Where: Thomas & Mack Center
When: Dec. 7 – 16, 6:45 p.m.-9 p.m.
Tickets: UNLVtickets.com or 702-739-3267