Ryan's dream becomes real: Badgers surge to Final Four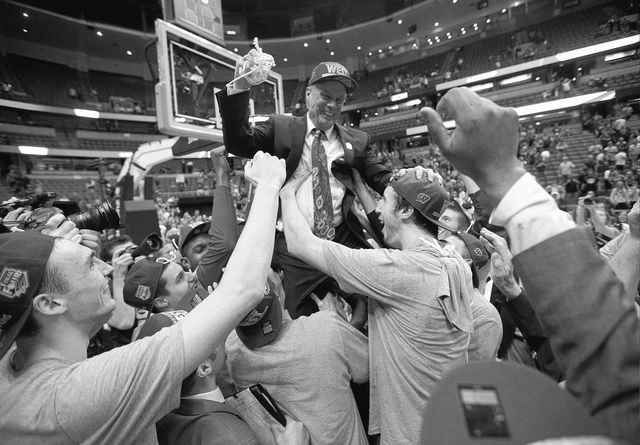 ANAHEIM, Calif. — When his voiced cracked and it became impossible to quell the emotion, Bo Ryan mentioned his father first.
"Today would have been his 90th birthday," Ryan said. "I just thought I would throw that in.
"More people knew my dad (Butch) at Final Fours than me. It was our bonding time. Hell, I always had time there 'cause I've never been able to play in one of the dang things."
Butch Ryan died last August.
His son is there now. His team will play in a Final Four.
Ryan and Wisconsin were delivered to the NCAA semifinals in North Texas by a 7-foot junior forward who wasn't good enough to make his AAU's travel team as a sophomore in high school and who owns a rare skill set that ultimately sent top-seeded Arizona home.
Wisconsin beat the Wildcats 64-63 in overtime of a West Regional final Saturday because Frank Kaminsky made every critical play needed to allow Ryan his Final Four moment after 13 seasons as coach in Madison, because few bigs nationally are as effective both inside and out as Kaminsky.
It was a game not without controversy, specifically an offensive foul called against Arizona junior and former Findlay Prep guard Nick Johnson with three seconds remaining in overtime and the Wildcats trailing by one. Johnson appeared to extend his arm when elevating for a mid-range jumper.
"A really, really tough call," Arizona coach Sean Miller said. "I will stop right there. I have already been fined."
Then, referees took several minutes to reverse a call that had given possession to Wisconsin with 2.3 seconds left. Arizona inbounded to Johnson, who took three dribbles to his left but couldn't get off a shot before the final buzzer and State Street back in Madison undoubtedly erupted like never before.
Miller had much bigger issues than two late calls, specifically that Kaminsky compiled 28 points and 11 rebounds in 37 minutes, an easy selection for the regional's Most Outstanding Player. The Wildcats were terrific defensively against everyone else, holding seven other Badgers to a combined 13 of 41 shooting (32 percent). Kaminsky shot 11 of 20.
"This is nothing like I have ever felt before," he said. "You play basketball your whole life and dream of going to the Final Four. We want a national championship now. We made it, so why not go get it?"
Miller will have to wait another year for such an opportunity. He is now 0-3 in Elite Eight appearances and most likely will lose Johnson (16 points Saturday) and freshman forward Aaron Gordon (18 rebounds) to the NBA Draft. Rondae Hollis-Jefferson, another electric freshman forward, might also opt to leave school early.
The Arizona program? It has now lost its last four Elite Eight games by a total of seven points, and two of the setbacks reached overtime, the sort of close calls that might have been a reason students were rioting and confronting police in Tucson on Saturday night.
"When you lose, it's like a car crash," Miller said. "You're just done. We lost to an excellent team and I'm really happy for Bo Ryan taking this next step at Wisconsin. But you get to overtime and you are right there. … It will take some time for us to get over."
Wisconsin's time the next few days will be preparing to meet the winner of today's game between fellow Big Ten member Michigan and Kentucky in one Final Four matchup. Before Saturday, Ryan had advanced the Badgers to 13 NCAA fields, six Sweet 16s and two Elite Eights.
Now, to the most coveted step in a coach's legacy.
"Once we settled in today, our guys did a great job," Ryan said. "To be able now to look at their faces, at the pure enjoyment of this moment, is incredible. It's always about the players. I'm extremely proud of them.
"There was an earthquake here (Friday night). So you never know when it's your last game coaching or what's going to happen. But there is no fool's gold with us. Not as long as I'm around. We'll make sure to be ready for what is to come."
Las Vegas Review-Journal sports columnist Ed Graney can be reached at egraney@reviewjournal.com or 702-383-4618. He can be heard from 11 a.m. to 2 p.m. Monday through Friday on "Gridlock," ESPN 1100 and 98.9 FM. Follow him on Twitter: @edgraney.