Hill: Raiders won joint practices against 49ers … probably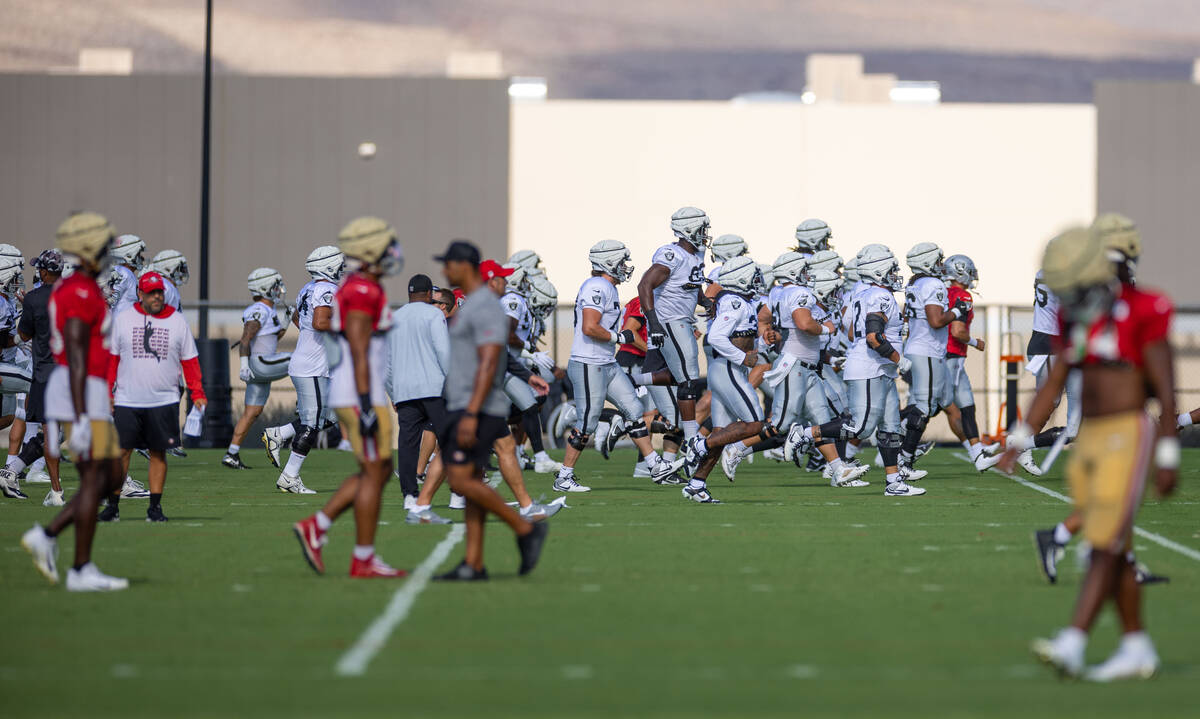 The Raiders probably would have been declared a winner over the 49ers had there been judges scoring the two days of joint practices between the teams.
It wasn't a knockout, but there wouldn't have been much controversy when the scores were revealed.
That's about as far as I am willing to go in terms of breaking down the details of what happened on the field this week at the Raiders' team facility in Henderson.
The first issue with trying to dive deep into specifics or statistics with what happened is obviously the limited view of the action. But more on that later.
It's tough to know exactly what the teams were trying to accomplish during the sessions, and there really wasn't much scouting or opponent-specific scheming, which impacts how the situations play out. Some coaches also like to put players in adverse conditions to see how they handle the pressure.
Raiders linebacker Robert Spillane's reaction to the question of whether they won the practices was perfect. He paused and smiled, clearly wanting to say yes before giving the responsible answer.
"For me it's practice," said Spillane, who (maybe) had two interceptions Friday. "I try not to focus on winning or losing a practice. We're 0-0 at the end of the day."
Defense stands out
What should be taken away from the sessions is that Raiders fans can feel encouraged about their defense having figured some things out, especially when it comes to creating chaos and disruption.
The theme of training camp from the top down on the defensive side of the ball has been finding a way to create havoc and force deflections and loose balls after really struggling to take the ball away from opponents in recent years. The early returns on that were phenomenal.
While there is no question the Raiders consistently created turnovers against the 49ers, I will not use a number in this space. That's because it's nearly impossible to really know.
Those who follow every detail about the Raiders on social media surely read that Duke Shelley had a nice interception Friday. They may not know that the play wouldn't have counted because one of the officials threw a flag for defensive holding on the other side of the field.
It was still a very nice play that should be a source of encouragement. But some statistics you have seen probably included that as an interception, which it was not.
Herein lies the problem. We as the media want to provide an accurate detailing of what's going on. It would be great to keep exact statistics and give interested fans a precise accounting of every second of the joint practices. But that just can't happen with the access that is allowed and the extremely limited views of the action.
A whole cube of salt
A report of an interception often involves taking note that the defense is celebrating, then trying to find out who has the ball in his hands and then noting that as a turnover. Was it great defense? Was it tipped? Did he get his feet in? How would we know? Yes, working your way to the top of the bleachers and trying to maneuver to a spot to see between the sea of coaches and players on the sidelines allows you to steal the occasional perfect angle on certain plays. That's where some details can emerge.
This isn't even a complaint. The Raiders are within the rules in terms of the amount of access they are granting. The media has to be allowed in, but there's nothing that says the team can't then choose to practice three fields away with a line of players blocking the view.
It's just a reminder that any stat that came out of those two days of practices should be taken with a grain of salt. Or a whole cube.
In the end, this doesn't really matter. But when you log into social media and start to see so many people arguing about statistics and results of a joint practice they didn't see and only have social media reports to go on, there is a bit of responsibility to inform them of the process.
Heck, there are even people who claim to cover the team and have never even been to a practice or game that were insistent their stats were right. What are we even doing here?
So calm down. But also, be excited, I guess?
Not cool
Look, it's fine that we in the local media complain about access. We like to whine. It's kind of our thing.
But don't come in here and take shots from the outside. While the 49ers' media corps is largely great, there were a few rogue personalities this week who chose to go on some tirades about how they were treated and the amount of access they had and even their lack of free meals.
Some made justified complaints about the realities of the limited access at Raiders training camp. But some of the gripes were downright lies and untrue attacks on some of the good people who work for the team and are just trying to do their jobs.
Seriously, take that back home.
And by the way, perhaps the most outspoken of the group, someone who continuously broke access rules and loudly complained when corrected, exercised perhaps the most unseemly decorum witnessed in the brief history of the Raiders new media room.
We'll spare the details, but his dumpy attitude was not necessary.
Contact Adam Hill at ahill@reviewjournal.com. Follow @AdamHillLVRJ on X.