Annika Sorenstam shares her passion with junior golfers
October 23, 2018 - 2:58 pm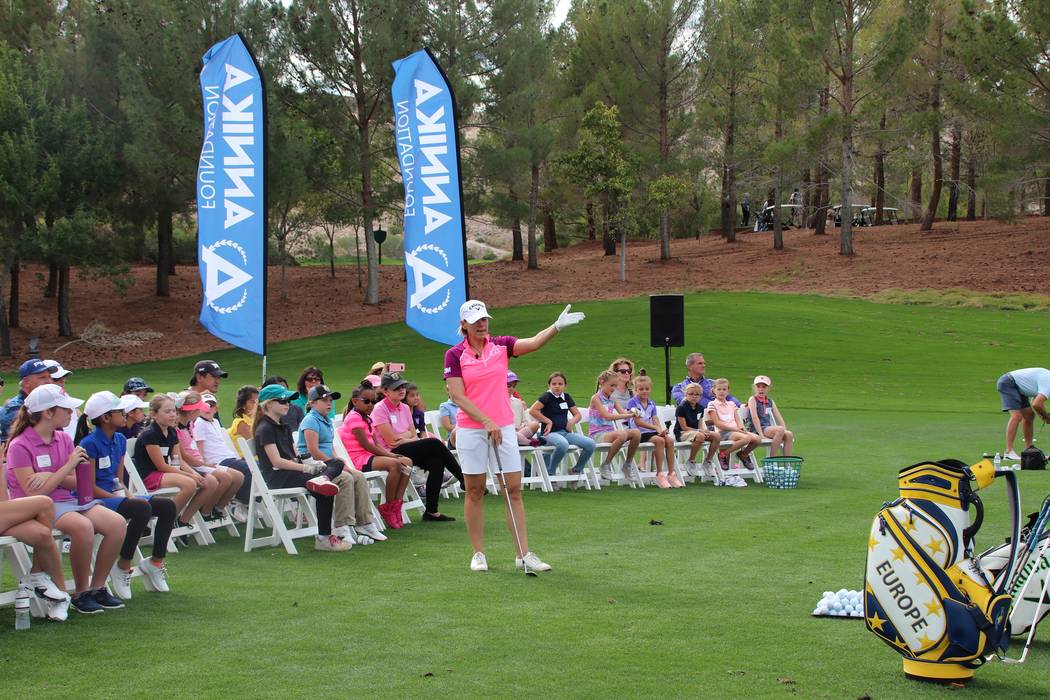 Annika Sorenstam, a World Golf Hall of Famer with 72 LPGA Tour victories, held a clinic for 40 Southern Nevada Junior Golf Association female golfers on Saturday at Southern Highlands.
It was part of her "Share My Passion" series of nationwide events.
"Golf has been very good to me, so it brings me great joy to be able to share my passion for golf and fitness with the younger generation of junior girls," Sorenstam said. "I love their enthusiasm and natural abilities. It is inspiring to see their energy and hopefully they make some new friends and came away from the day with a few tips that can help them as they grow."
The goal was to inspire the younger players, and if Sorenstam inspires them as she did some of the teaching pros who assisted, her mission will be a hole in one. Local pros Kerri Clark and Nicole Dutt-Roberts, SNJGA alumni who now operate the association, and Shawna Elliott, Cathy Kim, Amanda Mirante, Jane Schafer and Revere Golf Club pro Kristen Sunderhaft helped at the clinic.
"Annika has been my idol for more than 20 years and it was an incredible honor to be an instructor for her event," Sunderhaft said. "What made the day extra special is we actually spoke and had a great conversation as I shared with her all of the putting games I had planned. She seemed very interested, and she even had her son participate.
"I was in absolute awe. Her foundation is sharing her passion, and that is also exactly what I was doing. I absolutely love to teach, especially juniors, and now after 25 years, I'm an LPGA Lifetime Member. Annika has always inspired me."
UNLV women's golf plays Vegas
The UNLV women's golf team played on home soil this week for the first of three times this season at the 17 th annual Las Vegas Collegiate Showdown at Boulder Creek. Unfortunately, the Rebels finished sixth, but were the defending champions.
The team is scheduled to play the Battle at Boulder Creek on Feb. 11-12 and then hosts the Rebel Beach tournament at their home course, Spanish Trail, a week later. UNLV won the Rebel Beach last year.
Kang's smashing victory
Las Vegas' Danielle Kang won the Buick LPGA Shanghai, her second career victory. She was aided by an unusual wedge shot following a poor front nine during the final round.
In the post-round press conference, Kang shared the story about caddie Ollie Brett's "swing" advice.
"I told him, 'cameras are everywhere. I just want to hit the bag really hard,'" Kang said. "He said, 'here's a wedge. Just smash it.'"
Also, Kang recently started working with swing coach Butch Harmon, who operates his school at Rio Secco.
Weekly deal
Locals get unlimited play for $20 at Topgolf from 9 a.m. to noon Monday through Friday.
Stars on, off course
Former Tour players Craig Barlow and Jeff Gallagher (they play competitively occasionally) are now teaching the game at Reflection Bay at Lake Las Vegas.
The golf notebook appears Wednesdays. Freelance writer Brian Hurlburt is a two-time author who has covered golf in Las Vegas for more than two decades. He can be reached at bhurlburt5@gmail.com or @LVGolfInsider.