Anthem's Troy Helseth captures fourth PGA chapter title
August 21, 2018 - 7:44 pm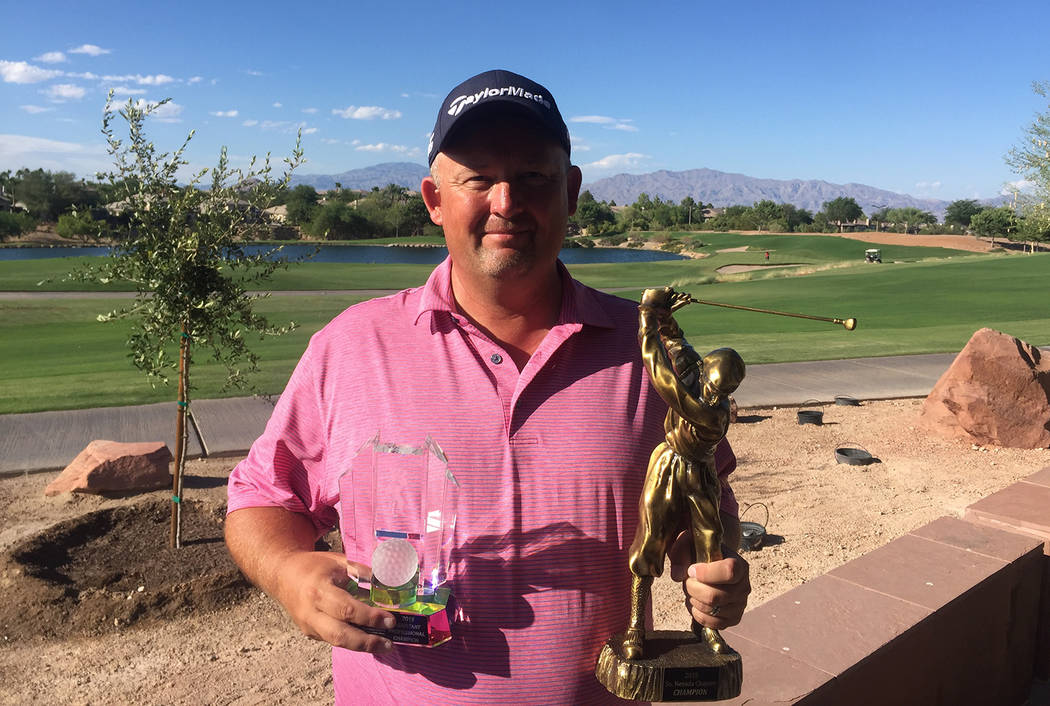 Troy Helseth has no mercy when it comes to his fellow PGA of America professionals on the course. Off the course, he is a nice, humble guy who helps various causes.
On Tuesday at TPC Las Vegas, Helseth earned his fourth Southwest Section PGA, Southern Nevada Chapter Championship . That goes along with four-straight player of the year awards, and he is well on his way to No. 5 as he enjoys a sizeable lead in the standings.
Helseth, a pro at Anthem Country Club, finished at 1-over 143 to edge fellow Anthem pro Travis Long and Wolf Creek general manager Darren Stanek by a shot.
"Overall, I'm just grateful to win and have the opportunity," said Helseth, who shot 75 in the final round after an opening 68. "I'm happy to win because obviously I didn't play my best today, but I survived. I don't consider myself the best player because there are several guys out here who can win.
"The big thing off the course that is important to me is junior golf, and the last few years I have been involved with the PGA Junior League, which this year had 23 teams. I have been a part of it from day one and also been a coach. There are a lot of great kids that are a part of it."
Send it FedEx
PGA Tour players with ties to Las Vegas who qualified for the FedEx Playoffs that start this week in New York at the Northern Trust Open are Alex Cejka, Charley Hoffman, Ryan Moore, Kevin Na, Scott Piercy, Adam Scott and Aaron Wise.
Smith is low Amateur at Arizona Open
Brandon Smith, a Cimarron High product, was just looking to play some tournament golf prior to leaving for Charleston Southern University, and he made the most of it. In a field of 156 amateurs and pros at the Arizona Open at Troon Country Club in Scottsdale, Smith finished as the low amateur and tied for 7th overall at 4-under 206.
Smith, a rising junior, played the previous two seasons at Odessa Junior College where he helped the team to a national championship.
"It was good to shake the rust off right before tournament golf starts at (Charleston Southern)," Smith said. "This was the last thing I had planned for summer. That's what playing in this was for, to get ready for Division I golf this year."
"I had a good experience at Odessa and now I'm excited to get to Charleston and start playing for (coach) Jason Payne. From the very beginning of the recruiting process, he showed a very big interest in getting me down there. It seems like he really cares about his players and I'm excited to be part of the program."
Weekly deal
August specials at Jack Nicklaus' Coyote Springs include four players for price of three on Fridays, and buy one, get another round at 50 percent off on Monday, Wednesday or Thursdays.
Stars on, off course
Natalie Gulbis spent time at the Vdara Hotel and Spa and also practiced at the Butch Harmon School of Golf at Rio Secco last week.
The golf notebook appears Wednesdays. Freelance writer Brian Hurlburt is a two-time author who has covered golf in Las Vegas for more than two decades. He can be reached at bhurlburt5@gmail.com or @LVGolfInsider.
Local schedule
■ Friday-Saturday: Westgate Superbook Classic, Las Vegas Country Club
■ Saturday: Major Series of Putting qualifier, Stallion Mtn.
■ Sunday: 2nd Big Cup Heaven/Little Cup Hell, Siena
■ Sept. 1: Major Series of Putting qualifier, Red Rock CC
■ Sept. 2: Major Series of Putting qualifier, Painted Desert
■ Sept. 8: Major Series of Putting qualifier, Painted Desert
■ Sept. 9: Major Series of Putting qualifier, Chimera
■ Sept. 8, 9: Las Vegas Junior Am, LV Golf Club
■ Sept. 8, 9: SNGA Laughlin Amateur, Mojave Golf Club
*Sept. 15: Major Series of Putting qualifier, Stallion Mtn.
Pro schedules
PGA Tour
*What: The Northern Trust
*Where: Paramus, N.J., Ridgewood Country Club (7,385 yards, par 71)
*When: Thursday-Friday, 11 a.m.-3 p.m. (Golf Channel); Saturday 10-11:45 a.m. (Golf Channel); noon-3 p.m. (CBS); Sunday, 9-10:45 a.m. (Golf Channel), 11 a.m.-3 p.m. (CBS).
*Purse: $9 million (winner $1,620,000)
*Defending champion: Dustin Johnson.
LPGA Tour
*What: CP Women's Canadian Open
*Where: Regina, Saskatchewan, Wascana Country Club (6,675 yards, par 71)
*When: Thursday-Friday, 7:30-10:30 a.m. (Golf Channel); Saturday, noon-3 p.m. (Golf Channel); Sunday, 1-4 p.m. (Golf Channel)
*Purse: $2,250,000 (winner $337,500)
*Defending champion: Sung Hyun Park