Dwayne 'The Rock' Johnson proves he's a better actor than golfer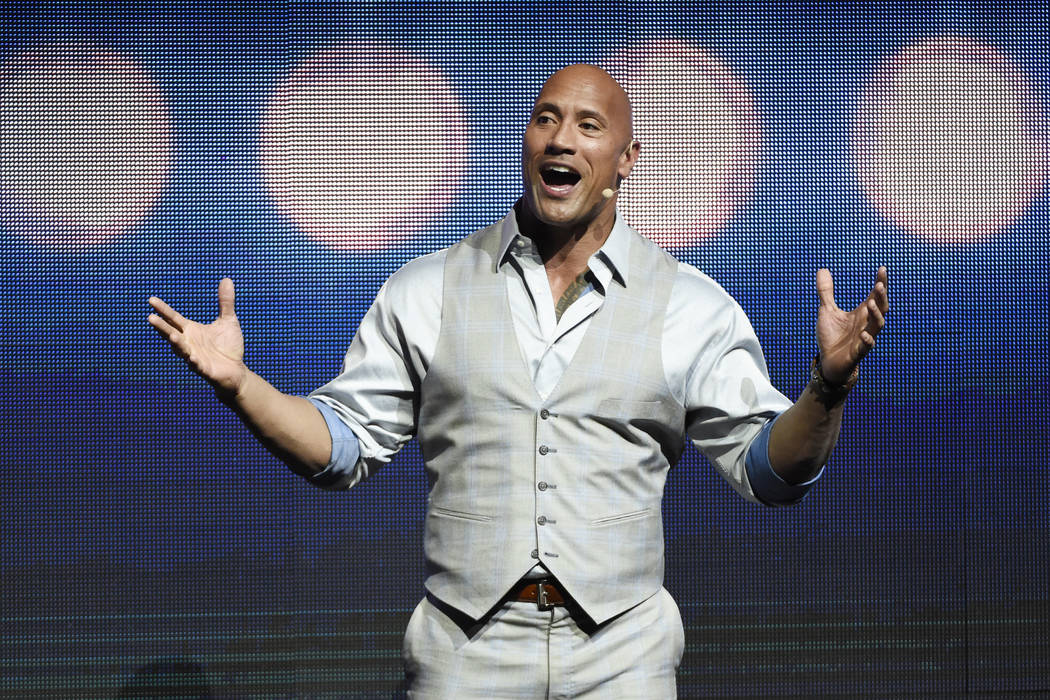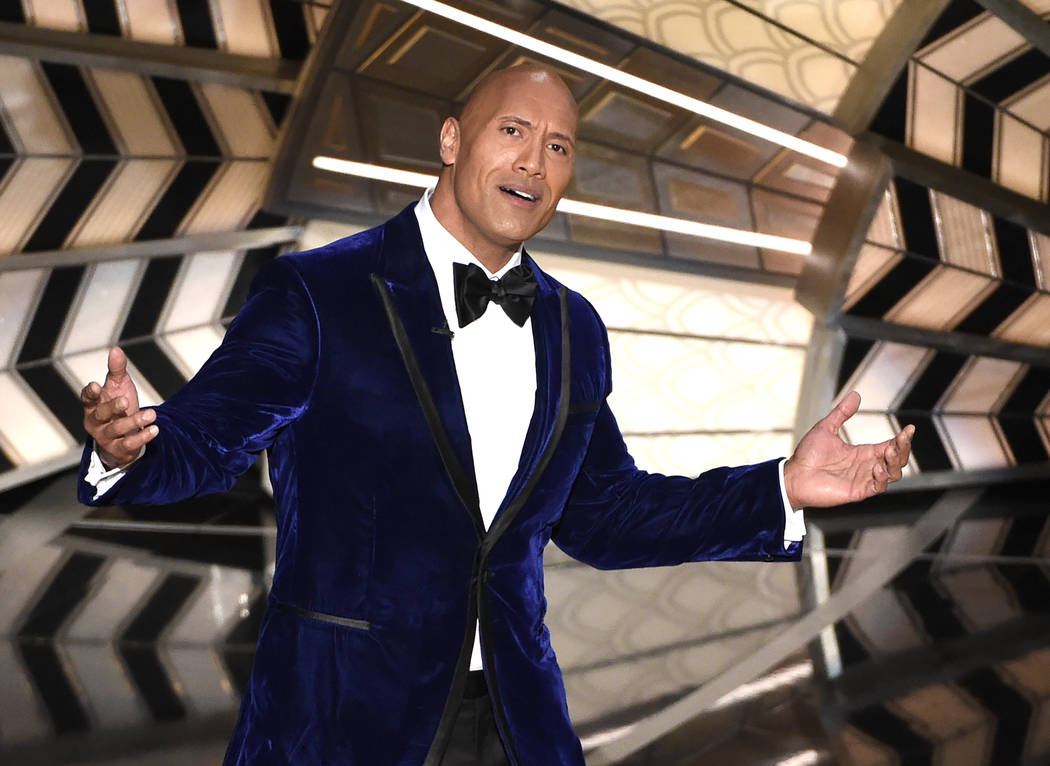 Social media was abuzz last week with reports about the prodigious drive of actor Dwayne "The Rock" Johnson.
Johnson was filming an episode of his HBO series "Ballers" at Bali Hai Golf Club when he shared with his 81.3 million followers on Instagram how he launched a drive of 490 yards.
"The Rock" posted the following: "The world-record longest drive is 515 yards set in 1974. My drive here measured an estimated 490 yards by the people holding the rulers. I failed math when I was a kid, but I think that's kinda close."
The post appeared tongue-in-cheek — or at least a case of extreme exaggeration — but the facts are Johnson didn't come close to hitting the ball 490 yards, according to a witness who also said the social media pages for Bali Hai received a huge amount of hits after Johnson's post.
Mike Dobbyn, a Las Vegas resident and former world long drive champion, and his fellow competitors took exception to Johnson's claim. First, they didn't believe it, and second, Dobbyn hit a drive of 551 yards in professional competition, much farther than the 515-yard world record mentioned by Johnson.
"When I finally read the whole post by 'The Rock,' I thought he probably did it as a joke," Dobbyn said.
Dobbyn's 551-yard blast was hit July 17, 2007, on the par 5, 18th hole at DragonRidge Country Club during a Butch Harmon minitour event. The shot was verified by his playing competitors, and Dobbyn has documentation.
Another Las Vegas angle is that the 515-yard drive mentioned by Johnson occurred during a professional senior tournament at the old Winterwood Golf Club, now Club at Sunrise. Mike Austin hit the shot during an official round of the U.S. National Seniors Open Championship, but some have questioned the validity of the drive over the years.
Johnson's boast also caught the attention of PGA Tour and long drive legend John Daly.
"I'd have to see it to believe it," Daly told TMZ.com. "Now, we know he is strong enough to do it. I mean, if I had that body, I would be hitting it 490 yards myself."
LUNDE MAKES MOVE
Bill Lunde, a member of the 1998 UNLV NCAA national championship team, drastically improved his PGA Tour status when he finished second at the Puerto Rico Open last weekend in his second PGA Tour start of the season. The 41-year-old made $224,000 to move from out of the top 200 on the money list to No. 132.
The finish qualified him for this week's Shell Houston Open and for other PGA Tour events this season.
The result was Lunde's best since he won the Turning Stone Resort Championship in 2010. He didn't qualify for any PGA Tour tournaments last season but played in 15 Web.com Tour events and made $42,789.
DEAL OF THE WEEK
Jody Niemann, new Royal Links Golf Club general manager, is offering free clinics for females on Saturdays at the course.
TOPGOLF SPRING BREAK
Pros at Topgolf Las Vegas will host a Spring Break Academy from April 10 to 13 for ages 6 to 12. Cost is $99, and kids will learn all aspects of the sport.
STARS ON, OFF COURSE
— Tweet from San Diego native and UNLV volunteer assistant golf coach Chris Riley: "It's official. Good bye chargers hello Raiders!! Just win baby!! Vegas Raiders."
— Charles Kelley, a member of Lady Antebellum, will host the annual Academy of Country Music Lifting Lives Golf Classic on Saturday at TPC Las Vegas.
The golf notebook appears Thursdays. Freelance writer Brian Hurlburt is a two-time author who has covered golf in Las Vegas for more than two decades. Story ideas can be sent to bhurlburt5@gmail.com.
CALENDAR
Saturday: Academy of Country Music Lifting Lives Classic, TPC Las Vegas
Saturday, Sunday: SNGA Sunrise Throwback, Club at Sunrise
Sunday: SNJGA Benefit Clinic, Wildhorse
Tuesday: UNLV RAF Scholarship Golf Classic, Southern Highlands
Wednesday: Women's SNGA, Desert Willow
April 9: SNJGA Benefit Clinic, Rhodes Ranch
April 10-13: Topgolf Junior Academy
April 11, 12: Recruit Look Boulder City Junior Championship, Boulder City Golf Club
April 15: Golf Channel March on Concord, Revere
April 15, 16: Future Champions Golf Tour, Primm Valley
April 19: UNLV Football Foundation Tournament, Spanish Trail
April 19: Women's SNGA Black Mountain Invitational, Black Mountain
April 19-22: Derek Jeter Invitational, Shadow Creek
April 20: Sixth annual Nevada Broadcasters Association Tournament, Las Vegas National
April 22: PGA Jr. League Kick-Off, TPC Las Vegas
April 26: National Golf Day, various courses
April 28: SNGA Tour, Desert Willow
May 6: Sixth annual Henderson Police Charity tournament, Legacy
May 6, 7: Southern Nevada Junior Golf Nye Classic, Mountain Falls
May 15: Sixth annual United Way tournament, Red Rock Country Club
May 19: U.S. Golf Classic Qualifier, Royal Links
May 19, 20: Tiger Jam, Shadow Creek
May 20, 21: IMG Junior World Qualifier, Wildhorse
May 20: A Level Playing Field charity tournament, Bear's Best
June 13: HELP of Southern Nevada Golfer's Roundup, Cascata
PRO SCHEDULE
PGA TOUR
What: Shell Houston Open.
When: Thursday, Friday, noon-4 p.m. (Golf Channel). Saturday, Sunday, 10 a.m.-noon (Golf Channel), noon-3 p.m. (NBC).
Where: Golf Club of Houston (7,441 yards, par 72), Humble, Texas.
Purse: $7 million ($1,260,000 first place).
Defending champion: Jim Herman.
Last week: Dustin Johnson won the WGC-Dell Technologies Match Play, and D.A. Points won the Puerto Rico Open.
Next week: Masters.
LPGA TOUR
What: Ana Inspiration.
When: Thursday, Friday, 9 a.m.-1 p.m., 4-6 p.m. (Golf Channel). Saturday, Sunday, 2-6 p.m. (Golf Channel).
Where: Mission Hills Country Club (Dinah Shore Tournament Course, 6,769 yards, par 72), Rancho Mirage, Calif.
Purse: $2.7 million ($405,000 first place).
Defending champion: Lydia Ko.
Last week: Mirim Lee won the Kia Classic.
Next tournament: LOTTE Championship, April 13-16.
PGA TOUR CHAMPIONS
What: Mississippi Gulf Resort Classic.
When: Friday, 6:30-8:30 p.m. (Golf Channel). Saturday, Sunday, noon-2 p.m. (Golf Channel).
Where: Fallen Oak (7,088 yards, par 72), Biloxi, Miss.
Purse: $1.8 million ($270,000 first place).
Defending champion: Woody Austin.
Last tournament: Tom Lehman won the Tucson Conquistadores Classic.
Next tournament: Mitsubishi Electric Classic, April 14-16.