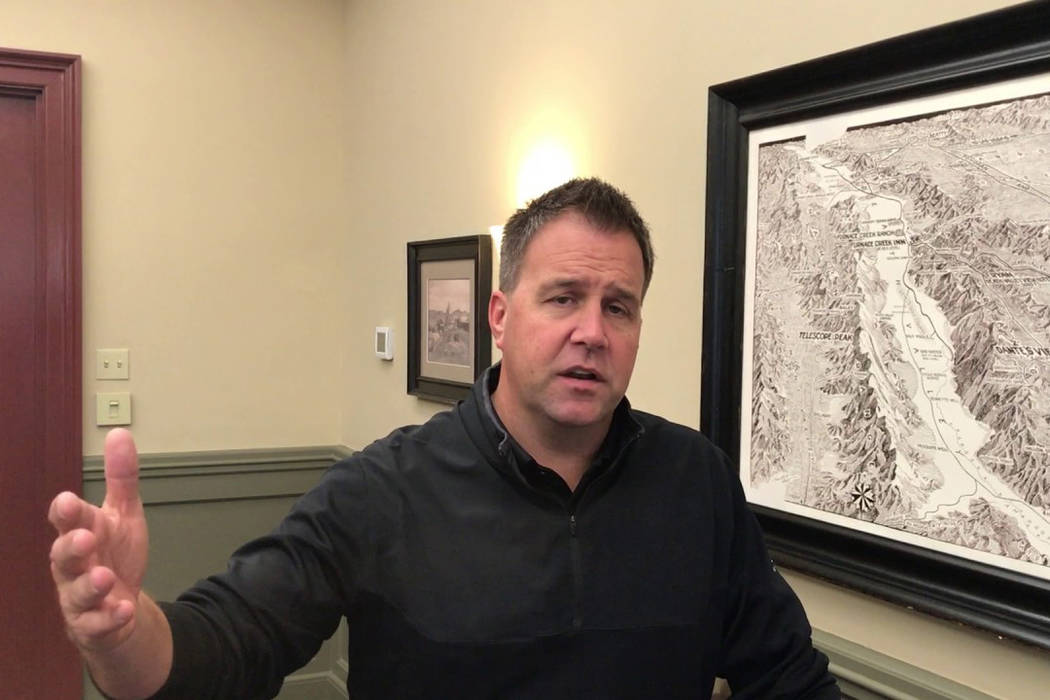 Lee Smith has been general manager at TPC Summerlin, a PGA Tour-owned private facility, for six years. He's been at the club for more than a decade, but is now transitioning to a new job at Liberty National Golf Club in New Jersey, site of the 2017 Presidents Cup.
On Thursday night at TPC, Smith will receive the golf professional of the year award for the PGA of America Southwest Section/Southern Nevada Chapter. Several others will also be recognized during the annual dinner.
"We have such a great group of golf professionals in Southern Nevada that it is rewarding and humbling to be nominated and voted by your peers and colleagues," Smith said. "As president of the PGA Chapter over the last year, we have accomplished a lot and being recognized by my fellow professionals is always special.
"I look forward to staying in touch with many of these ladies and gentlemen moving forward."
Smith said a highlight of his tenure at TPC Summerlin was being a part of the Shriners Hospitals for Children Open management team.
"It has been a lot of fun and very rewarding working with the tournament, and with the PGA Tour recently announcing almost $2.7 billion in historical charitable giving from tournaments, it is humbling to know you have been a small part of it," Smith said. "Tournament executive director Adam Sperling and tournament director Patrick Lindsey have been wonderful to work alongside over the years."
Smith sees a lot of positives within the golf industry and also believes there are ways his profession can take advantage of current trends to grow stronger. "There are many challenges facing golf, including the obvious of the time commitment and cost propositions," Smith said. "I believe an opportunity is to get the millennial generation to transition from watching golf and using off-course golf entertainment spots like Topgolf, which they are doing, to playing regular courses and joining clubs."
The other annual chapter award winners are: Tim Peterson, assistant pro; Troy Helseth, player of the year; Tom Fischer, senior player of the year; Matt Henderson, player development; Shawna Elliott, junior golf leader; Jason Edmiston, teacher of the year; Kyle Helms, Horton Smith award; Scot Grimes, Bill Strausbaugh award; Jonathan Waddington, public merchandiser of the year; Mike Messner, private merchandiser of the year; Bill Foley, citizen of the year; and myself, lifetime achievement award (a humbling honor.)
UNLV Professional Golf Management program coordinator Kendall Murphy is the new chapter president.
Rebel breaks record
UNLV senior Shintaro Ban shot 63 on the Royal Melbourne East course during the final round of the Australian Master of the Amateurs tournament, breaking the course record of 65. Ban finished tied for sixth in the tournament while junior Harry Hall finished eighth. Freshman Jack Trent finished 23rd. The team was on a 10-day trip on the continent.
Weekly deal
Golfers can walk the historic Las Vegas Golf Club for $15 during twilight hours.
Stars on, off course
— Golf Channel personalities Brandel and Bailey (Mosier) Chamblee were named golf's most fashionable couple by Golf Magazine. Mosier played at Centennial High and was the 2003 Southern Nevada Junior Golf Association player of the year.
— Former world long drive champion Jamie Sadlowski filmed a Cleveland Golf commercial at Wolf Creek in Mesquite.
The golf notebook appears Wednesdays. Freelance writer Brian Hurlburt is a two-time author who has covered golf in Las Vegas for more than two decades. He can be reached at bhurlburt5@gmail.com or @LVGolfInsider.
Calendar
Thursday: Southern Nevada Chapter PGA awards, TPC Summerlin
Friday: Chili Bowl, Club at Sunrise
Monday: SNGA Tournament of Champions, Bear's Best
Jan. 25: Jr. Golf, Chip and Putt sign ups begin, online
Jan. 31-Feb. 2: Golf Channel Duel in the Desert, Las Vegas Pauite
Feb. 9: USGA Four Ball, Bear's Best
Pro schedule
PGA Tour
What: Careerbuilder Challenge
Where: La Quinta, California; Stadium Course at PGA West (7,113 yards; par 72), Nicklaus Tournament Course at PGA West (7,159 yards; par 72), La Quinta CC (7,060 yards; par 72).
When: Thursday-Sunday, noon-4 p.m. (Golf Channel).
Purse: $5.9 million. Winner's share: $1,062,000.
Defending champion: Hudson Swafford.
Last week: Patton Kizzire won the Sony Open.
PGA Tour Champions
What: Mitsubishi Electric Championship at Hualalai
Where: Ka'upulehu-Kona, Hawaii; Hualalai GC (7,107 yards, par 72).
When: Friday-Sunday, 4-7 p.m. (Golf Channel).
Purse: $1.8 million. Winner's share: $300,000.
Defending champion: Bernhard Langer.
Last tournament: Kevin Sutherland won the Schwab Cup Championships.
The Associated Press