UNLV golfer Shintaro Ban enjoys banner senior season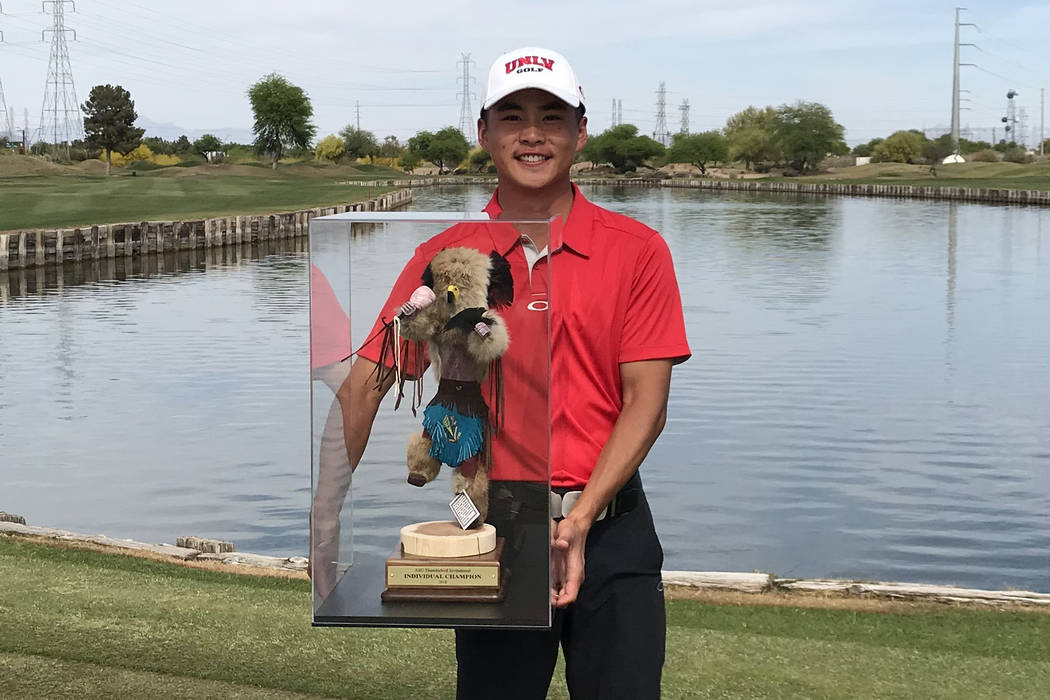 Shintaro Ban is putting together one of the best senior years in the history of the UNLV men's golf program, and it's coming as somewhat of a surprise even to him.
Ban has won three individual titles, finished in the top 10 seven times and in the top five five times. He tied for low medalist at the Arizona State Thunderbird Invitational last week, his fourth career victory.
The team finished second at Arizona State and has won two tournaments. The Rebels have finished in the top five in six straight tournaments.
A safe in play drive @shinnyboy27 par4 h9. Shin has made 6birdies and 2pars in his last 8 holes pic.twitter.com/waAiOIFixI

— UNLV Golf (@UNLVGolf) April 15, 2018
Ban credits an improvement in his short game, better course management and observing the determined work ethic of former Rebels John Oda and Kurt Kitayama as reasons for his breakout year.
Because of his stellar play, Ban was named to the U.S. Arnold Palmer Cup team and is the third golfer in program history to be named a semifinalist for the Ben Hogan Award, the highest honor in college golf.
Ryan Moore was nominated in 2003 and 2004 and won the award in 2005. Andres Gonzales was nominated in 2006.
"It's an honor, but it's something I never thought I would be on," Ban said. "In my freshman year, I didn't travel (to play in tournaments) at all my first semester. To think that in four years this would happen is amazing.
Two putts to tie for the individual trophy @shinnyboy27 💥🏆💥 pic.twitter.com/jDSCHU0X4X

— UNLV Golf (@UNLVGolf) April 15, 2018
"I never thought I would make the Palmer Cup. I never thought I would be a semifinalist for the Hogan Award. To now be recognized as one of the top guys is pretty humbling."
Ban said he thinks the Rebels are ready to make a solid run in the postseason, which begins Friday at the Mountain West Championship at Gold Mountain Golf Club in Bremerton, Washington. UNLV has a strong five-player rotation featuring Ban, junior Harry Hall, sophomore Justin Kim, and freshmen Garrick Higo and Jack Trent.
"We have definitely progressed well with the addition of Garrick, and we'll carry on the momentum to conference, then regionals and then to the finals," Ban said. "There are some things we need to work on, but more so we need to focus on school and take care of that part of it and then it's game time."
Clowning around
The PGA Tour-owned TPC Las Vegas will host its free and public kickoff of the annual PGA Junior League season at 10 a.m. Saturday. A highlight will be a performance by Divot the Clown and a free barbecue.
Divot, dubbed the "world's greatest golfing clown," will hit trick shots. There also will be representatives from Drive, Chip and Putt, the Southern Nevada Junior Golf Association, Recruit Look Tour, the Golden Knights and City National Arena, and Cobra/Puma Golf.
Stars on, off course
The Golden Knights have a large legion of fans within the Las Vegas golf industry, from Ryan Moore to Scott Piercy to Natalie Gulbis to area PGA of America professionals and many others. Moore recently wrote on Instagram, "this team is making history in all sorts of ways and it's so fun to watch. Playoffs baby!"
The golf notebook appears Wednesdays. Freelance writer Brian Hurlburt is a two-time author who has covered golf in Las Vegas for more than two decades. He can be reached at bhurlburt5@gmail.com or @LVGolfInsider.
Calendar
Friday-Sunday: UNLV men's golf, Mountain West Championships, Bremerton, Wash.
Saturday: PGA Jr. League Kick-Off, TPC Las Vegas
Saturday, Sunday: IMG Junior World Qualifier, Wildhorse
Saturday, Sunday: SNGA Nye County Championship, Mountain Falls
Wednesday-Saturday: Derek Jeter Celebrity Invitational, Shadow Creek
April 23, 24: Clash in the Canyon Long Drive, Mesquite Sports Complex
April 25: National Golf Day, various courses
April 28, 29: RecruitLook Sunrise Junior Championship, Club at Sunrise
April 29, 30: Wish Upon a Par 24 Hour Marathon, Angel Park Cloud Nine
May 5: Reflection Bay AJGA qualifier, Reflection Bay
May 5, 6: SNGA Boulder City 4-Ball, Boulder City Golf Course
May 7: U.S. Open qualifier, Canyon Gate
May 10: SNGA Tour, State Amateur qualifier No. 2, Chimera
May 14, 15: Women's SNGA Senior Amateur, Chimera
May 18, 19: Tiger Jam, MGM, Shadow Creek, Topgolf
May 19, 20: Girls/Boys Junior America's Cup qualifier, Legacy
May 25: AJGA Junior-Am Fundraiser, Reflection Bay
May 26-28: AJGA Las Vegas Championship, Reflection Bay
May 28-31: Mesquite Amateur, CasaBlanca
June 5, 6: Big I Junior qualifier, Boulder Creek
June 11: United Way Benefit, Spanish Trail
Pro schedules
PGA Tour
What: Valero Texas Open.
When: Thursday, Friday, 12:30-3:30 p.m. (Golf Channel). Saturday, Sunday, 10-11:45 a.m. (Golf Channel), noon-3 p.m. (NBC Sports).
Where: TPC San Antonio (AT&T Oaks), San Antonio.
Defending champion: Kevin Chappell.
LPGA Tour
What: Hugel-JTBC Championship.
When: Thursday, Friday, 3:30-6:30 p.m. (Golf Channel). Saturday, Sunday, 3-6 p.m. (Golf Channel).
Where: Wishire Country Club, Los Angeles.
Defending champion: New tournament.
PGA Tour Champions
What: Bass Pro Shops Legends of Golf at Big Cedar Lodge.
When: Friday, 9:30 a.m.-noon (Golf Channel). Saturday, Sunday, noon-3 p.m. (Golf Channel).
Where: Buffalo Ridge Springs, Top of the Rock, Mountain Top, Ridgedale, Mo.
Defending champions: Vijay Singh and Carlos Franco.
The Associated Press